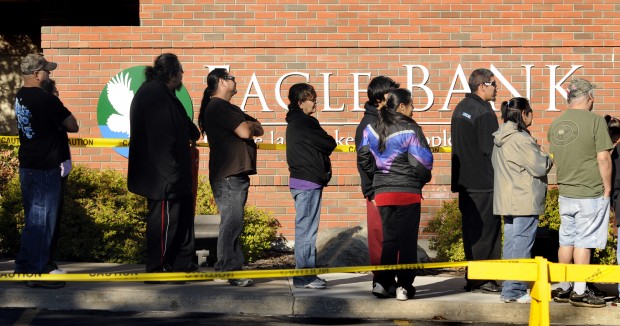 PABLO – A petition demanding that tribal members be allowed to vote on whether the Confederated Salish and Kootenai Tribes distribute the rest of a $150 million settlement from the federal government directly to the membership is in the hands of the CSKT Council.
Jeri Roullier of St. Ignatius, a representative of an advocacy group called the People's Voice, said the organization presented the council last week with a petition containing 1,414 valid signatures of enrolled tribal members living within the boundaries of the Flathead Indian Reservation.
That, Roullier said, would cover the one-third of eligible voters necessary to force a referendum vote.
"We have received it," CSKT spokesman Rob McDonald said Monday, "and it's in the hands of our legal review team. There are a number of questions that need to be answered before council can decide how to respond appropriately."
The money is part of a $1 billion settlement – also known as the "Salazar settlement" – from a lawsuit initially filed by the Nez Perce Tribe. It was paid out to 44 tribes across the nation for mismanagement of assets and natural resources held in trust by the government for the tribes.
The CSKT Council voted to distribute a little over half of the CSKT share to tribal members, and intended to use the rest for various tribal programs.
Approximately 7,800 members received $10,000 in September.
The petitioners, who say they were unsuccessful in getting the council to do so, want the balance – approximately $9,000 per person – paid out to members as well.
"The reservation is going through the worst recession our generation has ever known," Roullier said.
Roullier added that the People's Voice plans another petition drive to try to force a vote on changing the CSKT constitution, to allow members to initiate recall proceedings against council members, who are all elected.
Under the tribes' constitution, only the 10-person council can oust a council member from office. Roullier said the proposed amendment would force a recall election if one-third of qualified voters signed a petition, and one potential reason for such a petition would be "the blatant disregard of the will of the people."
The two petitions follow different procedures.
The petition seeking a referendum vote on whether to distribute the rest of the settlement money to individual members is in the hands of the council.
The one seeking to change the constitution could lead to what's called a "secretarial election." It would go to the Bureau of Indian Affairs, and be forwarded up the ladder to the secretary of the Interior, who would make the final call on whether a vote of the people would be taken.
Be the first to know
Get local news delivered to your inbox!