A traffic stop north of Cody, Wyoming, in February landed law enforcement there a wealth of stolen items in the back of the U-Haul truck in question. 
But Wyoming Highway Patrol is still looking to return some of those items, particularly some foreign currency, to their rightful owner who, law enforcement believes, may be living in the Missoula area.
WHP Lt. Lee Pence told the Missoulian Tuesday authorities have already confirmed one victim whose property was stolen in Anaconda, while jewelry found in the truck is believed to have been taken from a truck stop in Missoula. 
"This gentleman has been stealing from Arizona all the way up to Montana," Pence said.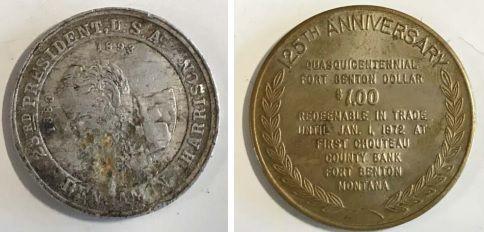 Some currency, which Pence said may be from Korea, may have come from a Missoula veteran who picked the items up during their time in the Korean War.
On Feb. 27, WHP pulled over a truck on Wyoming Highway 120 north of Cody, finding early in the incident that the U-Haul truck was both stolen and stank of marijuana, according to a release from MHP. 
A subsequent search of the driver, 24-year-old Phoenix, Arizona, resident Austin Kelly, found prescription drugs, a felony amount of methamphetamine and someone else's identification, according to the release. Kelly was taken into custody.
The vehicle search turned up a loaded pistol, prescription drugs, marijuana, meth, drug paraphernalia and drug packaging material, according to WHP. Additionally, troopers found stolen tobacco products, power tools, jewelry, clothing, watches, knives and coins.
One victim whose property was stolen has been identified in Phoenix. 
Pence said Wyoming authorities have been in contact with Montana law enforcement and the Wyoming Division of Criminal Investigation, as well as federal agencies including ATF and FBI.