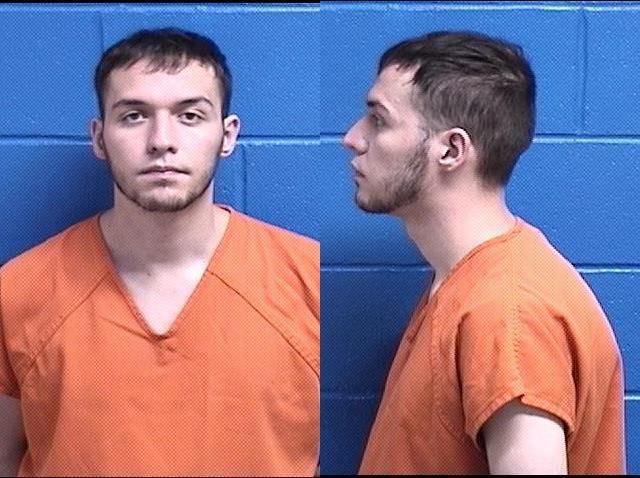 Prison guards at the Crossroads Correctional Center in Shelby last month found pro-ISIS writings in the cell of a man set to be sentenced Friday in federal court in Missoula, according to court documents filed Wednesday. 
Fabjan Alameti, 21, pleaded guilty in U.S. District Court in Missoula in August to lying to the FBI about wanting to join the terrorist organization. Alameti, an Albanian national who obtained U.S. citizenship, moved to Montana from new York City earlier this year.
He was apprehended at a shooting range in Bozeman in April. FBI agents had already questioned him earlier about the interest in ISIS appearing on his social media accounts, but he denied wanting to join the group.
Charging documents state Alameti moved to Montana while staying in contact with an undercover FBI agent he believed was another ISIS supporter. In several exchanges, Alameti said he hoped to plot an attack on a U.S. military facility, recruitment center, government building, "gay club" or Jewish temple, according to court documents.
Much of his time since being charged has been spent at Crossroads Correctional Center in Shelby. In October, another inmate there reported to personnel that Alameti had been asking about access to guns and explosives, according to a memo filed by federal prosecutors on Wednesday. 
You have free articles remaining.
On Nov. 22, prison staff conducted a facility-wide "shakedown" of cells. In Alameti's cell, according to the filing, guards found a book with several pages of handwritten notes, including "Death to Americ (sic)," "Death to Isreal (sic)" and "May the Islamic State of Iraq and Syria live on."
The notes also included the handwritten names of several ISIS leaders, including Abu Bakr al Baghdadi, the leader of ISIS until he was killed in a raid by U.S. military forces in October, two months after Alameti pleaded guilty to lying about wanting to join the group. On the cell wall, prison staff identified a picture of the ISIS flag. 
Other handwritten notes in Arabic and Albanian are still being translated, Wednesday's filing said. Along with the notes, prosecutors say prison staff found a book in Alameti's cell that had a razor blade tucked between the pages.
In the defense's own sentencing memo, filed Thursday, Alameti's attorney, Colin Stephens, conceded Alameti had lied to authorities about talking about traveling overseas to fight for ISIS and talking about wanting to hurt Americans. Stephens argues, however, that these writings in Alameti's prison cell are protected by the First Amendment, and should bear no consequence on his sentencing for the two charges. 
"When he committed these offenses, Fabjan was an adrift, substance using kid who found self-worth and comradery in an on-line universe," Stephens wrote in the filing. "For all of its treasures the internet is, at worst, a giant pit of garbage. At best, it is an unregulated marketplace of ideas where the unweary and adrift can easily be targeted and led astray."
The defense has requested a two-year prison sentence followed by three years of supervised release. Assistant U.S. District Attorney Jeffrey Starnes requested Alameti be sentenced to 57 months — or 4.75 years — in federal prison followed by three years of supervised release.
Alameti's sentencing is set for 1:30 p.m. in U.S. District Court in Missoula.