From 2017 to the end of 2018, intimate partner homicide deaths in Montana dropped by almost 50% from the previous two-year period.
That's according to a report published recently by the Montana Department of Justice. Montana's Domestic Violence Fatality Review Commission compiled the statistics. Those on the commission come from a wide range of professions that have been studying domestic violence deaths in Montana since 2000, including judges, attorneys, law enforcement officers, medical professionals and others.
During the 2015-2016 biennium, there were 43 intimate partner homicides in Montana. In the most recent biennium there were 25 intimate partner homicides in the state. Those 25 deaths were the result of 20 violent interactions, according to the report. Montana averaged around 11 intimate partner homicides a year from 2000 to 2018.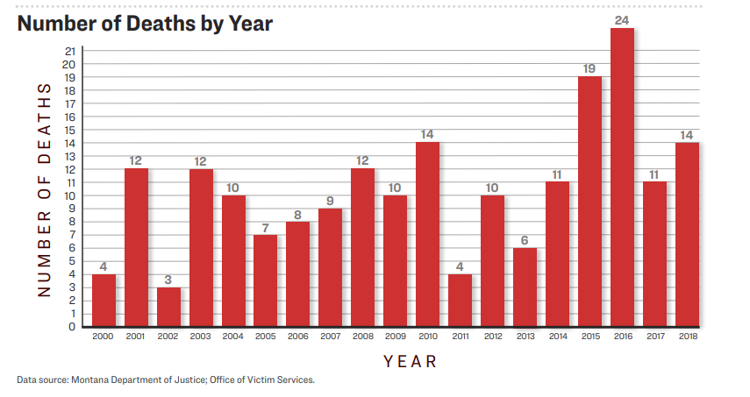 For Joan Eliel, the author of the report and director of consumer protection and victim services for the Montana DOJ, it's difficult to pinpoint one cause for the decrease. One factor could be that the previous biennium represented a high point for deaths since the commission began reviewing cases.
Stressors such as financial hardship or mental health issues can be factors in intimate partner homicides, Eliel said.
As part of its duties, the commission studied seven intimate partner homicides over the recent biennium in more detail, visiting communities and interviewing people knowledgeable about the case. Specific information about those findings is not made public, but the group did identify several trends from among those cases.
Trends listed in the report are:
Mental health issues, particularly depression and considering suicide.
Stalking.
Presence of "known lethality factors," meaning things like strangulation, threats with a weapon, forced sex, threats of suicide.
Missing and murdered indigenous people.
Substance abuse, including prescription drug and alcohol abuse.
"Childhood trauma/early experiences (the experience of an event by a child that is emotionally painful or distressful, which often results in lasting mental and physical effects like physical or sexual abuse)."
For one of those trends — stalking — the report includes data from several years. There were 455 reported stalking incidents in violation of state law from 2017 to 2018. During the previous biennium, the state had 400 stalking incidents.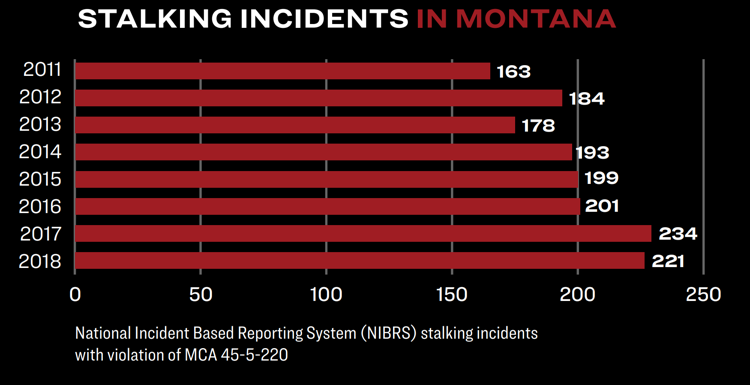 You have free articles remaining.
As of Dec. 31, 2018, the commission was aware of 200 deaths in 133 intimate partner homicide events since 2000.
Of those 200 deaths, 72% of the victims were killed with a firearm, 13% with a knife, 5% by strangulation and 4% by beating. Another 6% of victims' deaths fell under the "other" category for deaths that do not fall clearly under one category or another. Examples in the report include instances in which people were fatally injured through a variety of means, were run over with a car, or pushed off a cliff.
Of the 200 intimate partner deaths over that time period, the perpetrators were male 74% of the time. Women were the perpetrators 26% of the time, according to the report.
Homicide accounted for 43% of the deaths, followed by homicide and suicide, which accounted for 45%. An additional 10% of deaths were categorized as familicide, and 2% were described as "attempted homicide/perpetrator died."
The worst year for intimate partner homicides in Montana between 2000 and 2018 was 2016 when 24 people died.
From 2017 to 2018 people were killed in Belgrade, Billings, Bozeman, Browning, Corvallis, Ennis, Glasgow, Great Falls, Heart Butte, Helena, Kalispell, Lame Deer, Libby, Miles City and Thompson Falls.
The commission reports its findings to the Montana legislature.
Included in the report are recommendations, some of which have already been successfully taken up by the legislature, such as strengthening the state's stalking laws and passing legislation to help investigate cases of missing and murdered indigenous people. The report recommends more drug treatment courts; more public outreach and education; more collaboration between the state DOJ, tribal leaders, the Bureau of Indian Affairs and the U.S. Attorney's Office; and more standardized risk assessment by law enforcement responding to intimate partner violence.
Ultimately, Eliel said it's important for the public to know what the red flags for intimate partner violence are and how to take action when they see them. Red flags in a domestic violence situation can include regular unexplained injuries, isolation, personality changes, fearful behavior, extreme jealousy, controlling behavior and substance abuse, according to Eliel.
Public awareness is especially important because in many cases professionals never even have a chance to help, she said. "In a lot of domestic violence cases there's never any intersection at all with resources, or even the criminal justice system. ...
"The more that we can help the public understand that it's everybody's issue, I think the more that we can reduce it," Eliel said.