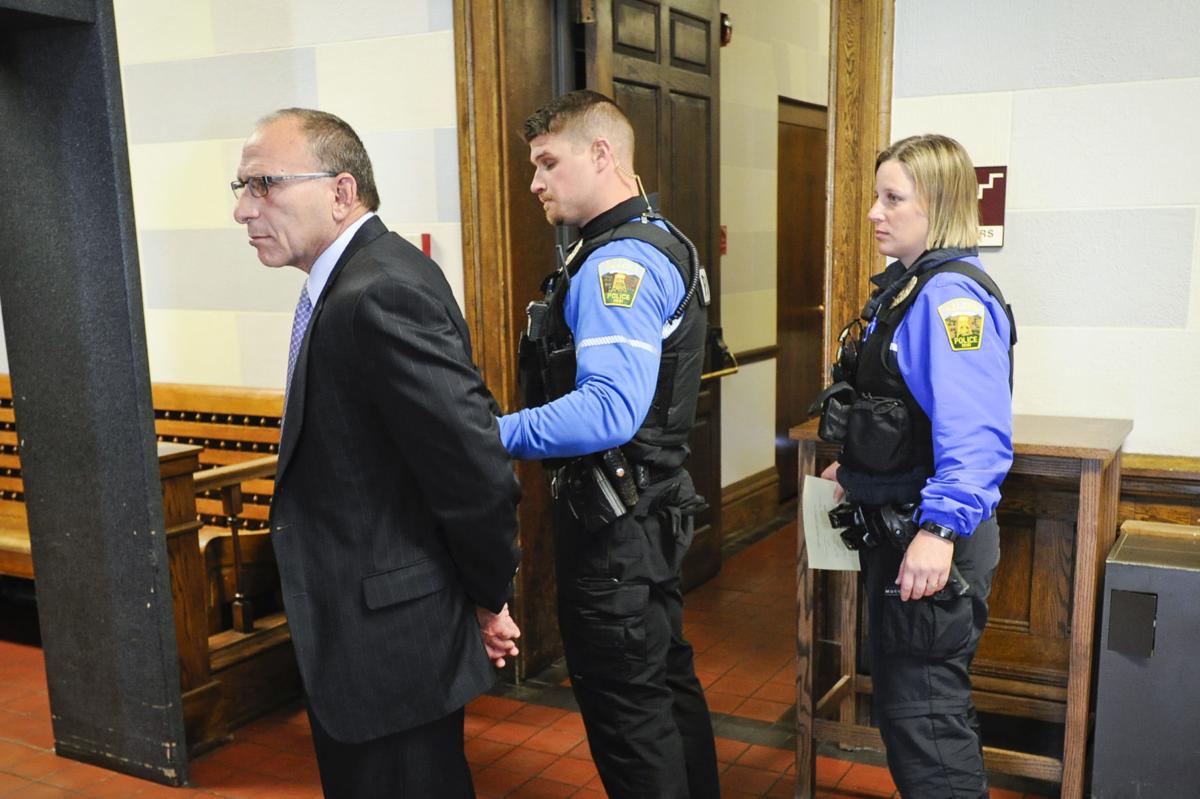 Gregg Trude was sentenced Wednesday to nearly 3 1/2 years in the Montana State Prison for negligent homicide in the shooting death of Helena Dr. Eugene "Buzz" Walton.
Lewis and Clark County District Judge Michael McMahon sentenced Trude to 20 years in the Montana State Prison with all but 1,272 days suspended. He will not be eligible for parole until that time is served. Additionally, Trude must provide annual bank statements to his parole officer as part of his restitution, for which there is a hearing set for Nov. 25. 
"The moment in court where I had to take a break for Mrs. Walton to compose herself, is the moment I knew that if I convicted you of negligent homicide you would go to Montana State Prison," said McMahon. "This is not the man who saved drowning children, received all those medals and helps others on the side of the road." 
Trude, 62, pleaded guilty last month to negligently placing a loaded firearm on the backseat of his truck before it discharged and killed Walton. McMahon said that he appreciated Trude owning up to his mistake.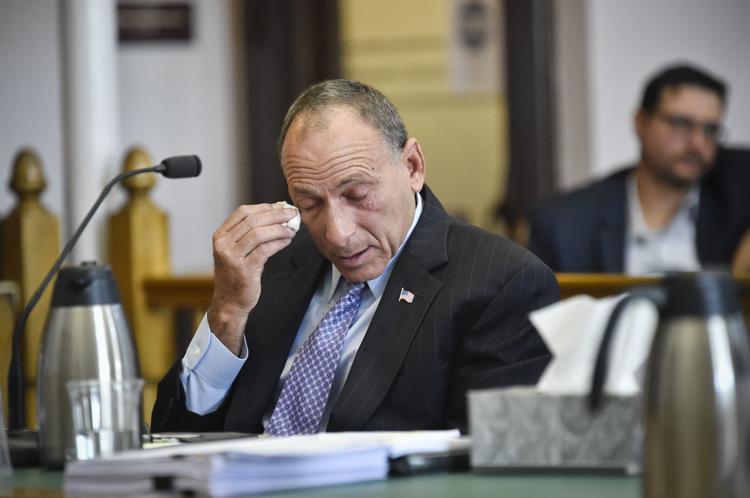 It was Oct. 21, 2018, when Walton was shot in the leg by a .300 Winchester Magnum round discharged from Trude's hunting rifle in the old K-Mart parking lot on Cedar Street, which is currently home to a U-Haul business. Trude was later charged with negligent homicide and tampering with evidence, both felonies.
Trude told officers at the scene that Walton was removing rifles from the backseat of Trude's truck after a hunting trip when one of them went off. Trude said multiple times at the scene that he was grabbing his thermos from the driver's seat area when the gun discharged and that he did not touch or move the rifle after it fired, though he later acknowledged that he removed a shell casing from his gun after Walton was shot.
"This world was a much better place because Buzz was here," McMahon said. "He never wasted his time on this earth because he was serving others."
Trude changed his plea to guilty at trial after defense attorney Greg Jackson made a motion to dismiss the charges against Trude. McMahon denied the motion.
McMahon, who knew Walton from coaching sports at Capital High School, said Walton reminded him of his father, a man who wanted his life and deeds to mean something. McMahon said he hopes that members of both Trude's and Walton's families can use the tragedy to make someone's life better, "because that's what Buzz would have wanted."
Before handing down a verdict, McMahon heard the final testimony of several members of both Trude's and Walton's families. Additionally, parole officer Richard Emerson testified to the results of his pre-sentencing investigation. 
Emerson had determined through his investigation that Trude was at a very low risk of re-offending. The report specifically pointed out that Trude was in need of intervention due to his "criminal attitudes and behavioral patterns." Emerson said there was a significant question regarding Trude's truthfulness, his view of others and his own circumstance. 
The investigation recommended incarceration, either a prison sentence or Department of Corrections commitment, and a mental health evaluation. Emerson cited the inconsistencies in Trude's statements to investigating officers versus the evidence. 
You have free articles remaining.
The state prosecution brought a few of Walton's family members to provide a final testimony prior to sentencing. This included his wife Leslie Walton and two of his sisters. Leslie said that the day before Oct. 21 Buzz had told her that a client offered to take him hunting. She was very specific that Buzz did not use the word "friend." 
Leslie presented McMahon with a photo of her family from the summer of 2018, stating that her family no longer looks like that. She said that while her daughters' classmates were attending summer camp, her children were attending grief camp. She questioned why Trude, a National Rifle Association safety instructor and "special forces trained medic," did nothing when Buzz was bleeding out on the ground.
"You never even apologized," Leslie said. "You're responsible for taking the life of a husband, a father, a friend and a respected doctor." 
Trude did apologize later during this hearing, after being given the opportunity to make a statement.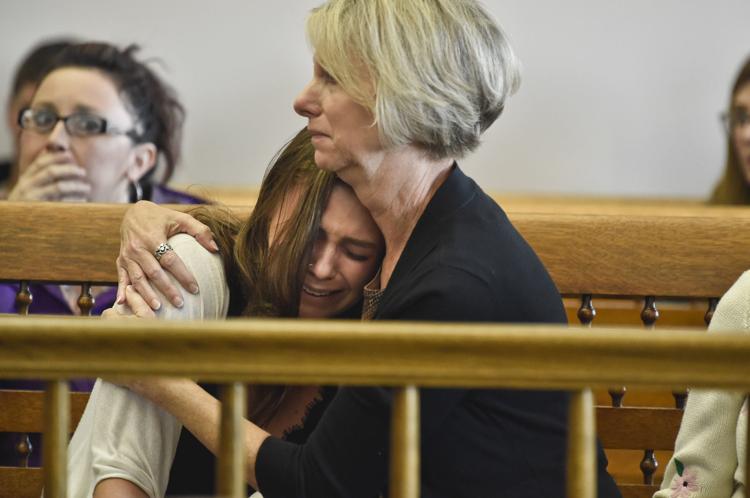 Several testified to Trude's character as well. This included his mother, sister, girlfriend and daughter, Riley Trude.
Trude and Walton knew each other through Riley, who had been treated by Walton in the past. Riley said Walton was undoubtedly a good and caring man, but that her father was too. Riley said her father was always there for her and displayed strong character by always helping those in need. She said that even when they weren't on speaking terms, her father dropped everything to come help her retrieve her vehicle stuck in the snow. 
"Please consider not taking my dad away from me," Riley said. 
County Attorney Leo Gallagher recommended that Trude be incarcerated in the state prison. Gallagher said he believed it necessary, with rifle hunting season just around the corner, that the state send a message that there are consequences for negligent homicide.
"The consequences of unsafe conduct are being followed by the community," Gallagher said. "This is sending the message that killing an individual by gross mishandling of a firearm will not be tolerated." 
Gallagher said Walton's death hurt the whole community, and there should be consequences for that. Gallagher said he doesn't believe the family expects much in the form of restitution from Trude, a man in his late 60s with few assets and little savings. 
Trude's legal team argued that other similar negligent homicide cases resulted in little to no jail time. They also attempted to paint the state's testimony as a "false narrative." 
Once testimony was finished, McMahon handed down his judgement. After the hearing, Trude was placed under arrest and taken into custody.