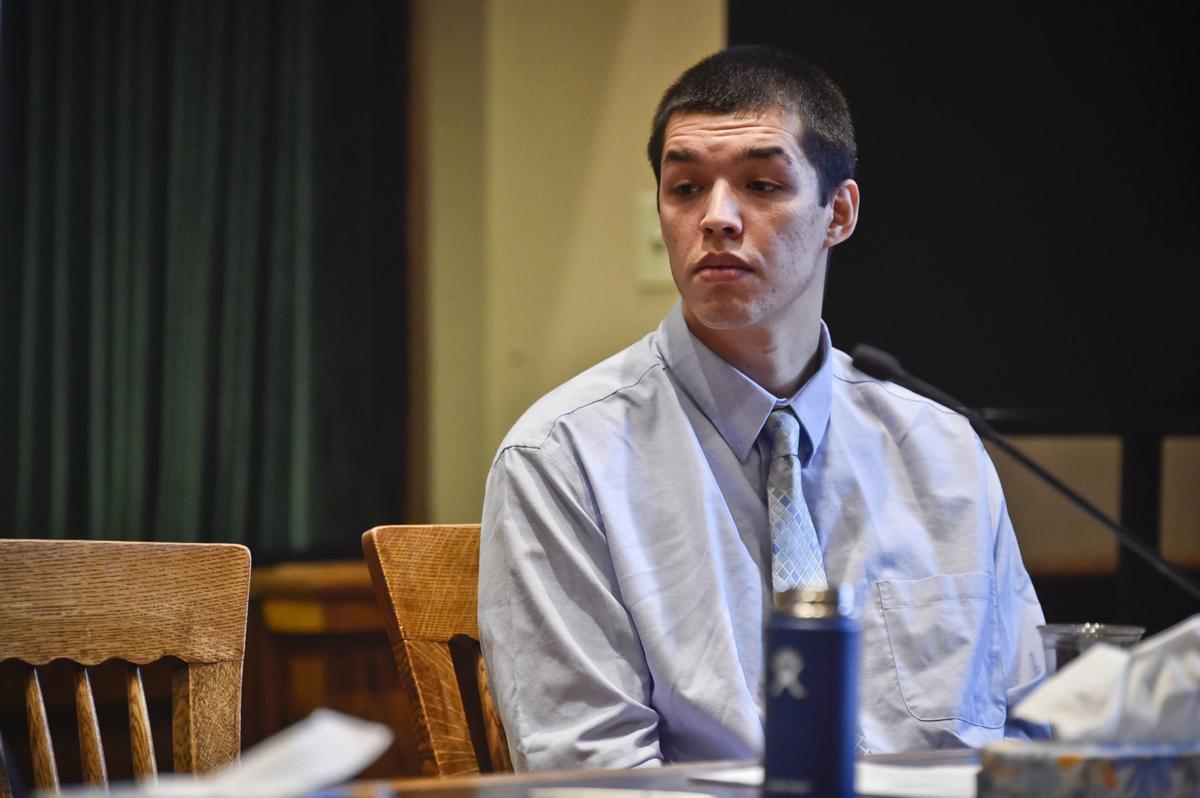 Journey Ryder Wienke, who was previously found guilty of two counts of deliberate homicide and tampering with evidence, was one of three men convicted of the slayings of Charla Rae Taylor, 64, and David Muncie Taylor, 61. The couple was killed in their home with a pocket knife and a piece of rebar in March 2018.
On Friday Judge Mike Menehan sentenced Wienke to two life sentences, with the sentences to run concurrently. He also received a 10-year sentence for tampering with evidence, also to run concurrently. 
Under Montana sentencing guidelines, Wienke would be eligible for parole in 30 years.
During Wienke's trial, Kaleb acknowledged that Wienke followed him into the home when he killed his parents but said Wienke "didn't have anything to do with it." The prosecution argued that circumstantial evidence points to Wienke holding the knife that night.
Lewis and Clark County Attorney Leo Gallagher has described the double homicide as "one of the most brutal nights of violence this community has ever seen."
During the sentencing hearing, Gallagher attempted to paint a picture of a young man given multiple opportunities to change his ways and asked that Judge Mike Menahan hand down a sentence that would "prevent him from leaving prison before his death."
"I don't think there is any chance he can be rehabilitated," he said. 
Gallagher pointed to Wienke's pattern of conduct that "predates the homicides and continues in jail."
Wienke has served 687 days inside Lewis and Clark County Detention Center since his arrest in 2018, which will count toward his sentence.
Samuel Warkentin, the probation officer who conducted the presentence investigation, testified during the sentencing hearing that he would not recommend granting Wienke the ability to seek parole.
Warkentin detailed a long troubled history of neglect and drug abuse throughout Wienke's life. At 13 months old, Wienke was taken from his parents because of their drug addiction.
He bounced around between foster homes, before eventually being adopted.
By the time he was entering high school, Wienke's adopted parents had split up, and he began abusing drugs and alcohol, according to Warkentin's investigation. Courtroom testimony on Friday confirmed that Wienke, Hamm and Kaleb Taylor were using heroin and methamphetamine heavily during the time leading up to the double homicide.
His criminal record started days prior to his 18th birthday, when in 2014, Wienke and some other juveniles broke into a Phillips County saloon and stole a case of liquor. He was sentenced then to three years with the Department of Corrections' Missoula Assessment and Sanction Center, a treatment program Wienke completed.
He was released into the supervision of Great Falls probation officers in May 2015, but by August of that year, he had fallen back into a longtime methamphetamine addiction, failed his court ordered drug testing and absconded, according to Warkentin's testimony.
In 2017, Wienke was featured in an episode of a cable television reality program called "Intervention." Warkentin said Wienke is seen using illicit drugs, pawning items to pay for the drugs and eventually being checked into a hospital.
The prosecution also said Wienke has caused several problems since his incarceration, including threatening jailers and damaging jail property.
"Mr. Wienke has had multiple options to address his issues," Warkentin said from the witness stand. "There is not a whole lot more the Department of Corrections can offer him at this point."
Wienke's defense attorneys attempted to portray their client as a person afforded little to no opportunities in his life. Defense attorney Lisa Kauffman said in her closing argument that Wienke's mother was abusing drugs while pregnant with Wienke, causing substantial harm and setting Wienke up for a lifetime of hardship.
Kauffman also argued that the severe overcrowding at Lewis and Clark County Detention Center is to blame for the incidents since his arrest, and that law enforcement should not be surprised when tensions rise in such a setting.
Kauffman also asserted in her closing argument that Wienke has in fact been provided little to no treatment for drug addiction and mental health problems, and that the Department of Corrections has not exhausted its resources for treatment.
Kauffman and fellow defense attorney Brian Smith asked that the judge consider mitigating factors such as Wienke's age, lack of violent criminal activity, history of neglect and heavy drug abuse. They recommended their client be sentenced to 80 years with 40 years suspended and that he be enrolled in the NEXUS Methamphetamine Treatment Center.
"We should not be warehousing young people like animals," Kauffman said. "He's becoming institutionalized. He's becoming a criminal."
In his statement to the judge, Wienke expressed remorse for his crimes.
"There is no one to blame but myself because of my drug use," Wienke said. "I hope you find it in your heart that I can be rehabilitated and not get life in prison."
Judge Menahan said he took many factors, including Wienke's troubled past and lack of a violent criminal history, into consideration when constructing his sentence.
"I don't want to discount the possibility that you could demonstrate to a parole board an ability to rejoin society," Menahan said.
Menahan credited Wienke with the nearly two years of time served and recommended he participate in the NEXUS program, which will be at the discretion of the Department of Corrections.
The Taylor family was also seeking restitution to the tune of nearly $36,000, which Menahan granted.