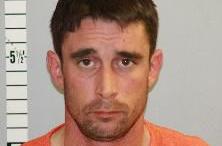 A 36-year-old Helena man is accused of conspiring to burn down the Red Roof Cafe. 
Brad Rae Richardson is charged with conspiracy and arson, both felonies.
On Oct. 20, 2018, the Red Roof Cafe burned down under circumstances deemed suspicious. Investigators from the Helena Police Department discovered a burned mattress and a water heater that had been tampered with, and a number of easily flammable items set close to the heater that were covered with a blanket and sleeping bag.
Investigators later heard that Richardson had an argument with a relative of Maureen Doubek, the owner of the Red Roof Cafe. The relative said Richardson had demanded money from him, telling him that in July he had told Doubek he would burn down the Cafe for insurance money, according to court documents.
You have free articles remaining.
Doubek told investigators in an interview that she had known Richardson for years and that the Red Roof Cafe was having issues. Doubek said she and Richardson had met at a bar to discuss the issues with the restaurant back in July 2018. Doubek said Richardson offered to burn down the Cafe for $14,000, according to court documents.
Documents say Doubek explained to officers she and Richardson had "off and on" conversations about burning down the cafe for the next few months. Doubek told investigators there was a "buy/sell" agreement in place for the Red Roof Cafe that would be closed on Oct. 30, 2018, for $340,000.
Investigators spoke with a witness who told them Richardson had admitted to putting diesel fuel on a mattress in the Red Roof Cafe and lighting it on fire, according to court documents.
Another witness approached investigators and told them Richardson had explained how he started the fire, and in fact had been told by Doubek to start the blaze "and make sure no one gets hurt," according to court documents. 
All charged are presumed innocent until proven guilty.