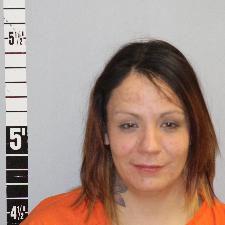 A 30-year-old Helena woman was arrested for allegedly stealing a vehicle and a firearm.
Leslie Dillon is facing one felony count of theft and one misdemeanor count of driving a motor vehicle while her license was suspended or revoked.
Lewis and Clark County sheriff's deputies responded to the 5800 block of N. Montana Avenue on Oct. 4 for a report of a stolen vehicle and firearm. The value of the stolen items totaled approximately $2,100.
Deputies returned to the residence Oct. 26, after the victim reported the vehicle was back in his driveway. The firearm originally kept in the glove box was not there.
Deputies noticed the odometer had recorded about 1,200 additional miles and discovered a receipt from a Coeur d'Alene, Idaho, business with a female's name on it.
Surveillance footage retrieved from the business showed Dillon arrive and depart in the stolen vehicle.
Dillon was arrested on a later date for an unrelated warrant and booked into Lewis and Clark County Detention Center. When deputies questioned Dillon, she admitted to stealing the vehicle and driving it to Seattle.
It is unclear what became of the stolen firearm.
All charged are presumed innocent until proven guilty.