Helena-area felony arrests reported Tuesday, April 2, 2019
Helena man accused of raping underage girl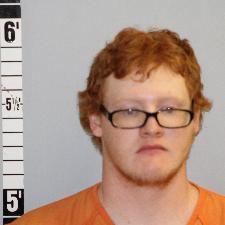 A 20-year-old man is accused of raping an underage girl.
William Tell Borske is charged with felony counts of sexual intercourse without consent and tampering with or fabricating physical evidence.
On April 1, a Helena police officer investigated a report of a missing minor girl, and on April 2, another Helena officer learned where the girl was. The second officer responded and located the girl, who told him she had sex with Borske earlier that night.
The victim told the officer she was wearing clothing that belonged to Borske and his girlfriend, and that her clothes were in the washing machine. The officer then spoke with Borske, who said he had sex with the girl. Borske then said he had washed the clothes because she had vomited, which the victim denied. 
Borske was arrested and taken into custody at the Lewis and Clark County Detention Center.
All charged are presumed innocent until proven guilty. 
Helena Police Department incidents reported Tuesday, April 2, 2019
At 9:20 a.m., an officer took a report of a theft that occurred in the 2900 block of Prospect Avenue.
At 12:37 p.m., an officer was dispatched to a business in the 1800 block of Prospect Avenue for a report of an unknown person trying to pass a counterfeit bill.  There is suspect information and this case is active. 
At 3:44 p.m., an officer was dispatched to a business in the 1700 block of 11th Avenue for a report of a male at this location that had a probation absconder warrant out of Powell County. Investigation into the matter led to a 30-year-old male being placed under arrest for valid arrest warrant. He was booked into the Lewis and Clark County Detention Center.
As of Tuesday morning, the county jail held 102 inmates (93 for felonies and nine for misdemeanors). In total, the county has 118 inmates at various detention facilities. 95 clients are serviced by the 24/7 sobriety program. Of these, 48 are on Personal Breath Test, 33 are on Secure Continuous Remote Alcohol Monitor bracelet, six are on GPS, and eight are on house arrest. Pretrial Services is currently working with 289 clients.