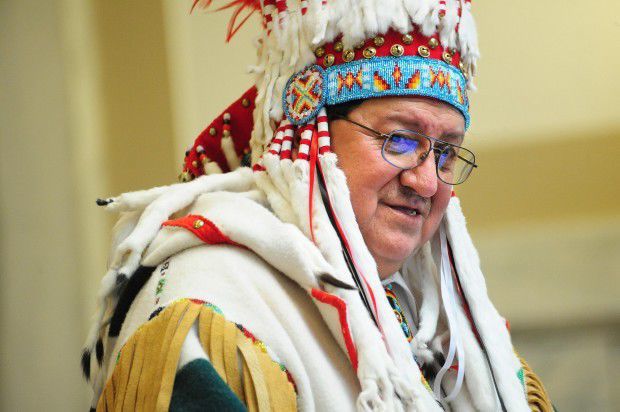 A former Blackfeet chair has admitted his role in an overtime fraud scheme that resulted in bilking the tribe's Head Start program out of $174,000.
Willie Sharp, 66, pleaded guilty on Wednesday to a single count of wire fraud in U.S. District Court in Great Falls. Sharp faces a maximum of 20 years in prison at his March sentencing.
Sharp, of Browning, is one of seven people, including his wife, who were indicted in the scheme.
Sharp authorized — or directed others to authorize — more than 5,800 overtime hours over a 15-month period, knowing the claims were fraudulent, prosecutors said. Sharp's wife, Denise Sharp, claimed 146 extra days of work, according to the government's offer of proof.
Sharp encountered resistance from the Blackfeet Tribal treasurer, who refused to pay the overtime claims, knowing they were fraudulent, prosecutors said. Sharp ensured they were paid anyway, the government said. 
According to prosecutors, Sharp told one Head Start employee: "(Y)ou better park a vehicle at the BHS complex." Prosecutors say this was an attempt to make it look like the employee was at work when that employee was not really there.
You have free articles remaining.
The fraud prompted audits of the Blackfeet Head Start program, and two firms conducting audits found the overtime pay claims were "beyond necessary and reasonable," and that they had no supporting documentation, government filings note.
The Blackfeet Tribe agreed, after conducting its own internal audit, and repaid the U.S. Department of Health and Human Services $250,620 for disallowed costs and other expenses.
The change of plea was announced Wednesday in a press release from U.S. Attorney for Montana Kurt Alme.
Under a plea deal, prosecutors agreed to dismiss a count of theft from an Indian tribal government receiving federal funding.
Sharp is the last of the co-defendants to plead guilty. Prosecutors filed their first indictments in the case in October 2017.
Allen Shane Goss and Carol Hall Bird were sentenced to probation. Theresa Marie Calf Boss Ribs, Patrick Calf Boss Ribs, and Denise Sharp were all sentenced to prison for eight or nine months each.
Restitution ordered for each of the five defendants already sentenced ranges from $14,727 to $139,096.
Co-defendant Ethyl Lee Grant died in 2018 while her case was still active.