Stanley Maczek testified last week in a Missoula County homicide trial about leaving his family behind, enrolling in college and changing his name. He didn't particularly respect or love how his father, Thomas Korjack, had treated their family as he scurried them toward the Canadian border while fleeing tax evasion charges 20 years ago.
Korjack is one of two men prosecutors believe were killed by Caressa Hardy in their home outside Frenchtown in 2013. While bone fragments unearthed in Hardy's fire pit have been established as human, extreme weathering prevented anthropology teams from extracting any DNA, and so they remain unidentified.
Maczek did, however, testify about the need for some closure, particularly on his mother's behalf. And it was Maczek's DNA, a Montana State Crime lab official testified on Tuesday, that was tested against blood found on a TV in Hardy's house. The results showed the blood was several million times more likely to be that of Maczek's biological father than anyone else — perhaps the most concrete piece of evidence uncovered by investigators since the alleged killings.
Missoula County prosecutors rested their case Tuesday, a full week since opening statements. Hardy faces two counts of deliberate homicide for the apparent killings of Korjack and Robert Orozco, as well as two counts of solicitation for murder for allegedly seeking out inmates to kill Karen Hardy, the defendant's former partner, mother to his children and the one person who says she was in the basement bedroom of the Frenchtown home when Hardy started shooting in March 2013.
Hardy, once known as Glenn Dibley, and Karen Hardy met up with Orozco  nearly 10 years ago in Gillette, Wyoming. The couple formed a non-traditional family with Orozco, with whom Karen Hardy fell in love, and Korjack, a wealthy engineer who later purchased the Frenchtown home under Hardy's name.
According to Karen Hardy's testimony, Hardy killed Korjack and Orozco out of fear Korjack would cut Hardy off financially. Hardy was transitioning to a woman when he was arrested in July 2017; attorneys and witnesses have used the pronouns "he" and "him" when referring to Hardy.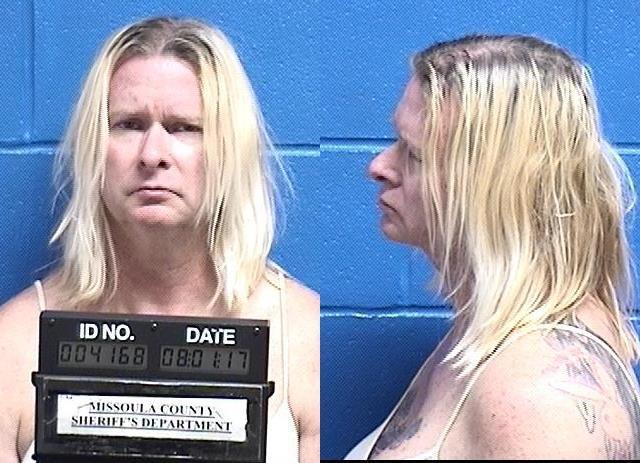 As the prosecutors' case came to a close, Missoula County Sheriff's Detective Jared Cochran was called to the witness stand again, this time testifying about the notes and drawings recovered from Hardy's jail cell. Among the notes, "death=freedom" and "death to Karen" were written in red ink in Hardy's Bible. 
Karen Hardy wasn't the only one on Hardy's mind while he was sitting in jail. Note paper presented to the jury showed a line of stick figures X'ed over in more red ink. Above the figures were names of detectives and witnesses, and the word "DOOMED" appeared scribbled below. Other images showed stick figures in a cage, along with the words "False witnesses."
The presentation of these drawings drew an argument from Hardy, who addressed the judge directly Tuesday, with the jury out of the courtroom:
"Under the First Amendment of the U.S. Constitution, as well as under the Montana Constitution, I have the right to freedom of expression and speech," Hardy said. "Those drawings only depict people who are lying as false witnesses against me, that they will be judged by God. That's his judgment, and it's not a direct threat towards anyone in the physical, on this earth, by me or anyone else."
Judge James Wheelis allowed the jail notes to be presented. Along with the stick figures, newspaper clippings and Bible notes, other scraps of paper included writings that seemed to present the notion that Orozco had killed Korjack and that Karen Hardy killed Orozco. Former cellmates who testified Monday said Hardy had been "testing out" defense theories in jail ahead of trial.
Hardy's defense team got underway in a hurry Tuesday, calling six witnesses in the first hour.
Hardy had, on paper and in person, appeared to be the one who owned and controlled the property on Pond Road, a real estate broker and several neighbors testified, despite financial indications that Korjack had actually put forward the money to purchase the property. The home had been foreclosed on in 2011 and purchased by Hardy the next year.
Brad Smith testified Tuesday that he and Hardy had become "extremely good friends" after meeting online, and that Hardy and his daughter would visit them several times a year at Smith's Stevensville home. He called Hardy an "excellent father" to the girl, approximately 6 years old at the time of the alleged killings.
Smith's mentioning of Hardy's daughter broke the defendant's statue-like posture for the second time on Tuesday. Hardy took off his glasses and silently wiped away a few tears. Hardy had reportedly allowed Karen Hardy to leave the Frenchtown home some time after Korjack and Orozco disappeared, but he did not allow her to take their daughter.
Curtis Moore, of Gillette, testified Tuesday that he took Karen Hardy in about two years after she says the killings occurred. Moore, a friend of theirs when Karen and Caressa Hardy lived in Wyoming, said Karen Hardy didn't show any signs of distress or fear when she lived with him for about a month in 2015.
Brent Wolz, a civil engineer and owner of a consulting company in Gillette, testified that Korjack had once worked for him after his release from federal prison on the tax evasion charges. 
Korjack refused to be paid more than $10 an hour for his work as a structural and forensic engineer, Wolz said. That was below margin for a former university professor and nuclear physicist, but Korjack didn't want to pay the taxes. 
Ultimately Korjack was jailed again on embezzlement charges, Wolz said, and the last time he saw Korjack was in 2008. They had spoken a few times afterward, but Wolz said he never heard from Korjack again after 2013.
Hardy's defense argues Korjack and Orozco actually fled the country; Korjack as a new ruse to avoid taxes and Orozco to escape paying several thousand dollars in child support he owed in three different states.
Theresa Gorka, Korjack's ex-wife who was there with Maczek when they were stopped at the Canadian border as Korjack was trying to flee from the IRS, testified Tuesday that her husband had been en route for a new job at a university in Alaska when federal authorities caught up with him. Still, she said, Korjack had been secretive about many things, including the fake passport he had made in his dead brother's name that she found while he was incarcerated.
"Many of his things, he was not discussing with me," she said. "He never wanted to tell the truth, really."
She grew more estranged from Korjack after he was released from prison and they divorced. No one in her family knew he had gone missing in 2013 until Karen Hardy reported the alleged killings to authorities in eastern Montana three years later. 
Hardy's defense continues Wednesday in Missoula County District Court.