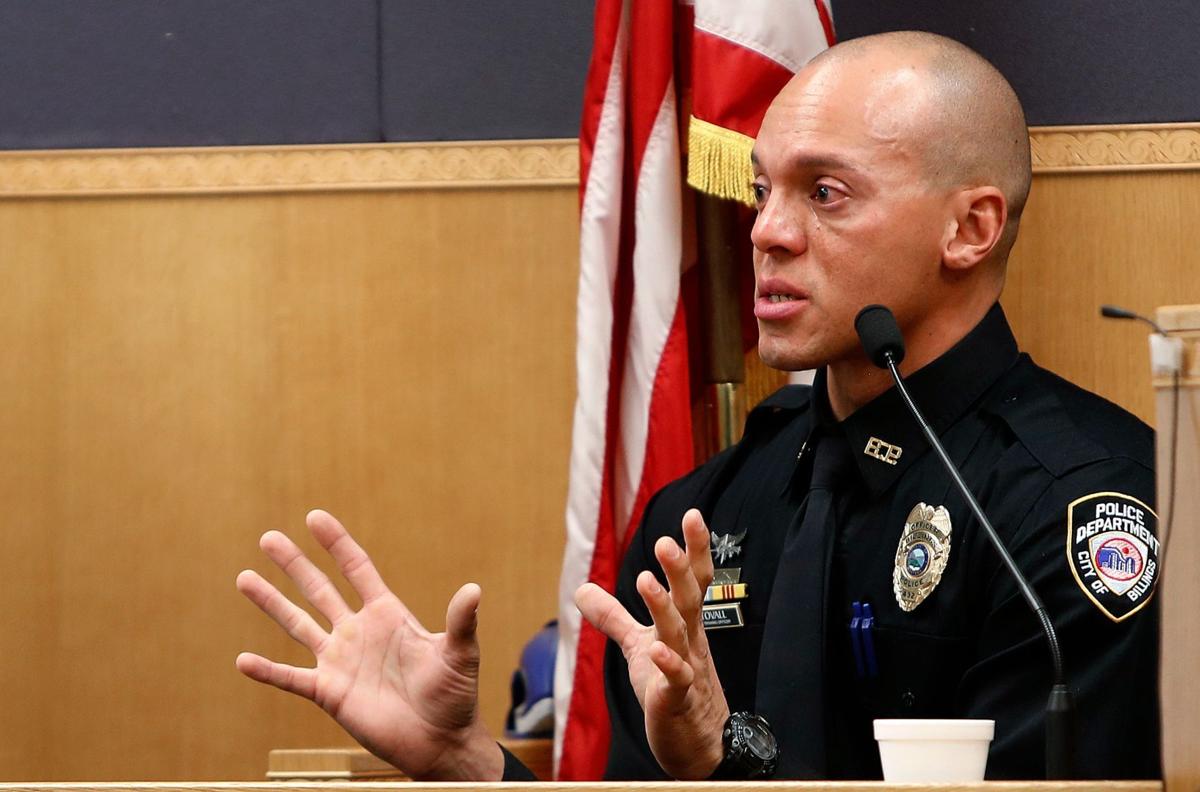 A Billings cop who was named officer of the year in 2019 has served two weeks of unpaid leave after receiving a drunken driving charge in May. 
Officer Jeffrey Stovall, who has been with the Billings Police Department for six years, was arrested and charged with a first offense DUI by the Yellowstone County Sheriff's Office on May 22 while he was off duty in his own car, the city said in a press release issued Wednesday after questions from The Billings Gazette. 
Stovall was placed on administrative leave while criminal and internal investigations were completed, according to the press release from Chief Rich St. John. 
On June 22, the department completed its investigation and determined that Stovall violated department policies. He was put on administrative leave without pay for two weeks, was removed from the U.S. Marshals Service Violent Offender task Force and reassigned to patrol for a minimum of two years. In addition, he was removed from the SWAT team and will be ineligible for any collateral duty for a period of two years. Collateral duty includes special assignments like bomb squad and hostage negotiation. 
The department reported the incident to the Montana Public Safety Officer Standards and Training, which certifies law enforcement officers to work in the state. 
Perry Johnson, executive director of POST, said the case will likely be reviewed during the POST committee's next monthly meeting and that the POST response could range from taking no action to revoking Stovall's certification. St. John has recommended an admonishment and two years of probation. Stovall will have a chance to respond during the POST review. 
Stovall will plead guilty to the charge, according to the press release. He's completed court requirements and he is participating in "several counseling programs," the release stated. 
"I am disappointed that some officers fail to realize they represent this organization on or off duty," St. John said in a press release. "Actions such as this are not just embarrassing on a personal level; they discredit the entire police department. It is particularly troubling when one of our officers violates the very law we are trying to enforce. It undermines the trust and confidence of the community. Simply stated, this conduct is unacceptable and not representative of the BPD."
St. John also said he tries to find a balance between discipline and support in officer misconduct cases. 
"In this case, Officer Stovall is a decorated officer with no previous discipline and yearly evaluations that exceed expectations," St. John said in the written statement. "From the onset, Officer Stovall has owned his mistake, taken responsibility, and taken steps to correct [the] matter. This incident does not define Officer Stovall and he will learn from his mistakes, not repeat them, and continue to be an asset to this department and community."
Stovall was named 2019 officer of the year in the department's annual report, which noted he served on multiple special teams and training operations, and provided emotional support to other officers when needed.
Stovall was arrested at 64th Street West and King Avenue West after another driver called 911, according to city disciplinary documents released to the media with the press release. 
The other driver told responding sheriff's deputies that Stovall pulled in front of her as she entered the intersection but then veered off the side of the road and came to a stop. She "laid on the horn" twice, and believe this had woken up Stovall, the disciplinary report states. 
Stovall declined to take a breath sample on scene and declined to take a breath or blood sample while at the DUI processing center after being arrested. 
Johnson, of POST, estimated that the agency sees two or three reports of an officer DUI each year. Discipline for those cases is based on factors including the officer's demeanor on scene, and whether they cooperated with responding officers. 
In Montana, a person's driver's license is automatically suspended for six months when they decline to take a breath or blood test by a patrol officer who suspects impaired driving.
There's often a path to obtain a provisional license upon pleading guilty, but if a police officer charged with a DUI were unable to obtain one, they could continue working for BPD on bike patrol, foot patrol, doubled up in another officer's patrol car or in some other capacity that didn't require driving, as long as they had good standing with the department, St. John said. 
If the officer instead had his or her license revoked, they would be fired, since driving is an essential job requirement, St. John said. 
If an officer has a DUI on their criminal record and is acting as a witness in a DUI case for another individual, the officer's crime would not necessarily surface during the course of a jury trial. Law enforcement and civilians are treated the same under rules of evidence, and those rules bar discussion of witness' criminal history unless it includes a crime of dishonesty, according to Yellowstone County Attorney Scott Twito. 
If the defense successfully argued that an officer's prior DUI was relevant to proving the facts of their client's case, a judge could allow questioning on it, Twito said.