High school is a place where dreams take shape.
Although Steve Bullock didn't admit to dreaming of being president when he went to Helena High in the early 1980s, he did return there Tuesday, surrounded by his family, to start his journey as Montana's first-ever announced major-party presidential candidate.
The two-term Democratic governor grew up in Helena, and one of his seventh-grade classmates was Julie Ladd, who returned home to teach science at the school she attended — and where her father taught science. Now, she teaches Bullock's daughter Caroline — and apparently played a key role in her life, when she strongly suggested that Bullock call their old classmate, Lisa Downs.
Tuesday afternoon, Ladd's classroom was bristling with cameras, microphones and journalists. Students sat at tables surrounding the center of the room, where Bullock siblings Caroline, Alex and Cameron awaited their parents.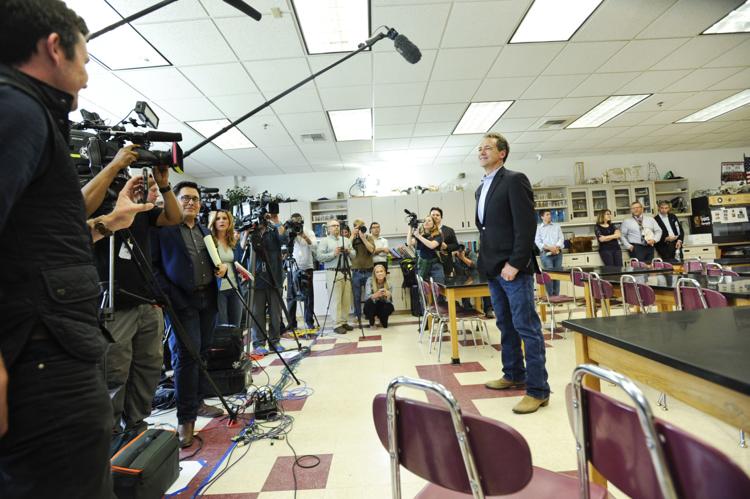 After Ladd introduced her, Lisa Bullock spoke directly to her children and their fellow students.
She thanked the students for accepting her daughter Caroline's invitation to attend the event, and grew emotional when she said, "Friendship is the greatest gift you can ever give."
She added, "Steve sat in these classrooms, walked the same halls, cheered in the same gym you do.
"I hope you can be inspired to be courageous, to follow your heart, and use the gifts you have to lead and improve the lives of those around you."
She told the students that "Steve's decision to run is genuinely grounded in wanting to make this country a better place," and then introduced her husband as a person "who continues to inspire me to lead and to serve."
Bullock said, "This morning I released a video that announced my run for president. ... that's a pretty audacious goal for a B student."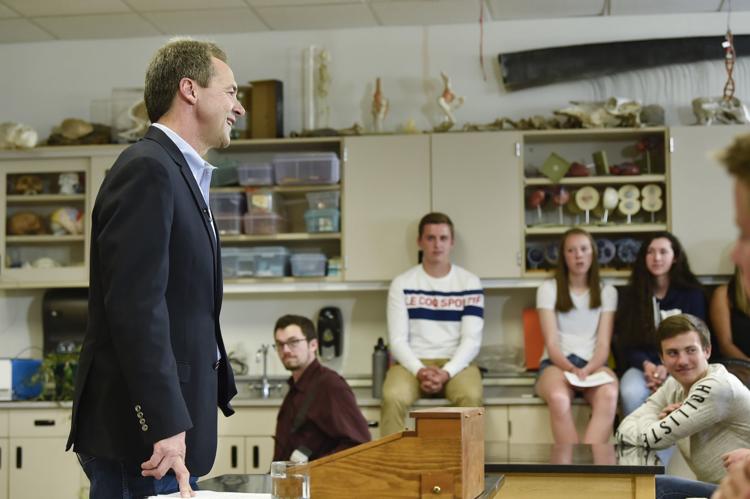 He quickly turned to reminiscing about growing up in Montana, and in a clear reference to his own presidential odds, said that Montana was a place where "the improbable can become achievable."
He talked about growing up with Montana values of respect, hard work, education, of wanting to make life better for your children than it was for yourself.
Bullock stressed a message of unity and reconciliation in the country. He said that whether someone was born "on a ranch in eastern Montana, or ... in the suburbs of Chicago, or a small town in Texas," they want the same things — "peace of mind that you have a safe place to live and work," a "roof, a decent job, good public schools ... knowing that you can call the doctor if you get sick, that you have clean air and clean water.
"If we can all agree on these things, that's a lot of common ground to work with."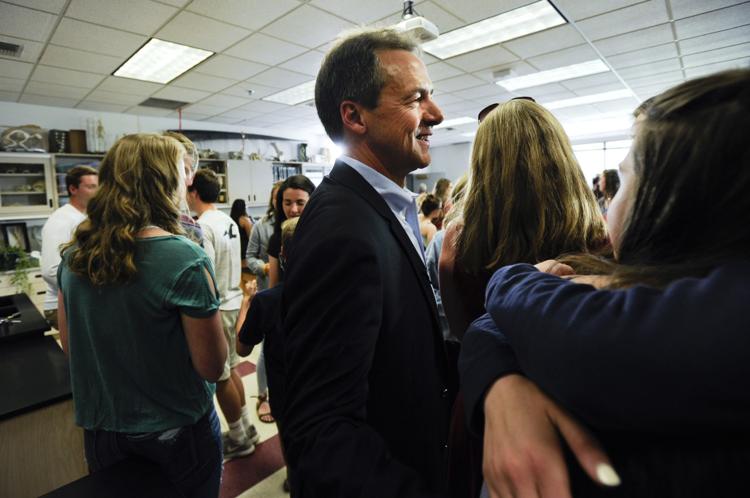 But he said that "we've fundamentally reached a dangerous place in this 243-year-old experiment in representative democracy. Trust in government is at the lowest point in my lifetime. Politics is dominated by those who write checks. We get this dangerous discourse and divisiveness. Government becomes the enemy instead of a partner in improving people's lives. We're more divided than we've ever been."
Bullock said he is running for president because he wants to repair the bonds between citizens, to focus on  "how we can do better" instead of "dividing into warring camps."
"We can be that country again," he told the students, "that country I want for each of you. ... where the improbable is actually achievable."