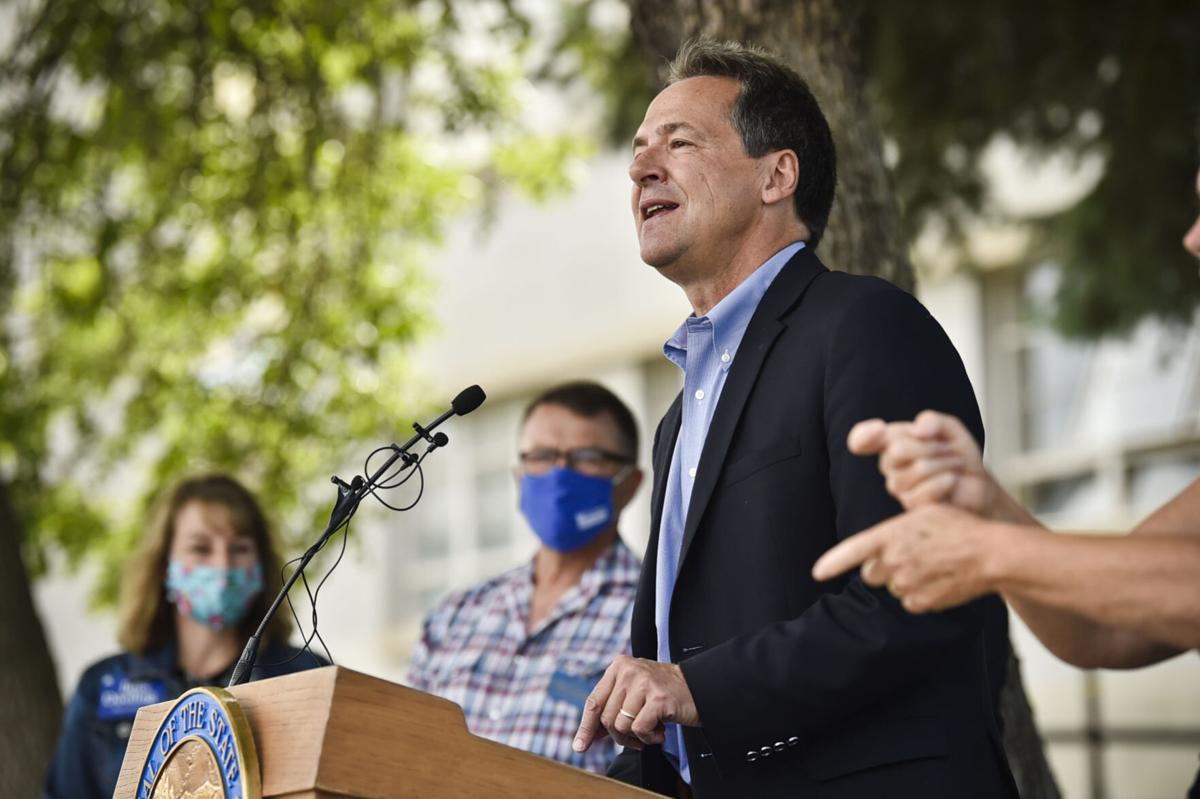 Montana's outgoing and incoming governor were split on a lawsuit filed by the Texas attorney general requesting that four swing states that went for former Vice President Joe Biden be prevented from casting their electoral votes next week.
Late Friday, the U.S. Supreme Court said it would not hear Texas's case for lack of standing, saying Texas "has not demonstrated a judicially cognizable interest in the manner in which another state conducts its elections."
Montana Gov. Steve Bullock, a Democrat, had asked the U.S. Supreme Court in a late Thursday filing to dismiss the lawsuit. That came after Montana Republicans Gov.-elect Greg Gianforte and Attorney General Tim Fox joined amicus briefs encouraging the justices to hear the case. Bullock leaves office and Gianforte is sworn in Jan. 4. Fox is also termed out and lost to Gianforte in the governor primary this June.
"Our democracy is not a game," Bullock said in a statement. "The decisions of elected officials have real consequences for the rule of law and the underpinnings of our democracy that are more important than currying favor with an outgoing president. It is up to all of us to defend the rule of law and our representative democracy. Without it, we are lost."
Bullock's brief notes that like the states named in the lawsuit, Montana also expanded mail-in voting. That occurred through a Bullock executive order under emergency powers granted to the governor by the Legislature. If successful, the lawsuit would "destabilize results of elections in Montana and any other state that took valid state-law actions to minimize the impact of the virus on voting," including votes for Republicans, the brief says.
Bullock further noted that a federal court found his emergency powers to expand mail-in voting to be valid in a case decided before the election. In that same case, the judge wrote that there has been no instances of voter fraud in Montana over the last two decades, even as voters here have increasingly opted to cast their ballots by mail through the absentee process. In the 2018 midterm, more than 70% of votes were cast absentee.
This year's November vote broke the record for most ballots ever cast in a Montana election by 95,174 votes, a nearly 18% jump from the past high in 2016.
On Friday, in response to questions asking if Gianforte felt Montana's mostly mail-ballot election this November was fair and without fraud, what his specific concerns were with the four other states and how those states' mail ballots were handled different than Montana's, a spokesperson for Gianforte's congressional office said "Greg believes that the Texas lawsuit has legitimate questions, and they deserve to be answered."
Disputes between states go straight to the U.S. Supreme Court. Earlier this week Anthony Johnstone, a law professor at the University of Montana's Blewett School of Law, said the Texas filing could have set a dangerous precedent for states that don't like the way others run their elections.
"If Montana doesn't want California telling it how to run its elections down the line, it shouldn't support Texas' suit against Georgia here," Johnstone said Wednesday.
Gianforte said when he joined the amicus brief Thursday, along with more than 100 other Republican members of Congress, that important questions needed to be answered in order to protect the integrity of the election.
Fox said at the time of his filing and those by 16 other Republican attorneys general, that while it is unlikely the court will hear the case, Texas raised important legal questions and that only state Legislatures are constitutionally allowed to make election law.
The Montana Republican Party on Friday also weighed in, send a press release saying the party wants election results invalidated in the four states.
"President Trump continues to fight for us, and we will continue to fight for him," said party chairman Don Kaltschmidt. "The American people are entitled to an honest and transparent election, and allowing this lawsuit to play out will ensure that all Americans can be confident in the final results of the election."