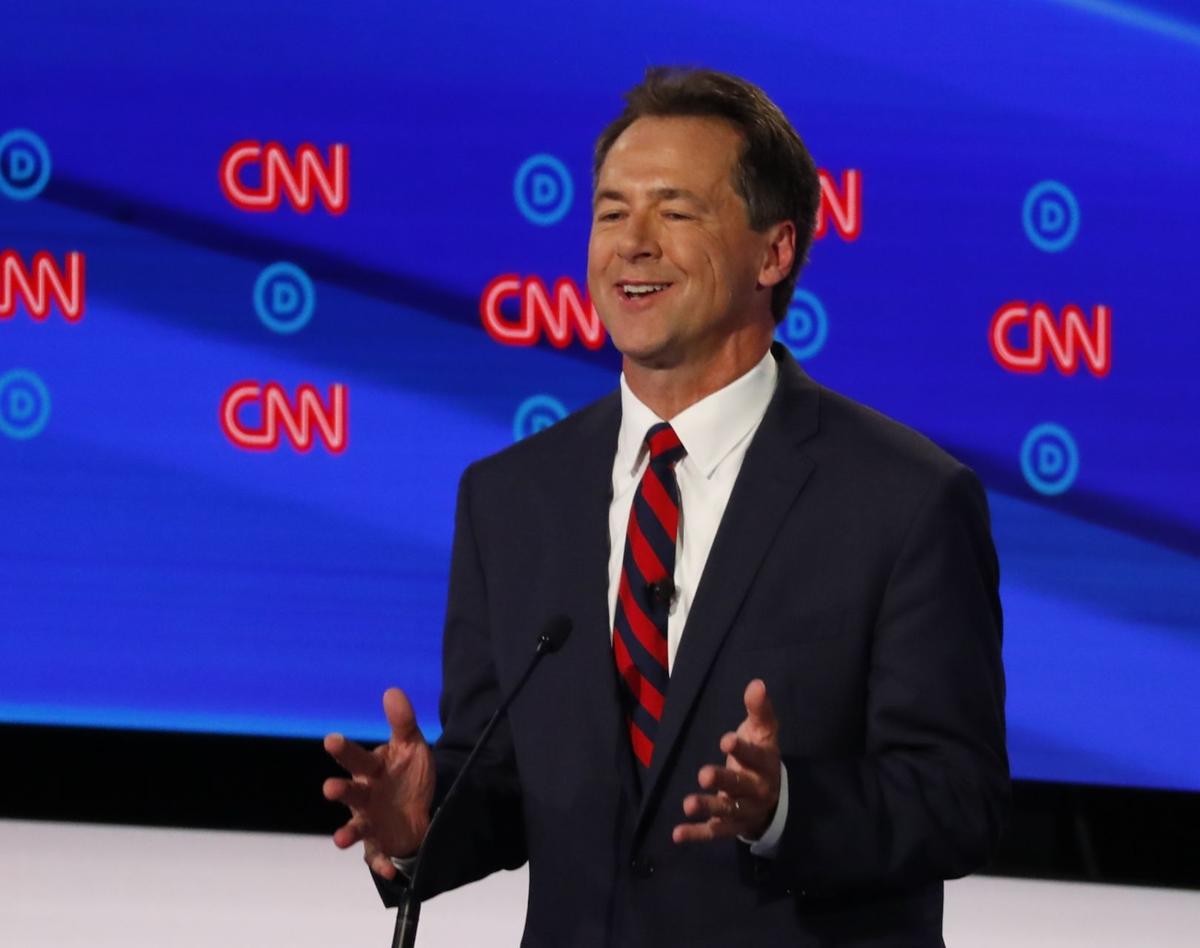 Montana Gov. Steve Bullock doubled down Sunday night on his commitment to the presidential race, telling a national CNN audience that running for Senate is an "absolute no."
CNN moderator Alisyn Camerota raised the topic near the end of an hourlong town hall the network hosted in New York. Since Bullock launched his campaign in May for the Democratic nomination for president, he's faced calls to instead run against incumbent Republican Sen. Steve Daines next year. So far, Bullock's campaign has maintained he's not interested in that race, but Camerota raised the prospect again Sunday night.
"If you don't win the Democratic nomination, would you reconsider running for Senate?" she asked.
Bullock replied that, while he would "do everything that I can to make sure that we elect somebody to beat Steve Daines," he felt his executive experience was best suited to the Oval Office, and he was concerned that serving in the Senate would keep him away from his children during the week. He also said "if we actually want to win some of these red and purple states, it might help to have somebody that's won in a red and purple state at the top of the ticket."
"So that's an absolute no?" Camerota pressed.
"That is an absolute no."
His reply didn't surprise University of Montana political analyst Lee Banville. While Bullock could enter Montana's U.S. Senate race well into next year, Banville said that "right now, he can't even hint at (the possibility that) he might do that, because to say that is essentially to say, 'I'm going to be dropping out tomorrow.'"
"He has to sort of stick to his guns … but come late January that may be a different conversation," Banvile said. "Of course" his rivals would attack him for switching to the Senate race, "but I don't think it's a dealbreaker in any way."
So far, Bullock's failed to gain much traction in a crowded Democratic primary pack. His campaign has focused heavily on the crucial first-caucus state of Iowa. He's stressed his electoral success in a state that voted heavily for President Trump, and billed himself as a governor who forged partnerships with Republicans to pass progressive legislation, particularly campaign finance reform.
Sunday's town hall gave him the chance to reiterate his proposals on that issue, including requiring federal contractors to disclose their campaign spending and amending the Constitution to void the Supreme Court's 2010 Citizens United Decision. But it also raised policy issues where Bullock has staked out a moderate position among more than two dozen candidates.
For instance, Senators Bernie Sanders and Elizabeth Warren have called for introducing a "Medicare-for-all" system that would eliminate private insurance. But when medical student Michael Zingman asked Bullock if he would support such a program during Sunday's town hall, he refused.
Calling the Affordable Care Act "the greatest stride we've made since Medicaid and Medicare," he said, "I want to build on that, not start all over." While he said those improvements could include a public option, "I don't think the best thing to do would be to start all over."
Pressed about gun violence and his past skepticism toward gun control, Bullock called for "common sense steps" on the issue, identifying voluntary assault weapon buybacks as a measure he backed — and condemning the National Rifle Association's financial sway in elections.
Last week, Sanders released a "Green New Deal" proposal with $16 trillion worth of investment in alternative energy. Asked about whether he had an aggressive plan to combat climate change, Bullock predicted the United States could achieve net zero carbon emissions "by 2040 or even earlier." But he put the emphasis on specific measures — such as winterizing more homes, rejoining the Paris Climate Accords and modernizing the electrical grid — rather than a massive, sweeping investment.
"I think he did a solid job of tackling issues that are not always easy to him," UM's Banville said afterward. "I think the big question for Steve Bullock is, does this appearance and having the stage to himself move the needle at all? Does he get more donors? Does he get more attention?"
Appearing on the town hall will put Bullock in front of more voters than he otherwise has access to. After missing the first round of the Democratic National Committee debates but appearing in the second last month, Bullock is unlikely to make the smaller stage in September or October. That's because the threshold is higher — registering at least 2% in four DNC-approved polls, and campaign contributions from at least 130,000 individual voters.