When Lavern Bitterman began to exhibit early symptoms of dementia, his wife, Virginia, didn't recognize them.
She just knew something wasn't right.
"He couldn't figure out things," Bitterman said, sitting at the dining room table of her Billings home.
Lavern, now 93 and a military veteran, formerly was very precise in everything he did. But Virginia noticed he had trouble doing the proper measurements to make a set of stairs.
The couple would go out with friends and the previously outgoing man grew taciturn, remaining silent through the meal.
"As I look back, we had about a year of depression," said Bitterman, 85, of her husband who normally was very warm and even-tempered.
The turning point came approximately 5-1/2 years ago when Lavern drove with Virginia to a nearby hardware store, a drive he had made countless times before. He couldn't figure out how get home again without Virginia's guidance.
Neuropsychological testing over time revealed that Lavern had dementia, which the Alzheimer's Association defines as "a decline in mental ability severe enough to interfere with daily life." He isn't alone, said Dr. Charlotta "Lottie" Eaton, a retired Billings physician and volunteer with the association.
"We know that veterans with PTSD are very high risk for dementia," said Eaton, who will give a talk on "Understanding Alzheimer's and Dementia" Wednesday at the Billings VA Outpatient Clinic. "They are two to five times higher to be diagnosed with dementia than the general population."
One in 10 people living with dementia in the United States is a military vet, Eaton said. In addition to PTSD, depression as well as traumatic brain injury increases the risk of dementia.
A life together
Lavern and Virginia met in Havre and the couple married in 1958.
"We got married on his birthdate, March 8," she said.
Lavern had enlisted in the Navy at age 18, in 1943, and spent the majority of his time during World War II in the Mariana Islands as an aircraft mechanic, including time on Saipan, Virginia said.
"I didn't realize until I read some articles on Saipan what a terrible conflict it was," she said.
He kept a diary every day of his 3-1/2 years in the military. Virginia opened a small notebook and showed some of the drawings he made.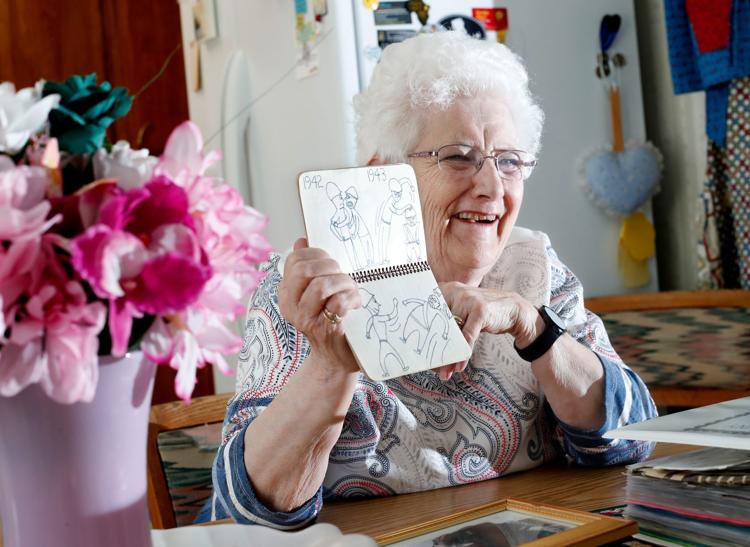 When he returned to Montana, Lavern didn't talk about his time in the military. But the PTSD he suffered leaked out in other ways.
Over a period of about eight years, the Navy vet suffered frequent nightmares. Virginia would wake up and hear her husband moaning with what she knew was terror.
She'd gently wake him up and tell him he was having a nightmare.
"He'd tell me what he was dreaming and we'd talk about it," Virginia said. "I'd have to rub his back to help him go back to sleep."
After a period of years, the nightmares stopped. The couple, who have three children, six grandchildren and one great-grandchild, moved to Billings in 1983 for Lavern's job.
Once he was diagnosed with dementia, Virginia took care of him at home for a couple of years until it got to be too much. Then he was moved into memory care at St. John's Lutheran Ministries about 2-1/2 years ago.
For a period, his behavior turned combative. But medication helped him return to his kind and gentle self, Virginia said.
For the past several months, Lavern has been in hospice care.
"He's in a wheelchair," she said. "He doesn't talk much, but he recognizes me and after while he'll recognize the kids, but that's about it."
Wanting to know more about what Lavern was going through, she turned to the Internet where she found the Alzheimer's Association website. She learned a lot about dementia and Alzheimer's and recognized that she wasn't alone in trying to help a loved one suffering from the condition.
"It helped me to know what I was going through was normal," Virginia said.
Recognizing the signs
Many military vets from the wars in Iraq and Afghanistan have suffered traumatic brain injuries. Because TBI, as well as PTSD and depression, are linked to dementia and Alzheimer's disease, the numbers will continue to rise, Eaton said.
Early symptoms can include difficulty in finding misplaced items and not being able to retrace your steps.
"You can't remember names of things so you start making names up," Eaton said. "Rather than a pen, you call it a writing stick or instead of a watch, a wrist clock."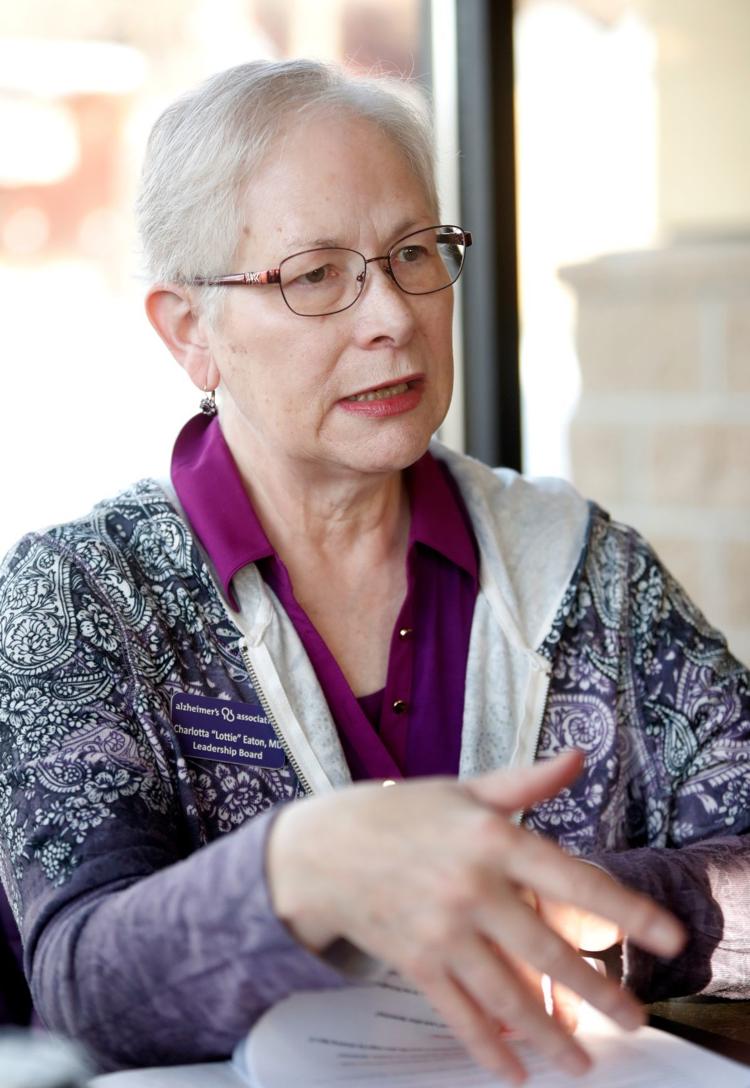 A person in the early stages of dementia may have trouble drawing a clock face or being able to identify a specific time. They may struggle with keeping up with their checkbook or become vulnerable to scams.
To understand the difference between natural aging and dementia, Eaton suggests people visit the association's website and study the 10 early signs of Alzheimer's. People with questions are also invited to call the 24/7 helpline.
Because conditions such as dementia and Alzheimer's often come on gradually, Eaton suggests couples get their legal and medical affairs in order, so a spouse isn't handicapped if decisions need to be made on behalf of a husband or wife afflicted with dementia.
If a spouse suspects his or her partner is struggling with mental lapses that may include dementia, Eaton suggests a thorough physical exam be performed. 
"You have to make sure it's not something to do with blood pressure, blood sugar control or something else, like the thyroid," she said.
If more help is needed, the couple can be referred by their physician, Eaton said. And they can seek advice by calling the 24/7 help line at 800-272-3900.