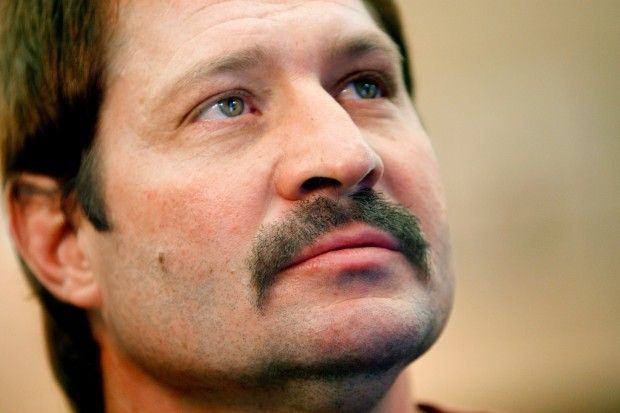 BILLINGS — Yellowstone County Sheriff Mike Linder has confirmed that Barry Beach is in custody.
Linder said Beach arrived voluntarily at the Sheriff's Office shortly after 11 a.m. He was taken into custody on a warrant issued in Roosevelt County, Linder said.
Linder said he could not release any details about plans for Beach's transport to jail or prison for security reasons. Beach will be turned over to the custody of the state Department of Corrections, he said.
______________________________________________
Barry Beach, who has lost his bid at exoneration for a murder he says he didn't commit, is "keeping his dignity" in the face of his possible return to prison as early as today, said Jim McCloskey, the founder of a non-profit organization that has backed Beach's legal efforts.
"You can imagine he's distraught," McCloskey said Wednesday morning. "He keeps his chin up and he is keeping his dignity because he knows he's innocent."
Reached by telephone at his office in New Jersey, McCloskey said he spoke with Beach shortly after the Montana Supreme Court issued a ruling Tuesday overturning his chance for a new trial.
On Wednesday morning, Beach spent part of what could be his last hours of freedom eating breakfast at a diner with Billings Mayor Tom Hanel, according to the Associated Press.
Wearing a t-shirt that stated "I didn't do it," Beach choked back tears and fielded phone calls from supporters, the AP reported. Beach said it was unbelievable he could be returned to prison.
McCloskey said the high court's ruling by a 4-3 vote was devastating.
"I'm sickened by this decision," McCloskey said. "It's a nightmare. We're all living a nightmare."
McCloskey said he has been informed that Montana authorities are expected to issue an arrest warrant for Beach, and that could happen as soon as today.
But as of Wednesday morning, Beach remains a free man as he has for the last 18 months since he was released without bond following a 2011 ruling by a district court judge in Lewistown that granted him a new trial in the 1979 murder of Kimberly Nees.
The Montana Attorney General's Office appealed the decision, which was decided Tuesday by the Supreme Court.
Officials at the Attorney General's Office have yet to comment on the ruling. A spokesman for the agency said Wednesday morning that a statement will be released later in the day.
McCloskey said he expects Beach to be taken into custody "very soon."
"Their intent is to issue an arrest warrant for Barry and we don't know when that will happen," he said.
McCloskey said he will fly from New Jersey to Billings later today, arriving here shortly before 11 p.m. He hopes to meet with Beach as soon as he arrives.
Nees, 17, was bludgeoned to death and her body thrown into the Poplar River on June 16, 1979. Her murder remained under investigation until 1983 when Beach, a former classmate, was arrested in Louisiana and confessed to the killing.
He later recanted the confession, saying he was coerced by detectives in Louisiana who were investigating other unsolved murders of young women.
A jury convicted Beach of deliberate homicide in 1984, and he received a sentence of 100 years at Montana State Prison.
Beach served nearly 30 years of his sentence before Judge E. Wayne Phillips in Lewistown ordered him released without bond after granting him a new trial in December 2011.
Beach was released to the custody of former Yellowstone County commissioner James "Ziggy" Ziegler, who met Beach while he was providing a prison ministry.
Beach lived with Ziegler and his wife, Stella, for the first months of his release and worked at the couple's business in downtown Billings, the Best Western Clocktower Inn, as a maintenance manager.
Last July, Phillips allowed Beach to move out of the Ziegler's home and live on his own.
Ziegler told the AP on Wednesday morning that he was trying to negotiate a voluntary surrender on behalf of Beach.
Glena Nees Lockman, who lives in Billings and is related to Kimberly Nees, said she has followed Beach's effort to prove his innocence closely.
"I'm outraged over this decision (by the Supreme Court) because I truly believe he is innocent," said Lockman.
Lockman said she believes that Beach was wrongly convicted based on a forced confession.
"What was he, 20 years old?" she said. "He was a scared kid."
Lockman said she is a second or third cousin of Kimberly Nees, who she used to babysit.
In more recent years, Lockman has become a close friend and supporter of Beach. She last spoke to him on Sunday, she said, when he called to wish her a happy Mother's Day.
"I guess I'm just waiting along with everybody else to hopefully hear some good news, but it's not looking so good," she said.