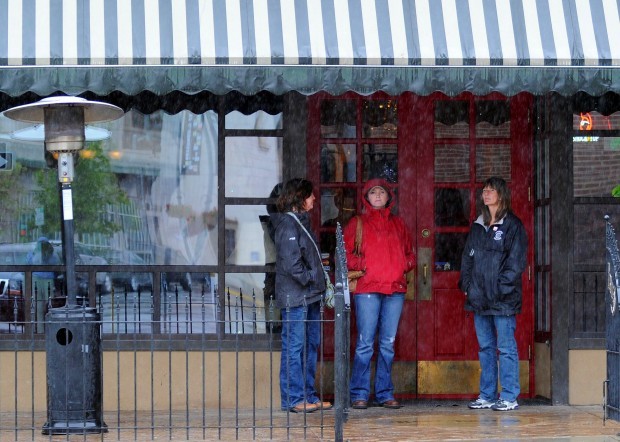 Montana's official water watchers confirmed Wednesday what almost anyone living here already knew: June has been really wet.
A month of cooler-than-normal temperatures coupled with steady rains across much of the state has made a world of difference.
"It's getting to be where it's almost too much (water) right now, but I'm not going to complain," said Gina Loss, a surface hydrologist at the National Weather Service's Great Falls office. Loss is a member of the Governor's Drought Advisory Committee, a group of hydrologists, fisheries experts, agency heads and others who track Montana's water.
Just last month, Gov. Brian Schweitzer warned Montanans to brace themselves for a potentially red-hot fire season. Large blotches of the state, particularly in western and southern Montana extending east to Yellowstone County, were experiencing some degree of drought. Ravalli and Mineral counties were officially categorized as experiencing "severe drought."
The June drought map, produced by the committee, now shows most of the state out of drought. Only three counties — Mineral, Ravalli and Carbon — are on official "drought alert." Twelve other counties, including Yellowstone and Missoula, are considered "slightly dry."
The rest of the state is looking pretty darned good, Loss said.
"I think we're sitting far more comfortably than any of us would have anticipated a couple of months ago," she said.
Rain in some parts of the state has been well above normal, prompting some weather watchers to warn of flooding.
The National Weather Service issued a flash flood watch for a broad swath of south-central and southeastern Montana.
Despite the soggy news, some at the meeting warned that a wet spring and summer won't make up for a lack of snowpack in some of Montana's driest areas, mostly in western Montana.
The Fisher River near Libby, the Bitterroot River near Darby and the Clark Fork near St. Regis are all seeing improved stream flows as of mid-June, said Wayne Berkas, of the U.S. Geological Service's Helena office. But snowpack in those basins was paltry last winter and June rainstorms are not a cure. Those rivers are expected to have below-normal water in them all year.
"There's a volume of water that isn't there and we're not going to get it," he said.
One particularly wet spot is Bair Reservoir, a small, state-run irrigation reservoir near Checkerboard, east of White Sulphur Springs. The reservoir almost never even fills, said Matt Norberg, of the State Water Projects Bureau at the state Department of Natural Resources and Conservation, to say nothing of overflowing.
Norberg on Wednesday showed a photo of the overflow spillway at Bair in use for the first time in memory.
Cobey Williamson, of the Northern Rockies Coordination Center in Missoula, gave a much rosier outlook for fire than the report the same committee delivered just weeks ago, but he and others said spring and summer moisture is not the end of fire danger.
"We live in a fire ecology," he said, adding that even the average fire year he's predicting will likely produce fires by late summer.
Still, Williamson said the cooler, wet weather has pushed the start of fire season back by up to 10 days, expecting the fire season to kick off in the third week of July.
Be the first to know
Get local news delivered to your inbox!