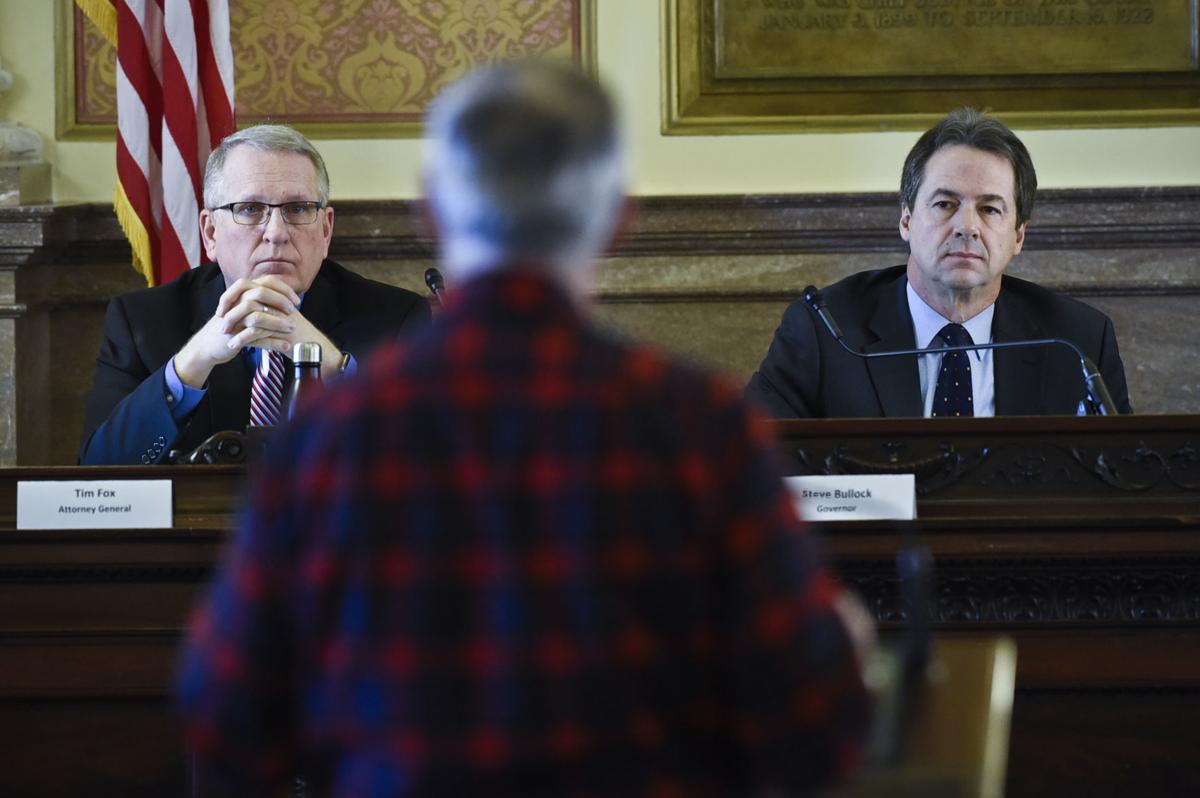 Montana's current and former attorneys general are at odds over the legal role of the Montana State Board of Land Commissioners in approving state conservation easements.
Republicans state Auditor Matt Rosendale, Secretary of State Corey Stapleton and Superintendent of Public Instruction Elsie Arntzen had voted to indefinitely delay action on the easement, which prompted Bullock to conduct a legal analysis of the board's authority from his staff and FWP attorneys. He concluded that by statute, the easement's approval by the Montana Fish and Wildlife Commission was legally sufficient for the state to close on the easement. 
Bullock, Montana's previous attorney general, was joined on the Land Board by Republican Attorney General Tim Fox in voting against delaying action, with Fox calling concerns brought by opponents over mineral rights a "red herring."
The main legal question is whether the term "acquisition" only applies to purchases of land or whether it also includes an "interest" in lands via easement. The statute is clear that purchases of more than 100 acres and $100,000 require Land Board approval but does not specifically include easements.
The $6.1 million Horse Creek easement includes about $4.3 million in state dollars from the Habitat Montana program, funded through hunting license sales to secure access.
Fox recently submitted a draft attorney general's opinion for comment that concludes Bullock erred when he allowed FWP to close on the easement. A final opinion will be submitted in the coming weeks.
"Land acquisition" is not defined in Montana code, nor has it been interpreted by the Montana Supreme Court, the opinion says.
The next step is examining legislative intent, and land acquisition "does not describe any particular property interest, but instead reflects a general concept: acquisition of legally congnizable interest in land. The significance of this point cannot be overstated, as it reflects a legislative intent to encompass the spectrum of various types of real property legal interest subject to acquisition."
The draft opinion goes on to say that terms of the easement allowing public access legally constitute "use of the land," and that assertions from Bullock's staff and FWP that the previous practice of bringing easements before the board was a "courtesy" are not legally supported.
Fox's communications director John Barnes noted that the opinion is meant to answer a legal question and is not considered an adjudication of a specific case.
"An opinion finding that Land Board approval is necessary for conservation easements wouldn't overturn Horse Creek," he said.
Fox's legal review is separate from his views on easements, as Barnes said, "Attorney General Fox has routinely supported conservation easements that have come before the Land Board since he took office in 2013. He has defended Montana's stream access laws and supported public access and public lands in numerous ways."
In reply to the draft opinion, Bullock and his legal staff responded with comments that challenge its legal conclusions. Bullock's letter in part contends that it is not the role of the Land Board to weigh in on every state property transaction and the recent actions of the board jeopardize public access opportunities.
"The law is clear: FWP conservation easements are complete when the Fish and Wildlife Commission votes to approve them. Though it has been FWP's practice to seek an additional vote by the Land Board, the additional process is not required by the law," Bullock's letter says.
The letter goes on to say that the decision threatens private property rights and will invite litigation.
Bullock's communications director Ronja Abel clarified that it would require "standing" to legally challenge a final attorney general's opinion, which could include state agencies, organizations or private individuals with an interest in conservation easements.
Bullock's chief legal counsel Raph Graybill submitted a detailed legal rebuttal to the draft opinion. The response points to the plain meaning of the term "acquisition" in noting that no land is possessed by the state. It then analyzes legislative testimony from the 1981 statutute, concluding that lawmakers were specifically interested in addressing state land purchases which resulted in a shrinking tax base.
"Conservation easements were in their infancy at the time and mentioned only once during testimony. All told, it is difficult to conclude that the sponsor or other voting members had conservation easements in mind for either bill in 1981: both because of how new and uncommon conservation easements were, and also because they simply have nothing to do with the cited tax problem," Graybill writes.
The comments conclude in cautioning about the potential viability of easements and Habitat Montana funding if the opinion becomes final.
"If finalized in its present form, the draft opinion risks creating additional legal and procedural uncertainty for property owners. This could have the effect of stifling future interest in the Habitat Montana program and undermining years of partnerships between sportsmen and women and working landowners to protect public access and wildlife habitat," Graybill writes.
Reporter Tom Kuglin can be reached at 447-4076 @IR_TomKuglin
Be the first to know
Get local news delivered to your inbox!