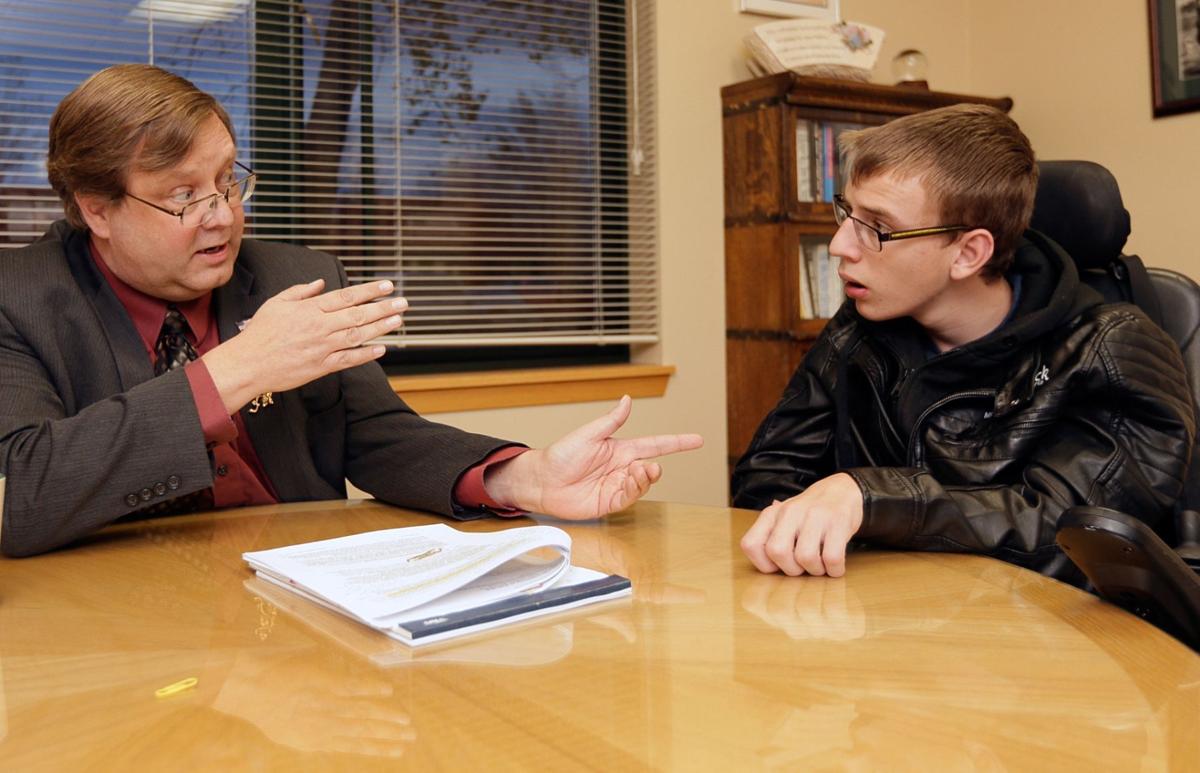 BILLINGS -- Cole Barnes has cerebral palsy. The Senior High junior uses a wheelchair and has limited motor skills.
"His brain works fine," said his dad, Clayton Barnes. "You want to play Scrabble? He'll beat you."
"I don't even use the cheating app," Cole said, grinning.
Cole has an "individualized education program," which helps educators account for students' special needs. Creating an IEP is a collaborative process involving teachers, administrators, therapists, support staff and parents. It's notoriously complex and takes months, and plans need to be updated each year.
New rules proposed by the Montana Office of Public Instruction would effectively remove a parental consent provision that allows parents to prevent schools from implementing an IEP, or part of an IEP, that they object to. Montana is one of only two states in the nation to have such a provision. But advocates say the proposed changes would "flip it on its head," cutting parents out of an often-daunting process -- and putting at risk quality education for some of a schools' most vulnerable students.
"From my perspective, it's a very substantial change that is a thinly veiled attempt to remove parents from the process if the parents disagree with what the local education entity wants to do," Clayton Barnes said.
About 40 people who attended a hearing for the proposed rule all spoke against it, said Roger Holt, the executive director of Parents, Let's Unite for Kids, an advocacy group for families of children with special needs.
"(OPI) might have thought they were benign changes," he said. "But they were pretty major changes."
"That parental consent really is an important safeguard," he said. "It's an incentive to go back to the table and keep working in a collaborative fashion. Without that in Montana, I think that parents are going to be flailing in the wind."
Preventing an impasse
State officials disagree with interpretations that parent input is being slashed.
"The draft rule still contemplates annual consent," said OPI spokeswoman Emilie Ritter Saunders in an email, because districts could still use parental input in the student plans. 
Ritter Saunders emphasized the rules are only proposed, and Superintendent of Public Instruction Denise Juneau will take public comments into account. An official decision on the rule is expected in early December.
The Individuals with Disabilities Education Act ensures access to education for students with special needs. States that take federal funding provided by the act, which has been updated several times since it was passed in 1975, agree to abide by its provisions. It does not require parental consent.
Proposed changes wouldn't require districts to obtain parental consent. After a school drafts a plan, the district sends a notification, and parents have 15 days to object. A final plan, which may take the parental feedback into consideration, could then be implemented, regardless of objections by parents. Current Montana law would require any parental objections to be resolved before a new plan takes effect.
Parents can also request that certain services be halted, according to Montana State University Billings Assistant Professor of Special Education Tessie Rose Bailey, who also serves on the Special Education Advisory Board of the Office of Public Instruction.
"I definitely understand why people may be concerned," she said. "(But) what could happen is a kid is not getting any services during the adults arguing back and forth."
The potential for a gap in education is part of the reason other states don't have parental consent.
"From a federal standpoint, that could be construed as a denial of (free, appropriate public education)," she said.
Other advocates say an impasse is rare, and the objection process forces collaboration between parents and school districts. 
Appeals process
If a true breakdown occurs, OPI has an Early Assistance Program, in which an OPI employee works with both sides to resolve issues. Parents can also file a complaint with the state, leading to an OPI investigation. If those fail then parents, or in rare instances school districts, can pursue a due process hearing overseen by OPI that functions similar to a trial.
Recently, Montana has had one to three due process hearings per year, a low rate compared to most other states. New rules would make it one of the only options for parents to force a change in a student's plan.
"The result, I think, will be a great many more due process hearings," said Rep. Kathy Kelker, a Billings Democrat.
Kelker has worked in special education, is a former executive director of PLUK and Head Start and was a long-time Billings School District 2 trustee. She submitted a letter to Juneau criticizing the proposed changes.
"Those parents who do not have the emotional, financial or personal resources to pursue due process will simply be left out of the process, and their children may not receive the quality of special education that they need," she wrote.
Kelker said Juneau told her the change was requested by some school districts. Other advocates said they didn't know what was driving the change.
Due process isn't a realistic option for many families, Goldin said, but he agrees that there would still be an increase in cases despite obstacles like a lack of lawyers specializing in special education law and high costs for private attorneys.
"Trying to represent yourself in a due process hearing, without an attorney, against the school district attorney, it's a lost cause," he said.
An issue of trust
A strong relationship between parents, educators and school officials is critical, Rose Bailey said.
"It's the misunderstanding in special education in general that sort of leads to an us-against-them," she said. Parents can get frustrated if they feel like they're being shut down.
"(And) when a parent comes in and says 'I want you to do this with my kid,' that's when conflicts might arise" when well-trained educators are frustrated that their recommendations aren't accepted.
Clayton Barnes understands that parents can be stubborn, sometimes to a fault.
"We didn't always get what we wanted," he said. "You've got to be reasonable … I can get kind of wound up, to be honest. Our experience with teachers, with principals, with therapists, with student services, even the lunch ladies has been, without exception, fantastic."
There have been a couple snags in the IEP process, including one this year that would have taken away an aide from Cole Barnes because of what his dad called a paperwork error that slipped through the IEP process unnoticed. It was swiftly resolved thanks to intervention from Senior High administrators, but Clayton Barnes fears that the process could have been much more difficult under the proposed rules.
Cole has come a long way. He's been on the student council at Senior for three years and has college ambitions. Sometimes he's difficult to understand when talking, but is clear at other times.
"The last thing I want to do is sit at home all my life living on welfare," he said.
Those who oppose the proposed rules admit that the changes could streamline the IEP process, but say it would come at the expense of students and parents.
"It frankly takes more time if you are really going to listen to parents. It takes more time if there's misunderstanding," Kelker said. "It's worthwhile to have the conversation."