In September of 1989, on a Saturday morning in Billings, a long stream of 2,812 cattle, 208 covered wagons, 3,337 horses and 2,581 people began flowing down the asphalt of Main Street in the Heights.
Along the sidewalks lining the streets as many as 30,000 people stood to watch.
From Roundup, over the course of six days, the Great Montana Centennial Cattle Drive traveled 60 miles south to Billings, crossing the rolling terrain in a dusty blend of past and present, celebrating Montana's 100 years of statehood.
But the path to Billings wasn't a simple one. And there were times during the drive's long planning process when the whole thing seemed impossible.
Among the riders on the trail, every county in Montana was represented. Participants came from far beyond the borders of both Montana and the United States. The cattle in the herd also came from different ranches in different places, making them hard to manage. And life on the trail, enjoyable as it was for some, wasn't free of conflict and complication.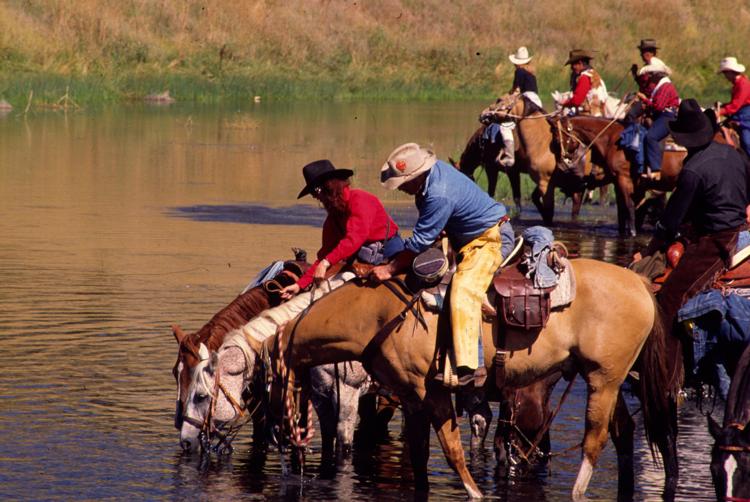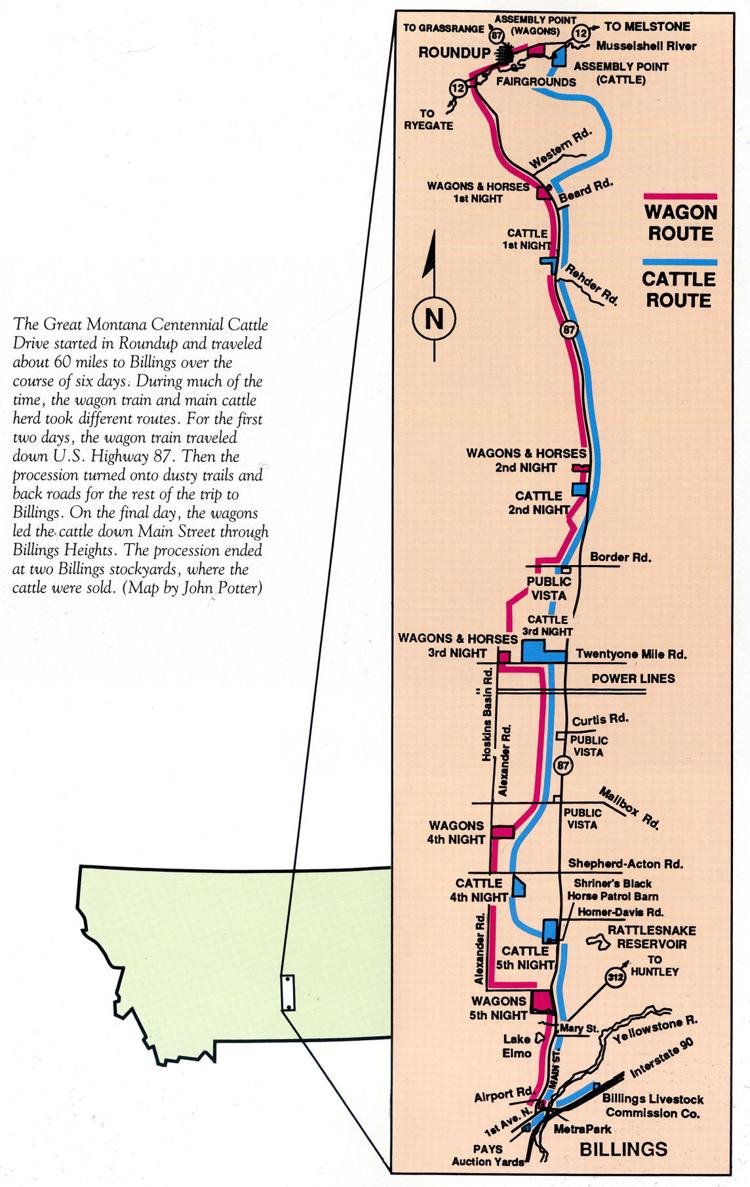 Credit for the idea of the drive went to two cartoonists, Stan Lynde and Barry McWilliams, and rancher Mary Ellen Doty. Eventually an organization called the Latigo Corp. was formed to oversee the drive. Money raised by the drive went to an endowment fund to aid rural Montana families and communities. That endowment lives on today as the Montana Community Foundation.
Early ideas for the drive had imagined it on an even grander scale. "The Big Drive," a book published by The Billings Gazette about the event, says Lynde, McWilliams and Doty mapped out a plan in the dust of a pickup truck's hood that involved 10,000 cattle, 100 drovers, 200 wooden-wheeled wagons and 5,000 riders.
Before the drive materialized into hooves on the ground, Jim Wempner was brought in to help with the Latigo Corp. and organizing the drive. A Yellowstone County resident and longtime friend of Stan Lynde's, Wempner brought experience in both banking and ranching. Over the course of his career with Midland Bank he served as vice president and head of the agricultural lending division.
Wempner, who passed away in 2015, initially had his doubts.
"But Stan was a good personal friend of mine and I appreciated his thought, so I didn't want to say I thought he was nuts," Wempner told The Gazette in 2012. "Then I got to thinking about it, 'my gosh, that's not too bad an idea.' 
Organizers including Wempner spent months traveling to every county in Montana pitching the drive.
Georgia native Dan Lee joined in late April of 1989 as the executive director of the drive. Lee had previously worked for President Jimmy Carter as his chief of staff and was involved in planning for Carter's $25 million presidential library. Lee's management of the event was questioned during a Latigo board of directors meeting two months later and he offered to resign. The board talked him out of it, although by August he resigned anyway.
It was around that time that Miles City rancher and writer John L. Moore got a call from his friend Lynne Turner asking him, not for the first time, to join the drive as a horse wrangler.
Turner was in charge of the horse wranglers. Moore described him as "about the best horseman in the state." Still, Moore was reluctant, having seen news coverage of the drive's troubles. On that last call, Turner told him Lee was gone.
"It's a cowboy deal now," Moore recalls Turner saying.
Drovers
Much of the "cowboy deal" fell to Jay Stovall, a local rancher with roots going back to Montana's pre-statehood days when his grandfather arrived in 1865 with John Bozeman. Stovall was named trail boss and put in charge of the drovers, the group handling the thousands of cattle.
Payments had to be made for the right to move cattle across certain land. Insurance policies had to be figured out. A plan had to be made for the feeding and care of thousands of people and animals, and making sure the one group didn't hurt the other.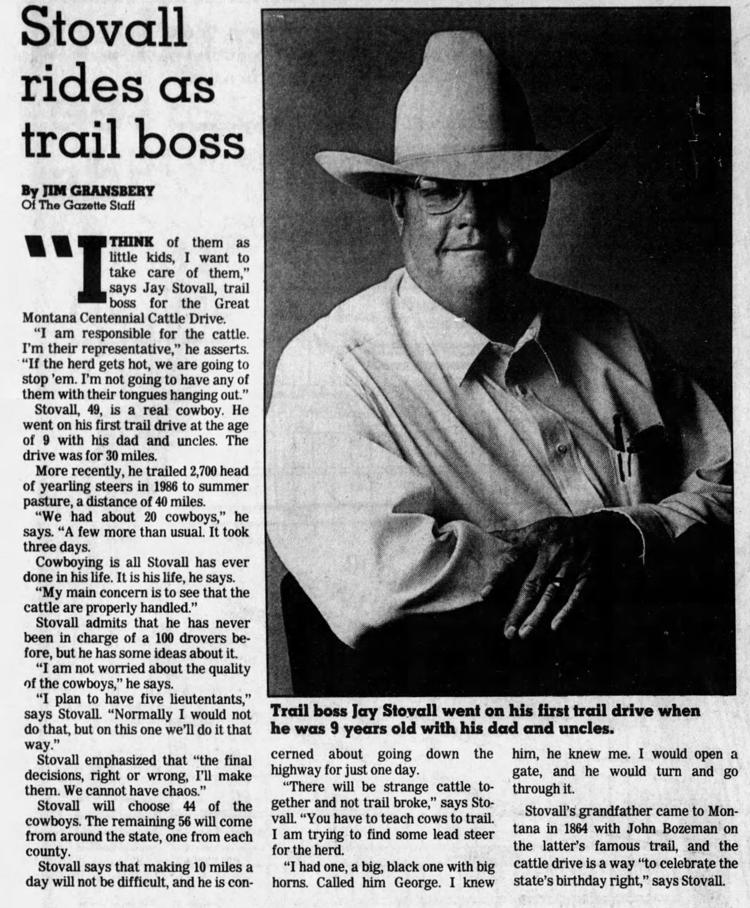 Stovall ultimately got to pick his segundos or lieutenants, and 44 drovers personally. A single drover was then sent from each of Montana's 56 counties. Stovall had rules, about 16 of them, published in The Billings Gazette a week before the drive began.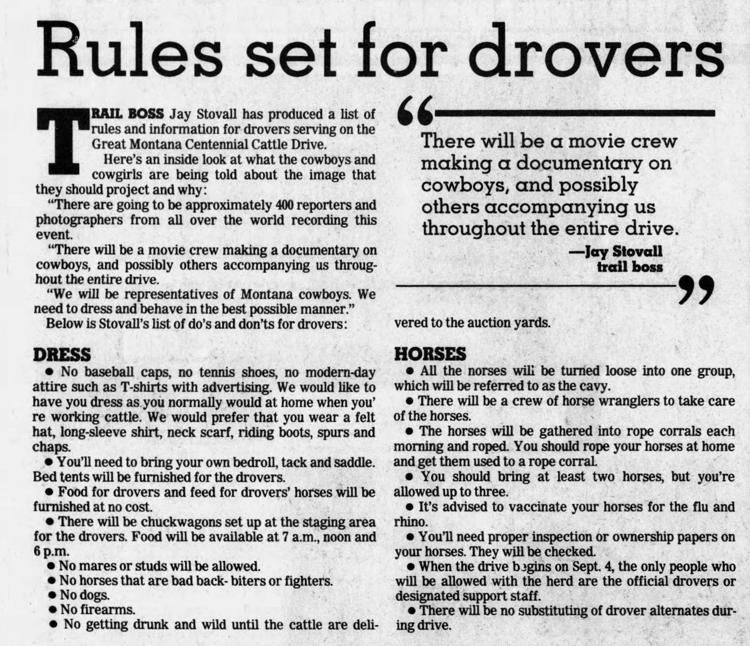 Drovers were to avoid baseball caps, tennis shoes and "modern-day attire such as T-shirts with advertising." Additionally, mares, studs, "horses that are bad back-biters or fighters," dogs and guns were prohibited. Another rule forbade "getting drunk and wild until the cattle are delivered to the auction yards."
That last rule was hard for some. A "substantial" donation was promised to the drive by Anheuser-Busch, the largest brewer in the country at the time.
Throughout the drive a Budweiser beer tent was pitched each night at camp.
The size of the drive was so great that Musselshell County Sheriff Brian Neidhardt told The Gazette at the time that he made plans to deputize an additional 20 lawmen from across the state.
Riders had to pay a fee and provide cattle to join the drive. The wagons were broken up into 10 circles, each marked with a different color.
Experience
The youngest drover on the ride still remembers it well. Jay Stovall's son Turk was 13. By then, he'd already been riding and handling cattle for years. His own young sons have followed suit. A Gazette article from 1989 says Jay Stovall went on his first trail drive with his father and uncles at age 9. They went 30 miles.
That experience was needed for some of the challenges of the drive. As Turk Stovall explained, the cattle weren't all acclimated to just one of the many different ways a rancher can move cattle.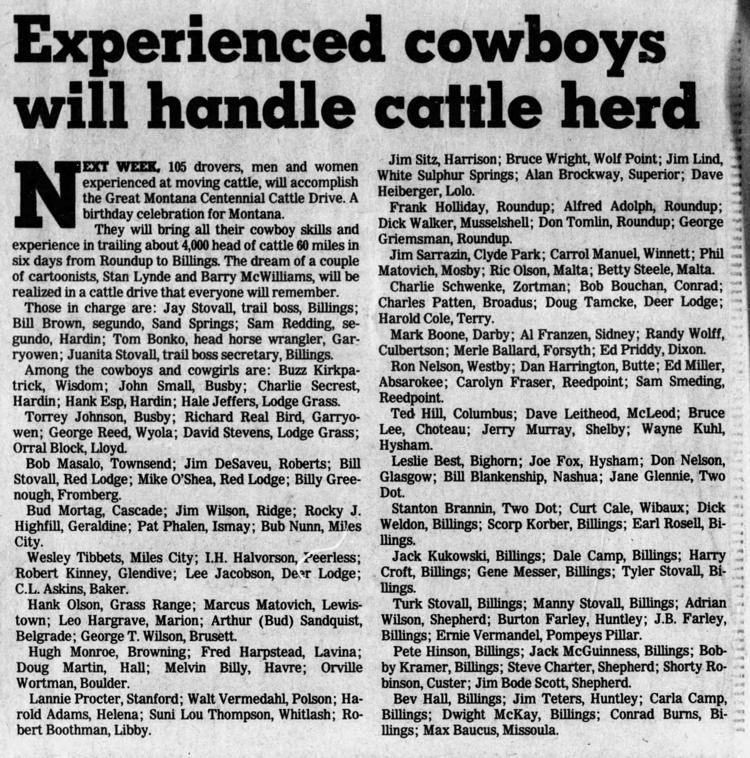 "More likely than not, these cattle had never been handled horseback. So they almost had to start teaching them on respecting a horse or what you're even trying to ask of them," Stovall said. "You don't control them. It's not like you're going to secure them and stay right here. You have to know how to handle them and you have to be able to work with them, and that only magnifies the more that you have."
It was ultimately an issue of safety, Stovall said. "You need to have people that really know how to handle themselves around that large of a group of livestock because not only would you lose control, but you could get some people killed. Just think about it. If you had all your horses and all the cattle running uncontrollably, it doesn't matter what's in front of them. They are going to take it out, even a car."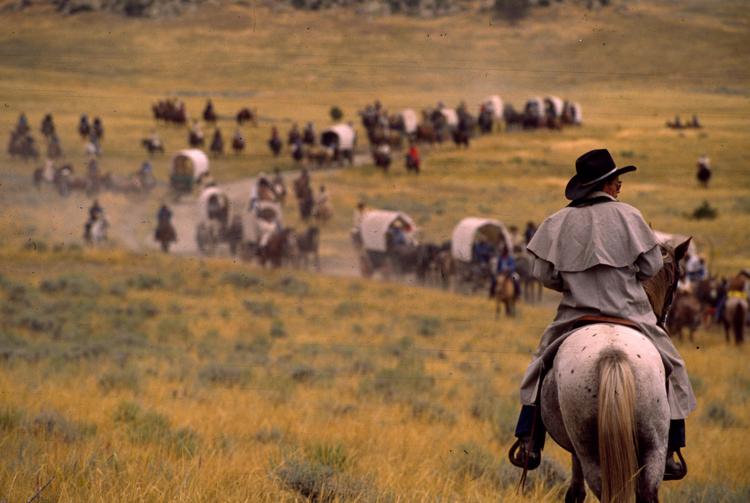 A combined 50 volunteer doctors, nurses and emergency medical technicians came along. More medical help was on hand in the form of a U.S. Air Force ambulance. Reports from the time said five people were injured badly enough to be removed from the drive.
The wranglers had their work cut out with spoiled horses, Moore remembers. On the drive he was a wrangler and also the photographer for the horse wranglers.
The first night Moore said that being a bit of a loner he went off and rolled his sleeping bag out among some pine trees away from the wranglers camp. Getting coffee at 4 a.m. he learned the night hadn't been a quiet one.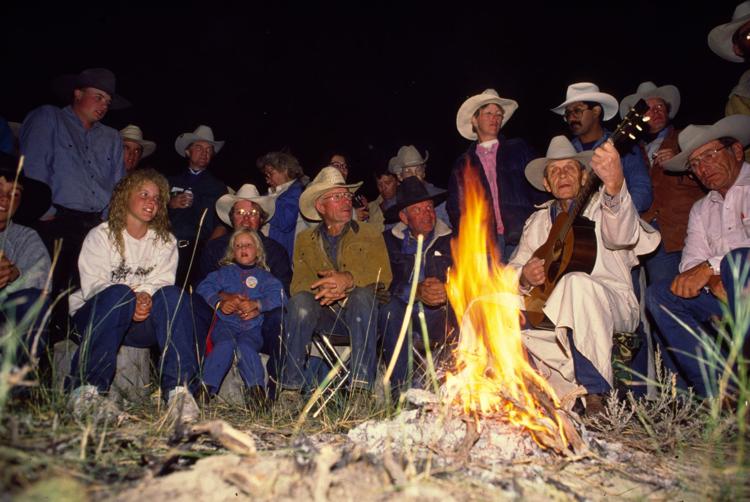 "One of the dudes had tied up his horse to a dead tree. And this is a historic way stampedes have happened, is people tying a horse to what they think is a heavy tree and it turns out to be a dead, hollow tree," Moore said.
When the horses got spooked they headed back for Roundup.
"So Lynne Turner, Spud Cremer and Gary Crowder, some of the more experienced cowboys there, they were roping horses on blacktop," Moore said. "I guess it was really wild. They ended up being pretty successful. It was a far enough run that the horses started to play out, so they roped the horse they were chasing and saddled it, not knowing whose horse it was or anything about it, and kept pursuing it."
Moore maintains that media covering the drive got the story of that night wrong, blaming the horse wranglers for something he says wasn't their fault and that they'd risked their lives to fix.
Unusual challenges
The usual chatter at nights in the drover tents was broken up by talk of hazards they weren't accustomed to. Aircraft were flying overhead. Photographers were waiting in the brush. Reporters from all over were trying to get interviews, sometimes from people on horses that grew skittish at the thrust of a microphone or recorder. Portable phone banks were ringing with calls from places as distant as France.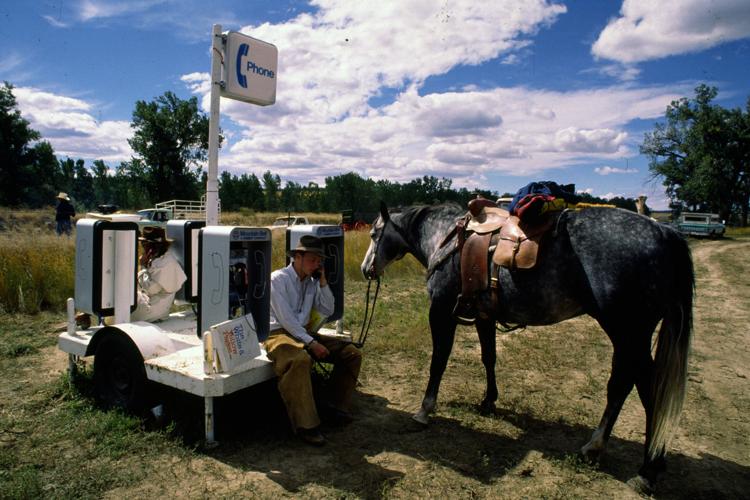 While some were uneasy with the attention, others enjoyed the spotlight and the company. Some paid extra attention to their appearance. Stovall's older brother Tyler even bought a new pair of red-top boots. The night before the drive ended he was hit by a car while unloading hay bales near the Shrine Auditorium.
His brother Jay Stovall Jr. recalls that Tyler wasn't in good shape afterward. But in the ambulance he seemed focused on one thing, Turk said, laughing.
"All he was saying was 'Don't cut my boots off! Don't cut my boots off!"
The Stovall brothers and Moore both mentioned Crow cowboy George Reed. Reed, out of Wyola, had been working in the Bighorn Mountains before the drive. For Reed and some of the others on the drive, all this company was a departure from the normal solitude of their work and a chance to show people what they could do.
Reed was especially skilled with rope and whip. "He could really crack that and make that look pretty nice," Jay Stovall Jr. said. Turk says that Reed once snapped a cigarette out of someone's mouth with the whip. Moore never saw Reed in action but said word of his skills traveled.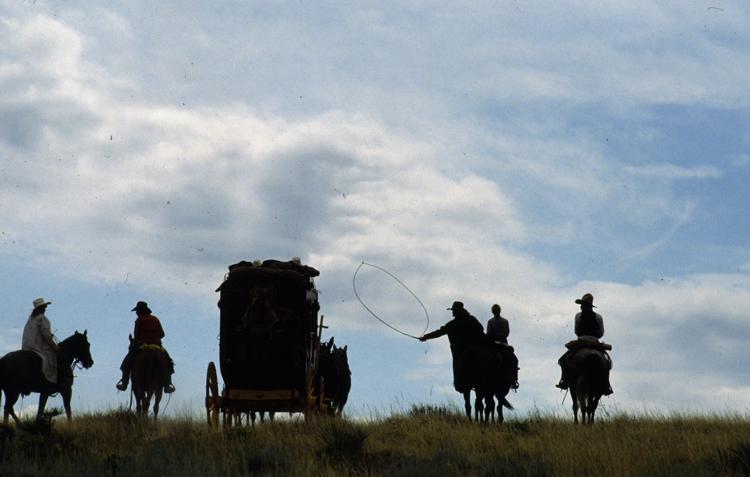 "It became a buzz everywhere about what a tremendous roper and bullwhip guy this guy was," Moore said.
'Sometimes next year comes'
Joyce Jensen remembers the drive was always in the news in 1989. A longtime Billings resident and local historian, Jensen says that she wasn't particularly interested in the drive when it happened, but her father was.
In her own family history is one of the many stories of hardship that a life of ranching can bring. Her father had been on a cattle drive in his early 20s during the Great Depression in a last-ditch effort to save his father's ranch near Pryor. They had hoped to save money driving the cattle to Denver instead of shipping them by rail. It wasn't enough.
Still, he looked forward to the cattle drive of 1989.
"He was so excited about it that he rented a room on Main Street so he could look down at the cattle," Jensen said.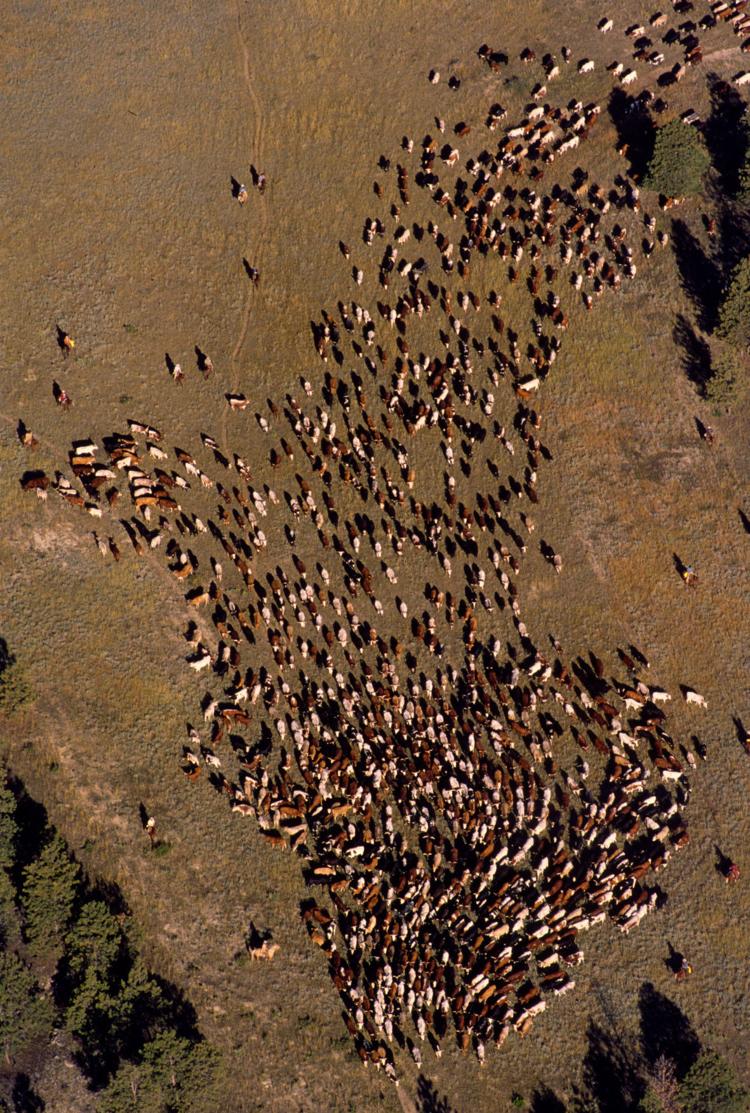 Just a year before, Moore said he was confronted with struggles that nearly broke him as a rancher. The fires in Yellowstone National Park grabbed headlines in 1988, but Moore said as those fires burned, severe drought was gripping Montana. He wrote about it in a New York Times essay called "Bad Days at 'Big Dry.'"
"For me as a young rancher I thought I'll never survive another drought like this. It had me chilled to the bone. I mean it was so bad," Moore said. "They always talk about it being next-year country. The unofficial slogan especially of Eastern Montana is 'Well, it's next-year country.' Next year the markets will be good. Next year it will rain. You just keep pushing forward for a better year next year. That's really what the drive of '89 provided. It proved that old adage was true. This really is next year country, and sometimes next year comes."
The wranglers got to lead the way, Moore said, a decision that served as a kind of olive branch for the bad publicity he said they'd suffered.
"I have to say this, and I don't think there's anybody that would disagree with me, coming into Billings. ... I get choked up just thinking about it," Moore said. "It was absolutely humbling. You had the whole Heights lined, people on both sides elbow to elbow, most of them holding signs and cheering. And the typical sign was 'We knew you could do it.'"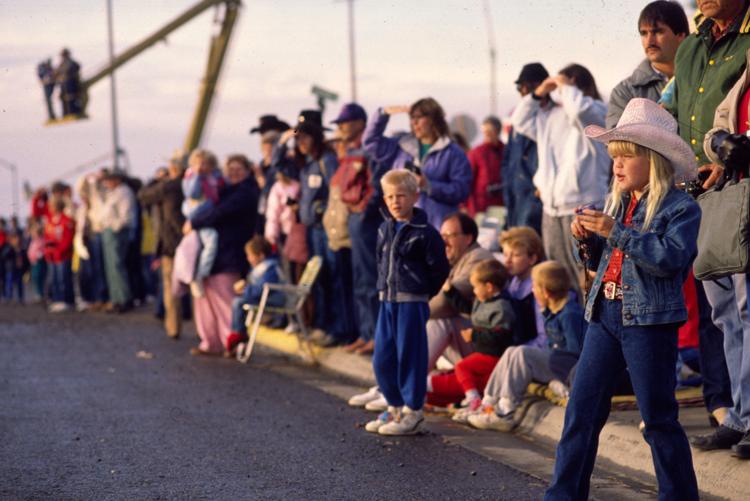 The drive's procession through the Heights created such a scene, mail delivery in the Heights was canceled for the day.
From the Heights, the herd was split and led to two different stockyards where the animals were auctioned off. Some of Stovall's crew passed a hat and bought him the longhorn that had led the way.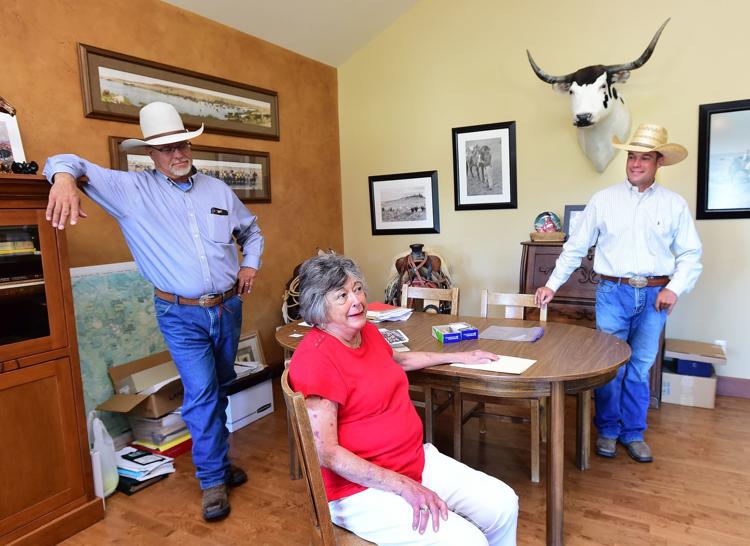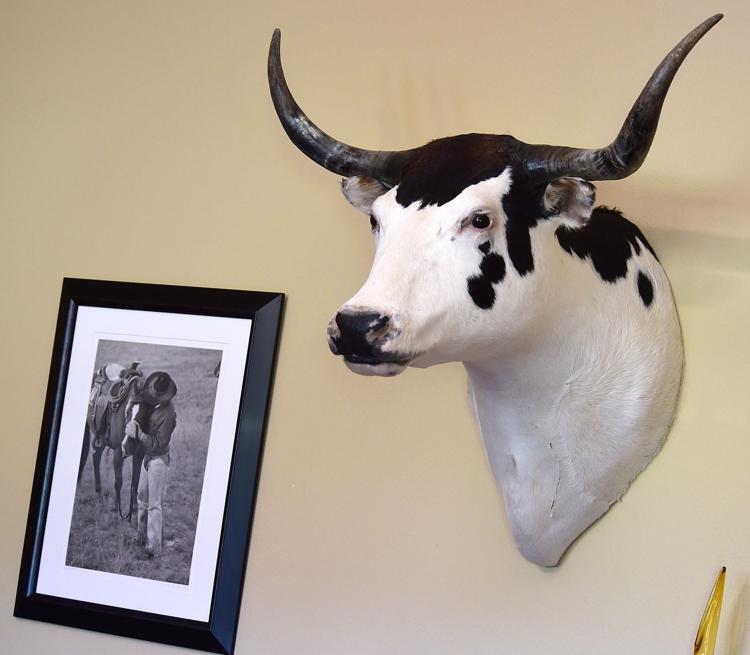 Named Victoria, Stovall's son said his father talked to the animal throughout the drive, something that was part of his method for leading a herd.
Juanita Stovall had also been heavily involved in the drive as the trail secretary. At her home south of Billings recently she tried to put the passage of 30 years into words.
"I just think about a lot of the folks that were on it that are gone now," she said. One of them is her husband the trail boss.
"One of his greatest honors was to be asked to be the Trail Boss for the 1989 Montana Centennial Cattle Drive," his 2011 obituary says. Her son Tyler has also passed away, along with numerous others including Lynne Turner and George Reed.
Coming home
Festivities, including a concert, ensued in Billings at the end of the drive.
For some there was little time to relax. September is the time of year when ranchers in Montana are typically getting their animals ready for sale and contemplating financial matters of great significance to their lives.
"Me and my neighbor friend, we were both young ranchers, and once we got the cattle to the two different stockyards we didn't hang around for long," Moore said. "We probably had lunch and coffee or something and we hit the road and came home."
Be the first to know
Get local news delivered to your inbox!