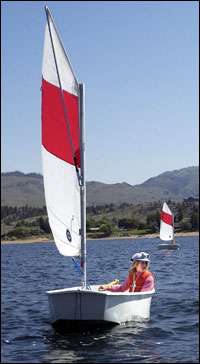 Laurie Sims bellowed across the waters of Canyon Ferry Lake Friday morning. "Ice, let out more sail." Sims, a member of the True North Sailing Club, is one of the instructors for the seven Girl Scouts who attended a five-day sailing school at Yacht Basin Marina.
The girls listened carefully to Sims as he told them where to sail and how to get there.
None of the girls had ever sailed before taking the class, but on Friday each launched an 8-foot-long "Optimist Pram" and were headed out to deep water, for a sail around Cemetery Island.
You have free articles remaining.
They set sail under the watchful eyes of Sims and fellow instructor Mark Herndon, who trailed them in motorized boats.
On the first day of class, the girls spent three hours on the beach learning the basics of sailing. Then, with that new-found understanding under their lifejackets, the girls got their first experience on the water, sailing their boats on a straight line out and back.
That prepared them for Friday's more difficult journey.
The wind was brisk when the girls first set sail, and they were making great progress toward Cemetery Island. But as they rounded the island the winds died down, and the trip back to the campground became a slow, if enjoyable ride.
The sailing club, along with the Yacht Basin Marina owners Bill and Kathy Frazier, host sailing classes for the Girl Scouts three times each year. Every other year there is a week-long class for disabled Boy Scouts.