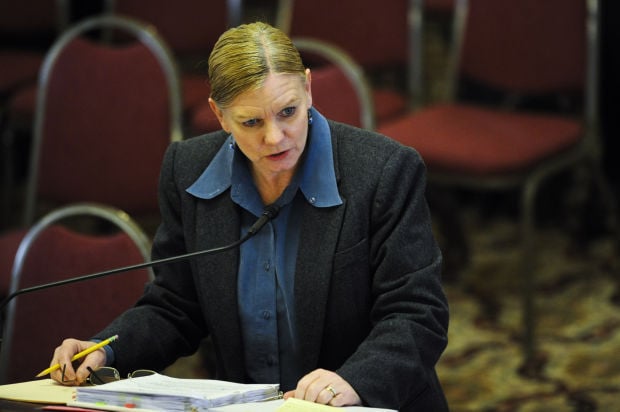 BOX ELDER – State Sen. Jennifer Fielder, R-Thompson Falls, said Thursday that accusations she is a racist because she spoke at an event hosted by an anti-Indian group are false.
The claims were made against Fielder, who is a member of the State-Tribal Relations Interim Committee, by some Montana tribal members and a human rights group last November after she spoke at an event sponsored by the Citizens Equal Rights Alliance.
"To characterize that as an anti-Indian group is a mischaracterization," Fielder told the committee at a meeting here. "It is being done to stifle this conversation of addressing public lands in the state."
Fielder spoke about her advocacy of transferring federal lands to the state during a regional education conference sponsored by the alliance last September.
The group says it does not tolerate racism, but the co-director of the Montana Human Rights Network has called it "the most notorious organized anti-Indian group in the U.S., dedicated to terminating tribal governments, abrogating treaties and turning management of tribal resources over to the state government."
Elaine Willman, a board member for the alliance, wrote a memorandum to the committee clarifying its position and relationship with presenters.
"Presenters representing various organizations are not asked to endorse CERA in order to participate; nor does CERA endorse any guest presenters or organizations. ... CERA is not a 'racist' organization and is held in high regard by numerous national experts and organization," the letter stated.
At the end of a November meeting of the committee, Alvin "Jim" Kennedy, tribal councilman at Fort Belknap; George Horse Capture Jr., councilman at Fort Belknap; and Rachel Carroll Rivas of the Montana Human Rights Network questioned if Fielder belonged on the committee. Four others also sent in public comments questioning Fielder's attendance and speech at the event, calling it "inappropriate," "dangerous" and "unbecoming."
At that time, committee members steered the conversation toward an end, saying Fielder, who was not at that meeting because of an excused absence, could not defend herself.
Fielder said Thursday the issues in her district, which is heavily forested, have prompted her to develop an expertise in public lands management. Because of her knowledge, groups that agree states can manage lands better than the federal government will invite her to speak at their events. Senate District 7 includes Sanders and Mineral counties, and small parts of Missoula and Flathead counties.
She said the accusations against her are meant to stifle discussion about transferring federal lands to state ownership and management.
"I've been running into this almost everywhere I go, people that do not want this discussed at all. I have had legislators tell me if it was brought up they would walk out of the room and not listen," she said.
"There has ... been a concerted effort to try to dirty and slander the reputations of the people that are working for better land management through public control."
Fielder said her attendance at an event does not equate to endorsing the event organizer's opinions.
"I don't have an affiliation with CERA; they don't have an affiliation with me," she said. "I was simply asked to come speak on the issue of public lands. ... I can assure you I'm not a subscriber of CERA's policies."
The only part of the conference she attended was her talk, but while she was there she saw people from her district who are members of the Confederated Salish and Kootenai Tribes, Fielder said.
She is frustrated with accusations of racism.
"I think the travesty of that discussion is that racism does exist and when you start calling things that aren't racism racism, you muddy the waters of what racism really is," Fielder said.
"Racism is dangerous. We shouldn't stand for anybody that's trying to divide people with accusations of racism when it does not exist."
In her letter, Willman wrote that CERA organized in the mid-1980s to "assist enrolled tribal members who have very limited civil rights within tribal governing systems."
State Rep. George Kipp III, D-Heart Butte, said CERA's relationship with tribes in the 1980s was not a good one. Tribes like the Blackfeet saw the alliance as a threat to their existence, though he said based on Willman's letter it appears it has changed its mission.
"They don't want to see that monster rise again," Kipp said. "Conflicts existed before, there were fistfights on the Blackfeet Reservation. They wanted to cut the reservation in half. These issues were very big in the '80s and relevant to the existence of our people."
Kipp said he understood Fielder's side of the issue, but asked her to be more aware of future associations she makes.
"That's your passion and I can only caution you because you are on this committee – this committee was created for a purpose, this committee is to develop a relationship between the tribes and the state. That's what we're about," Kipp said.
Kipp said the Fort Belknap tribal members who spoke at the November meeting were invited Thursday but didn't attend. "I don't see them here today, maybe they have flushed us down the toilet."
Fielder said she welcomes meeting with members of the Fort Belknap tribes, and all other Montana tribes, to clarify her stance.
In a special report for the Institute for Research and Education on Human Rights and the Montana Human Rights Network, advisory board member Chuck Tanner said "CERA leaders promote misinformation about tribal treaty rights and sovereignty, espouse far-right conspiracy theories that promote bigotry against Indian people and others, call for mean-spirited and inflammatory attacks on tribal communities, and have allied their cause with a broader far-right movement that threatens civil rights, environmental protection and economic justice."
"In the end," Tanner wrote, "CERA's anti-Indianism is an affront to the United States Constitution and the spirit of tolerance and equality between all peoples."
Fielder said she will keep speaking at meetings sponsored by groups like the alliance.
"I will continue to go and address whoever would like to learn about it, but I think it is disgusting what certain groups are trying to do to suppress the conversation and suppress discussion and dirty and toxify the discussion just so people won't talk about better public land management," she said.
Fielder said she was recently asked by the American Lands Council to be its CEO as an unpaid volunteer, a position she accepted.
She is welcome to working with tribes through the Lands Council, but clarified the group is not pursuing anything related to Indian land regulations.
Thompson Falls, where Fielder lives, is surrounded by millions of acres of federally controlled lands. The community suffered last summer, she said, when firefighters were grounded by federal regulations that prohibited the use of state helicopters because they weren't on a list of federally approved devices.
Fielder said millions of dollars of timber were lost and habitat was unnecessarily destroyed.
"Our streetlights were on in the middle of the day because it was so dark with smoke the light sensors were telling our streetlights it was nighttime," she said. "Communities were evacuated, property burned."
Fielder said this was another "really serious consequence out of a stupid regulation out of Washington, D.C."
There are parallels between how Thomson Falls is suffering and the social problems members of the interim committee heard as they spent time in two reservation towns along the Hi-Line this week.
"Our communities are economically depressed and unsafe," Fielder said. "People used to come to Thompson Falls for work, they used to come to our community from Missoula to find work. Most of our working-age people have gone somewhere else to find work, so our elders are left with no families to look in on them."
"What happened to our community because we can't provide for ourselves anymore because our resources have been locked up and locked down is we're seeing the same kind of horrific trends in our community that reservations are trying to battle -- poverty, crime, drugs, a downward spiral of society, suicide issues."