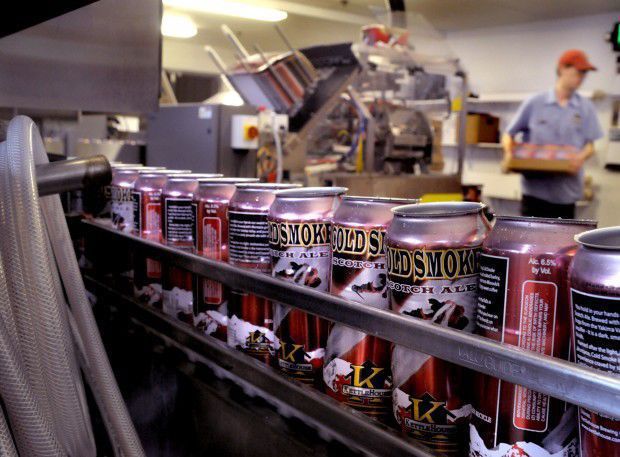 An effort to increase the number of barrels of beer Montana breweries can produce each year appears to be back on track after what some are calling a "backroom deal" Thursday morning.
Senate Majority Leader Fred Thomas, from Stevensville, said a meeting between breweries, members of the state tavern association and distributors reached an agreement that increases the number of barrels a brewery can produce a year to 60,000.
Under House Bill 541, carried by Rep. Adam Hertz, R-Missoula, breweries asked to be allowed to increase the amount of beer they can produce each year. But amendments tacked on by a Senate committee earlier this week lowered that to 12,000, just a 2,000-barrel-a-year increase over the current limit.
Brewers and some lawmakers cried foul, saying the Montana Tavern Association leaned on lawmakers to drop the limit and pointing out that the chairman of the Senate Business and Labor Committee is a bar owner. Several of the state's larger businesses, including Big Sky Brewery, KettleHouse Brewing Co. and Bayern Brewing in Missoula, all are over or near the current limit and said the change would hurt their operations.
Bars and breweries have long butted heads, with bar owners upset that breweries can sell their product from taprooms without having to buy expensive liquor licenses that bars must have to operate.
Fifty-three breweries operate in Montana, according to the Montana Brewers Association. That's up from 33 in 2011, and puts the state near the top in the nation in terms of breweries per capita.
Thomas' amendment also would limit breweries to three locations and selling no more than 2,000 barrels annually for consumption on-site. Thomas said that works out to about 400 people drinking about three beers a night.
Breweries are good for the state's economy, Thomas said, and employ people in small towns and are a popular Montana product both in-state and as an export.
But Sen. Ed Buttrey, who chairs the committee that lowered the proposed barrel cap, said breweries are not artificially stifled by the state and are free to brew as much as they want, given they shut down their taprooms after passing a certain level.
"You've all been sold a bill of goods," Buttrey said. "This is not about increasing production, this is about being able to still act as a bar."
Buttrey said brewers came to an agreement years ago with the tavern association that they would use their taprooms to help generate revenue as they started their businesses, and as production grew they would close down on-site sales.
Tim O'Leary, who owns KettleHouse in Missoula, said the amendment would let the brewery keep its location on Missoula's Northside open. He also said his brewery would not have a problem staying under the 2,000-barrel-a-year cap for on-site consumption. That cap does not affect growler sales or anything else sold to be consumed off-site.
"Tavern owners bent over backward to accommodate growth in our industry," he said. "We have to respect their business model, and we do just fine on three pints (a day) and (closing at) 8 o'clock."
John Iverson, a lobbyist for the Montana Tavern Association, called the amendment a good compromise and said that taverns need to work with breweries, whose products they sell.
"We're glad to be a part of the process. This compromise focuses on some of the concerns we have."
Sen. Dee Brown, R-Hungry Horse, said she didn't support the amendment, which passed on a 31-19 vote, because it came out of a "backroom deal."
"We have been the playground supervisors for a bunch of people who can't get along. I'm tired of it, I'm over it and if we are going to do anything let's have it out the public eye and not in some backroom deal."
Thomas said the bill's sponsor, Hertz, would reject his amendment in the House, meaning it could go back to a public committee where breweries, the tavern association and other interested parties could discuss in a public meeting the deal they came to Thursday.
Meetings like Thursday's happen often, Thomas said.
"If there was never a private meeting to come to some terms, we'd never get anything done. Let's be candid with each other."
The bill passed an initial vote in the Senate on Thursday 42-8. After the vote, Hertz said he wasn't allowed into the meeting Thursday morning and added he wouldn't have attended anyway.
"Backroom deals aren't my thing."
While he's generally OK with the amendment, Hertz said he would need a few days to read through them and determine what effects they would have. He wasn't sure Thursday evening if he'd ask the House to pass the amendments or vote them down, which would send the bill to a committee for more work.
"It's not exactly the bill I started with but that's part of the process."