EAST HELENA — The Republican candidate for Montana's empty U.S. House seat worked to align himself with President Donald Trump on Thursday while standing next to Trump's eldest son, who played up protecting the Second Amendment to a crowd of about 300 during his second trip to the state in less than a month.
Greg Gianforte, a Bozeman technology entrepreneur who lost a bid for governor last fall in his first foray into Montana politics, spoke with Donald Trump Jr. at the Kleffner Ranch in East Helena, the first of four rallies statewide in Butte, Sidney and Great Falls.
"Are we going to have somebody who's going to defend our way of life against federal overreach and work with President Trump or are we going to have someone who falls in lockstep with Nancy Pelosi?" Gianforte asked to loud cheers. A large red barn was filled with supporters and one protester who, after interrupting Trump Jr. to ask if the president would release his tax returns, was escorted out of the event.
Gianforte is facing Democrat Rob Quist, a musician from Creston, and Libertarian Mark Wicks, an Inverness rancher, in a special election May 25. Montana's lone U.S. House seat is empty after Trump appointed Ryan Zinke to lead the Interior Department. 
At the end of April, several hundred turned out for rallies with Trump Jr. in Kalispell, Hamilton, Billings and Bozeman. Vice President Mike Pence is coming to Billings on Friday for another rally. Quist's campaign has said former presidential candidate Bernie Sanders, an Independent from Vermont, will visit the state on behalf of Quist, though a date has not been announced. Sanders beat Hillary Clinton in Montana's Democratic presidential primary.
Both Trump Jr. and Gianforte on Thursday encouraged people to return their ballots, which went out at the start of the month. The election, which is on the Thursday before Memorial Day weekend, could hinge on who shows up to vote. Turnout for special elections is typically low and Republicans are concerned about Democratic momentum sparked by frustration with Trump's election last November.
In January about 10,000 participated in the Women's March in Helena, many holding signs objecting to Trump. Quist's events around the state have brought in large crowds, even in more rural and Republican areas.
"You'd better be voting because the other side is voting," Trump Jr. said. "They're going crazy, they're raising money from the coasts. Stay vigilant, stay active, vote before May 25."
Montana's Republican Attorney General Tim Fox also spoke, as did Chris Cox, executive director of the National Rifle Association.
Fox, who has been asked by the state Republican party to run against U.S. Sen. Jon Tester, a Democrat, in 2018, said his party is gathering momentum in the state, taking over all but one statewide office in last fall's election. But that doesn't mean Republicans can coast, he said.
"We're riding the wave, but you can't stay on top of the wave unless you're paddling hard. The work is just beginning in many ways. We gotta push through the finish line."
Quist communications director Tina Olechowski tried to play up energy behind the Democratic candidate, releasing a statement saying:
"The momentum is behind Rob Quist with Montanans across the state supporting Rob as an independent voice who will protect Montana's public lands, fight for affordable health care and support tax cuts for small businesses and working families not millionaires."
Polls have shown the race is close, with a Gravis Marketing poll released earlier this week showing Gianforte leading by 8 percentage points, with a margin of error of 4.6 percent.
Trump Jr. said Gianforte would help the president further his agenda in Washington. Because of Gianforte's vast personal wealth, Trump Jr. said the Republican candidate could not be bought by special interests.
Gianforte sold his company RightNow Technologies to Oracle in 2012 for $1.8 billion.
"I know he's going to help my father along, because the deck is really stacked. It's stacked against us, even from people in our own party. We've all seen that," the younger Trump said.
In Butte, Trump Jr. called this historically Democratic town a "Trump Democrat town," trying to link Butte's past as a copper mining town to the plight of the coal industry. While Trump won the presidential race in Montana by 20 percentage points last November, Democrat Hillary Clinton took Butte by 14 percentage points.
The protester interrupted to ask about the president's tax returns near the end of Trump Jr.'s speech in Helena. Trump has not released his returns, something that has historically been done by presidential candidates and became an issue both during and after the election.
Mark Girdler was booed and escorted out by volunteers as Trump Jr. said returns that were released show his father paid more than Sanders and former President Barack Obama.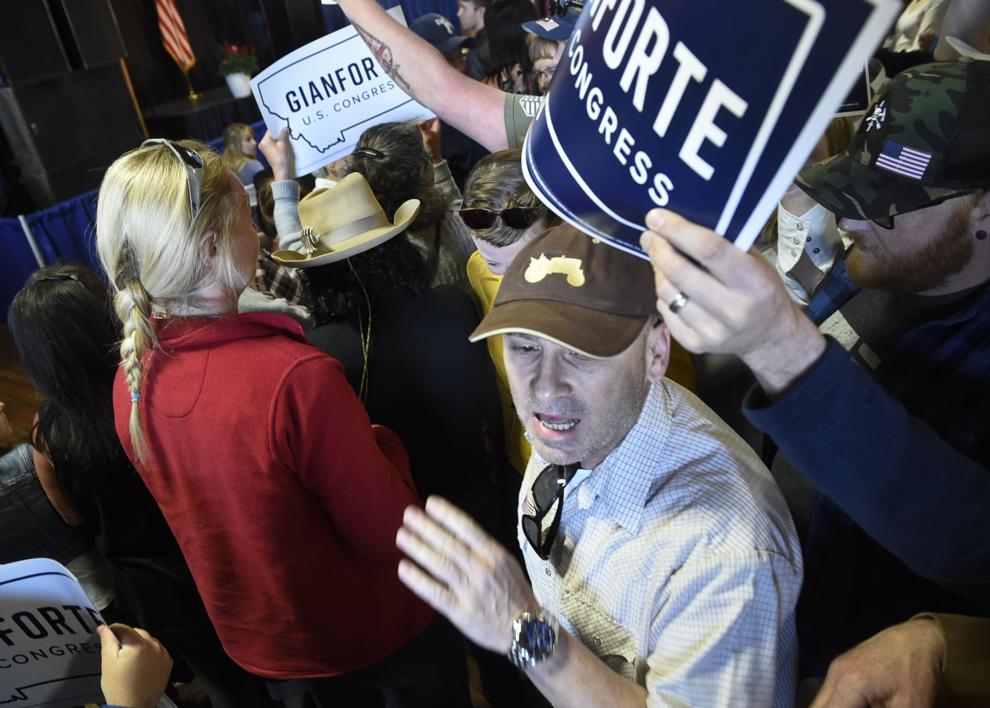 When asked why he paid the money to see candidates he disagreed with, Girdler said he feels compelled to point out it's hypocritical of millionaires to say they'll take care of the little people.
"This is my country. I'm a patriot," he said. "He (Trump) embarrasses me."
Girdler was not the only protester at the events statewide, though he appeared to be the only one to enter a rally. 
Marlene Simms, a Helena resident, said she came to the East Helena rally by herself because she's concerned about Trump's administration so far, particularly excessive time spent golfing. As far as Gianforte, she said she's concerned about his position on health care. Gianforte initially declined to give his opinion on the bill to repeal the Affordable Care Act, but later said on a taped call that he was thankful a plan to repeal and replace was underway.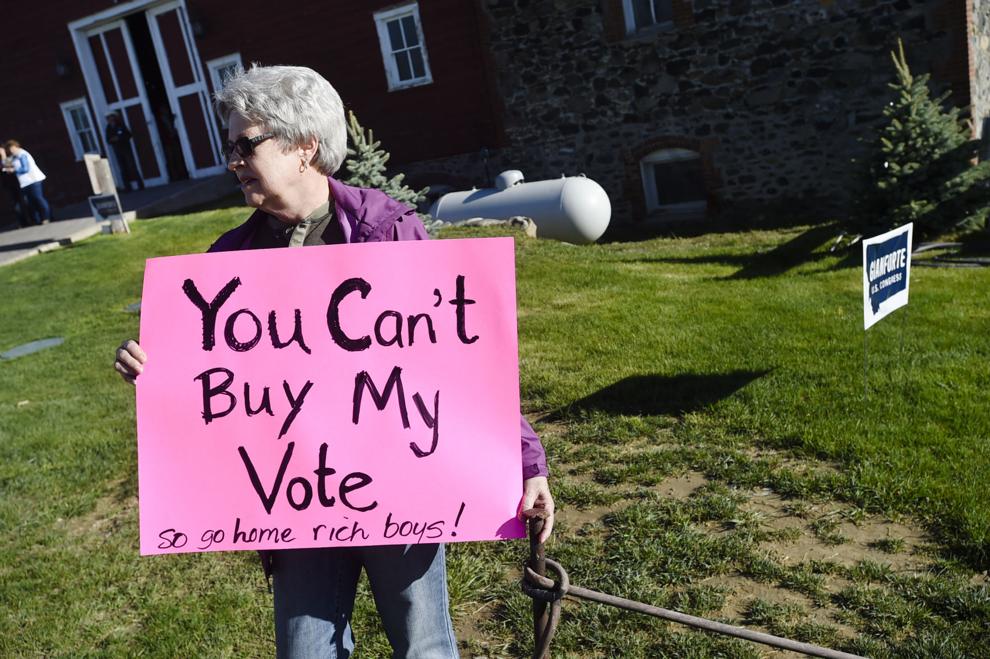 Outside the rally in Butte, about 150 people gathered to protest, including a coalition of local Democrats, Butte Area Rising Coalition and individuals. In Helena, several protesters lined up on the road outside the driveway in Helena, but several dozen parked along the highway a half mile away. They held some signs supporting Quist, some questioning Gianforte's wealth and his ability to relate to Montanans, and some in opposition to the GOP's health care proposal. Many of those protesters said the Trump administration prompted them to be involved beyond voting each cycle.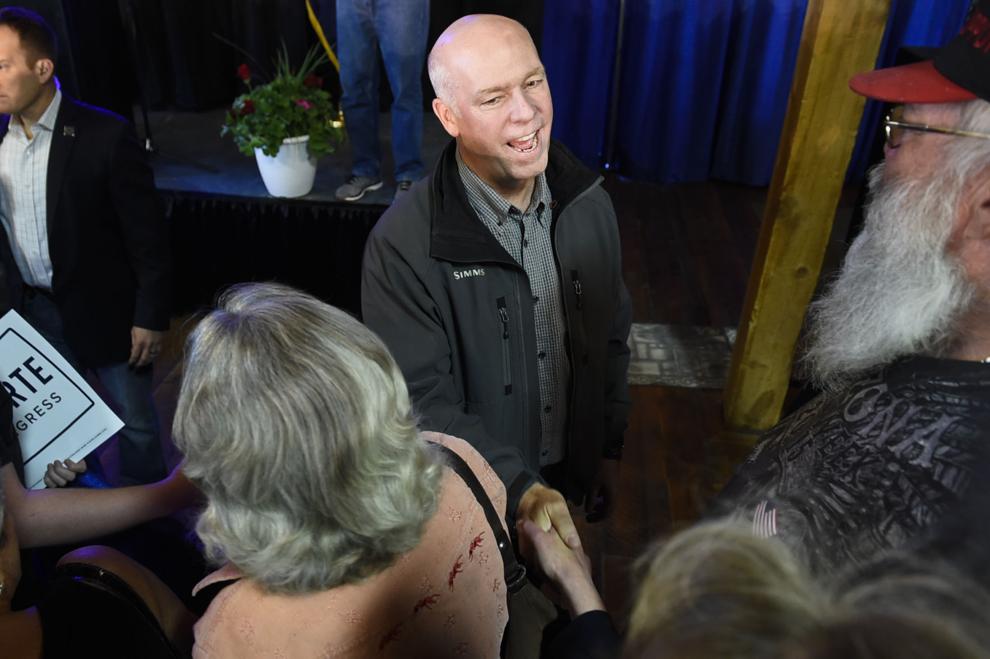 Diane Mercier and Tracie Olson, both of Helena, came to the event Thursday in East Helena even though they'd both already cast their ballots for Gianforte. Mercier said she voted for Gianforte because of his conservative and Christian views.
"I like his family values. And also because he is a businessman and knows all about how to build a business and create jobs," she said. 
Mercier said she is a lifelong conservative, but both she and Olson said they vote based on the candidates and issues and not along party lines. 
"I look at the people, at the issues," Olson said.
In his short speech, Trump Jr. took time to criticize the media, saying the press has been dishonest about his father and family.
Trump Jr. told a story in which a reporter called a college friend of his for information and then asked the friend if they "could point (the reporter) in the direction of someone who could give me an alternative viewpoint."
At that point, the crowd booed. Trump Jr. continued, "This was a journalist, they couldn't accept that maybe he was a decent guy, that there wasn't a story here. They couldn't just accept that. They had to actually see information, find someone who doesn't like me. That's the media we're dealing with, that's the dishonesty we're dealing with."
Several at the event said they don't know where to look to find news that is accurate. Mercier said she looks to conservative news outlets and media, while Olson said she does not trust those.
When asked if Gianforte's efforts this election to align himself with Trump have swayed their opinions, the women paused.
"Donald Trump as a person, he's brash. I do not like him as a person that you see on TV," Mercier said. "But I really feel strongly there needs to be a shakeup in Washington, D.C., and he's trying to do what needs to be done."
She said Congress has stood in the way of what Trump is trying to do.
Marie Bomar, also of Helena, was more supportive of Trump's presidency so far.
"He's certainly shaken up the world."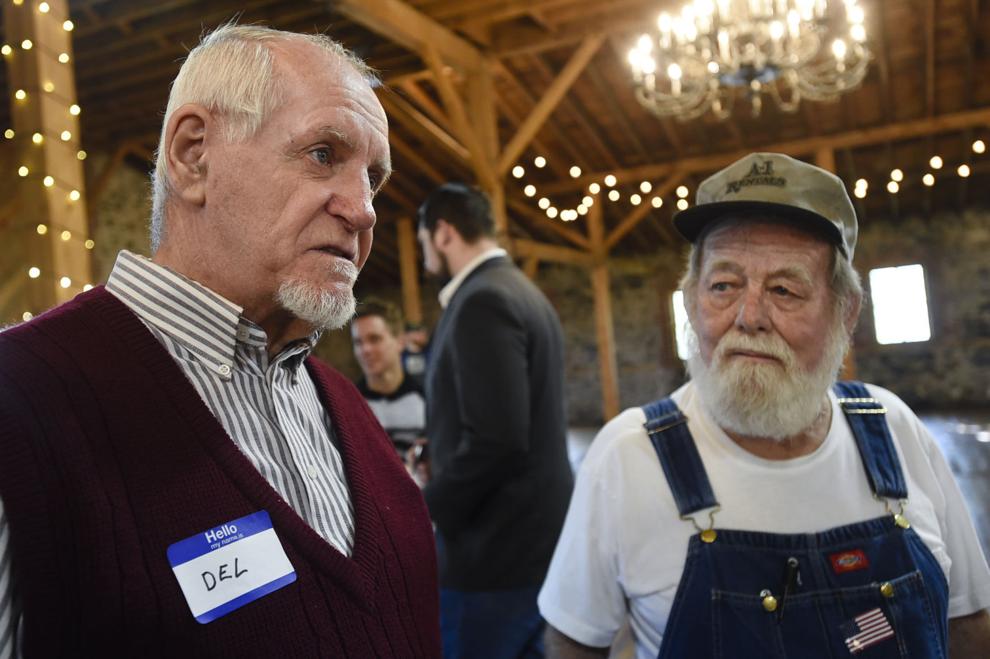 Helena resident Del Lonnquist said he feels like the "Washington press and Washington elite Democrats" are "Carterizing" Trump, saying at the start of former president Jimmy Carter's term in the White House the Washington press corps tried to paint him as a peanut farmer from Georgia and the same is happening now.
"He couldn't tell his story," Lonnquist said. "Of course he didn't have Twitter."