MISSOULA -- How Elsie Arntzen is approaching her new role as Montana's superintendent of public instruction doesn't stray too far from other education heads in the region, but her unwillingness to budge on advocacy in the Legislature and her strained relationship with teachers across the state set her apart.
"It's been ... three weeks. It seems like three years," Arntzen said, chuckling, in her first report to the Board of Public Education on Jan. 20.
Throughout the campaign, the Billings Republican's message was consistent. Arntzen said the Office of Public Instruction needed to be "depoliticized" and that it had been held for 30 years by a "special interest group" — MEA-MFT, the state teachers' union.
She is the first GOP superintendent in three decades.
Asked what specifically had resulted from "politicization" of OPI, this week Arntzen pointed to the office's previous support of certain bills — for example, an effort to raise the minimum dropout age — as well as "changing standards." In 2011, Montana adopted its version of the Common Core State Standards.
"It's not up to a government agency to lobby for government," she said.
"I want it to come from communities, I want less regulation, I want communities to champion the needs of students in their own classrooms rather than have it be a mandate or regulation lobbied for in Helena."
She believes the state superintendent should advocate for one thing: this session's House Bill 191, which calls for inflationary increases to base K-12 funding that are required by statute.
To advocate for anything else, she says, is not her job.
"No one in our office is going to be wearing a lobbying pin," Arntzen told the Board of Public Education.
Instead, she said her role is as a source of information, and OPI as a "data warehouse."
Republican legislators say Arntzen is being mindful of the state's budgetary challenges. "Montana Democrats are obviously frustrated that they have lost control of education policy at both the state and federal level," said Billings representative and state GOP Chairman Jeff Essmann. "Education has been one of the primary ways they have pushed an intrusive social agenda versus focusing our schools on teaching critical thinking skills."
Democrats are flabbergasted by her lack of advocacy for any other education legislation. 
At a meeting with press Friday in Helena, Rep. Tom Woods, D-Bozeman, said of OPI: "Basically, they've been MIA."
Arntzen and MEA-MFT traded jabs throughout her campaign.
In a Face the State debate last fall, Arntzen said MEA-MFT had become "so political" and was about "central control in Helena" rather than local control in schools.
The relationship has not improved, at least on the union's end, as MEA-MFT president Eric Feaver's stream of emails and social media posts denouncing Arntzen's work continues. He started the hashtag #whereselsie.
But Arntzen has advocated for issues outside of legislation. On the campaign trail she called for a focus on mental health services in middle school, efforts to improve teacher recruitment and retention, a review of the school funding formula, and an initiative touted by GOP gubernatorial candidate Greg Gianforte to expand computer science to every high school.
In her State of Education address Feb. 3, Arntzen specifically said her "advocacy" will include "local control and flexibility" on the federal level. She pointed to her role as a "gatekeeper against federal overreach."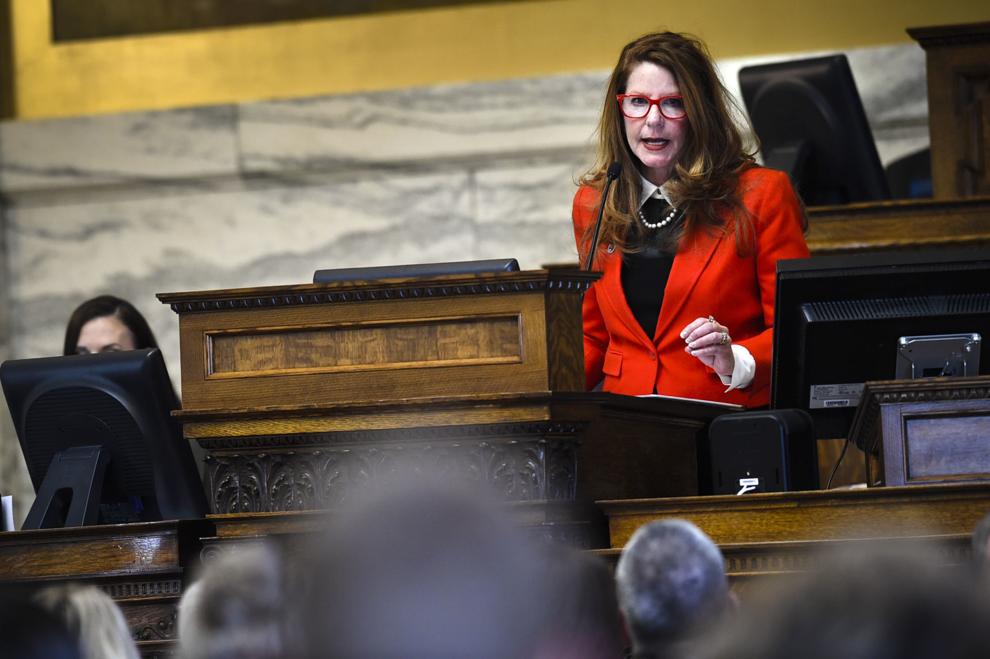 Arntzen's campaign slogans carried over to her administration, including "Putting Montana Students First" – now taking up a large swath of OPI's homepage – as well as "Montana Proud" and "Montana Hope," two phrases she often drops into speeches, interviews and legislative testimony.
This week, Arntzen told the Missoulian that Montana Proud is the umbrella over Montana Hope and Montana Math, two new initiatives:
Montana Hope: an emphasis on counselors supporting students' mental health (Montana has the highest youth suicide rate) and academic success (guiding students to pathways in high school and beyond)
Montana Math: focusing on increasing students' math proficiency, with a focus on middle school
She did not provide more specifics on when or how the initiatives would roll out, nor their potential fiscal impact.
"We've been here six weeks," Arntzen said. "Our job is to do whatever needs done that serves our schools to be the best, bring that out, then how we can re-route and advance the ideas of Montana Proud within our existing confines. This is a low budgetary year. I'm very concerned what the legislature has done; the impact to schools is going to be great."
Democrats take issue with Arntzen's stance, saying it's the job of department heads to come forward and advocate. 
"It's just sort of stunning that here we are pushing public schools, and we've got our main advocate, who's supposed to be an advocate, is gone," said Sen. Tom Facey, D-Missoula.
During Democrat Denise Juneau's two terms as superintendent, OPI would release a document prior to the legislative session requesting select bills. In October, that document showed OPI's support for bills that would increase special education funding and provide funding for students older than 18, among others.
"This isn't about politics; this is about policy," said House Minority Leader Jenny Eck, D-Helena. "This is the forum where we decide policy for the next two years and the leader of that department not showing up to advocate for those kids, you know, those kids aren't being properly represented."
Since Arntzen took office, three political snafus overshadowed any positive movement she tried to make with Montana Proud.
Her message was foggy on Graduation Matters Montana, a privately funded dropout prevention and graduation effort that partnered school districts with private enterprise – arguably the highlight of most recent superintendent Denise Juneau's tenure.
First, an email from Arntzen's media assistant Dylan Klapmeier said they would scrap the program. Follow-up interviews with media across the state produced different stories – one saying the original statement was a mistake, others saying the discussion was ongoing.
On Thursday, Arntzen said she hopes the Graduation Matters initiatives started at the local level continue, "but from a top-down level, trying to gather dollars that were not distributed equitably was a challenge."
Days after the Graduation Matters debacle, Arntzen held a press conference in which she denounced Juneau's administration for what she claimed were "falsified" student ACT exam data submitted to the U.S. Department of Education weeks before she took office. OPI has hired an outside firm to review OPI policies and procedures.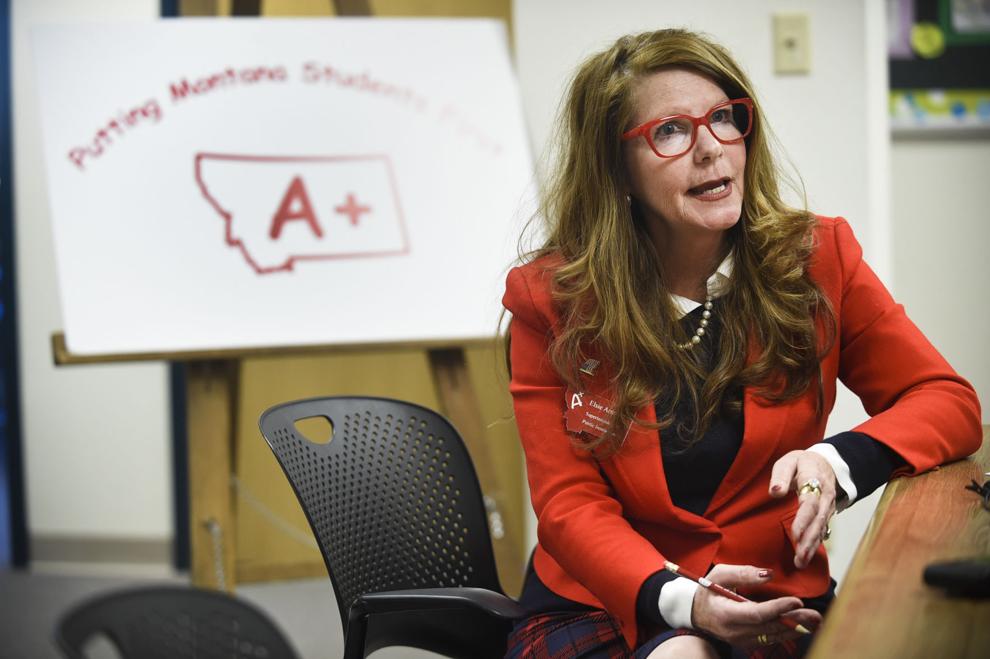 The ACT issue has "been really challenging," Arntzen said this week, as she said the whistleblower came to her two days after she was sworn in.
"My purpose is to run an agency so we make good government, and false data does not go into that equation," she said. "So we are putting together policies with the help of an investigation so that we can do better."
An appearance at a Great Falls conference for school administrators less than a week later typically would have been mundane. But her long-winded response to a question about preschool was met with hostility by the educators present, and to those who watched video of the event and read a Great Falls Tribune account of what transpired.
Arntzen went on the defensive, blaming the news media for turning her comments "into a firestorm."
"They were looking at me as someone who'd been in this position more than two years, and they wanted direct answers," she said of the educators this week. "I didn't answer their questions as what they wanted, but I told them who I was and my philosophy on where we wanted to be, and they were not willing to hear that."
Great Falls Public Schools Superintendent Tammy Lacey told the Missoulian this week that it was obvious Arntzen had not prepared and didn't know her audience — "but I've heard her speak since ... and I think she's getting better on those two accounts."
"I wish her well, and I definitely want to continue ... to work closely with the Office of Public Instruction," Lacey said. "I am confident she will grow in this position, and of course I welcome her at any time to come to Great Falls Public Schools and see our programs here, and our incredible staff working miracles on an everyday basis."
All of this happened within the first month of Arntzen taking office. In November, she beat Democrat opponent Melissa Romano.
"Were they bumps? I don't know," Arntzen said. "I think everything is going to be working its way out."
She then reiterated that her and OPI's work with Montana communities will assure them that she's "making sure all of our students have what they need budgetary-wise."
At the conference in Great Falls, Arntzen's response on public preschool that she would "not impede" irked the crowd.
"As the superintendent of Great Falls, my job description clearly requires me to advocate for our students, our school district and public education generally," Lacey said. "I feel that's also true for our state superintendent of schools. The role at the state level is absolutely to advocate for development and implementation of effective policies and practices.
"Enhancing learning for children goes well beyond providing data, being a data warehouse and beyond being a watchdog for federal overreach. She really is the voice for all of Montana's children and all of Montana's educators."
Asked whether advocacy means voicing support for certain legislation or supporting initiatives in the way Juneau did with Graduation Matters, Lacey said, "It's both."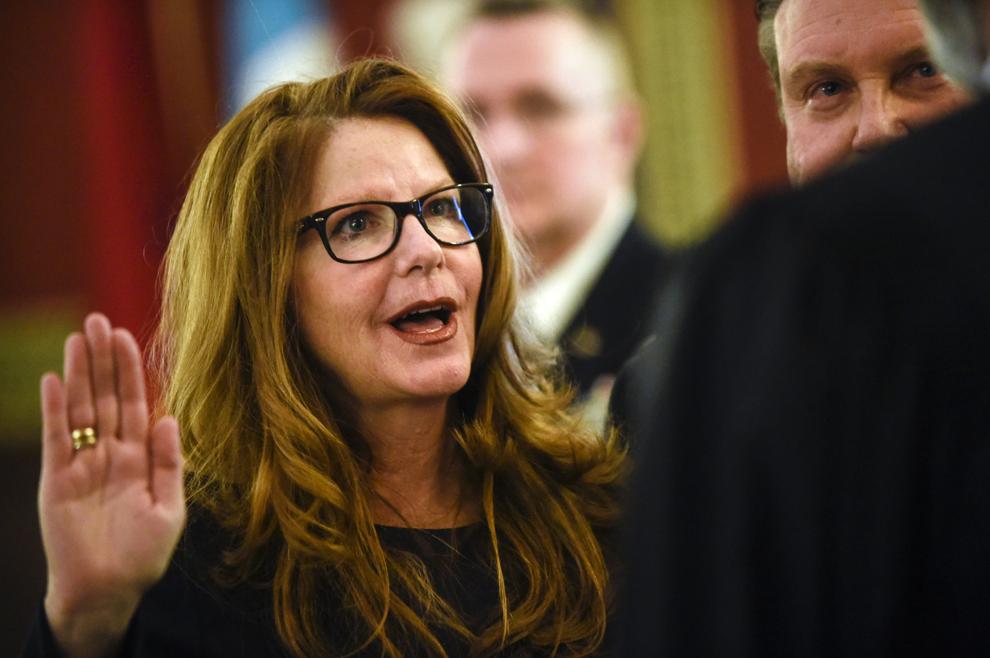 "I know there's a lot of believeability that has to occur within the change of an agency," Arntzen said. "I know there's been a lot of rollover between different superintendents and yes, they put their different stamp, their different appeal to it, but the flavor has remained the same. I honestly think the national election cycle had a lot do with it ... with saying people are afraid of change. I haven't changed who I am."
Reporter Jayme Fraser contributed to this report.