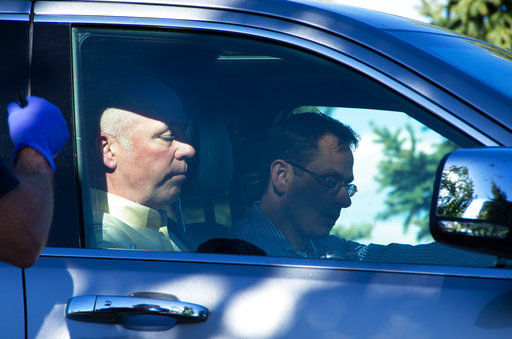 Republican congressman-elect Greg Gianforte has filed an extension to push back the date he must appear in Gallatin County Justice Court on misdemeanor assault charges stemming from an election-eve altercation with a reporter.
The court document said "the parties are currently exploring a settlement'' of the case and that the extension was not opposed by the state.
Gianforte has asked for another two weeks, and a specific court date has not been set. 
"There's no appearance tomorrow morning," County Attorney Marty Lambert said Tuesday. "We're still looking for a date."
Gianforte's deadline to make an appearance on misdemeanor assault charges was originally Wednesday morning. Justice Court Judge Rick West has not yet ruled on the motion.
Bozeman technology entrepreneur Gianforte was cited for misdemeanor assault, punishable by up to six months in jail and a $500 fine, for an alleged attack on Guardian reporter Ben Jacobs at a campaign event on May 24, about 24 hours before Gianforte was elected to the U.S. House.
An audio recording from the altercation details Jacobs trying to ask Gianforte a question about a health care bill, then a scuffle, followed by Jacobs saying Gianforte "body-slammed" him and broke his glasses. Gianforte can be heard yelling "Get the hell out."
You have free articles remaining.
Jacobs' description of what happened was confirmed by accounts of others in the room, including a reporter for Fox News who saw the altercation.
But just after it happened, the Gianforte campaign sent out a press release saying Jacobs grabbed Gianforte's wrist and pushed both men to the ground, and made a point of calling Jacobs a "liberal journalist" with "aggressive behavior."
Gianforte refused repeatedly in an interview with MTN Friday to say why his campaign released what appears to be a false statement about the altercation. 
Gianforte defeated Democrat Rob Quist last month in the race to fill Montana's lone U.S. House seat, vacated when Ryan Zinke became Secretary of the Interior.
On Friday Gianforte's attorneys, William Mercer with Holland and Hart law firm in Billings, and Todd Whipple, with Whipple Law Offices in Bozeman, received a set of documents containing confidential criminal justice information. Mercer was the U.S. Attorney for Montana for eight years.
That set of documents includes the citation, a 17-page case summary report, 16 pages of reports from three detectives, three pages of medical records, a sketch of the place where the altercation occurred, the arrest report, copies of media coverage, 14 more pages of handwritten notes from various sources, three pages of names and addresses of witnesses, the violent crime victim notice of rights forms, five pages of teletype history records and a release form and 40 pages of records from Bozeman Deaconess Hospital.
Gianforte also on Friday filed to run for re-election in 2018, according to Federal Election Commission records.
Mercer, who was U.S. Attorney here from 2001-2009, was a nominee of former President George W. Bush to be associate attorney general, and served as acting associate attorney general briefly before returning to his Montana post. His time as U.S. Attorney for the state was not without controversy. In 2005 U.S. District Judge Donald Molloy said Mercer was living in Washington D.C. and violated federal law by not spending enough time in Montana.
In 2007, U.S. Sen. Jon Tester called for Mercer to resign after he changed language in the Patriot Act legislation that would alter residency requirements, according to the Washington Post.