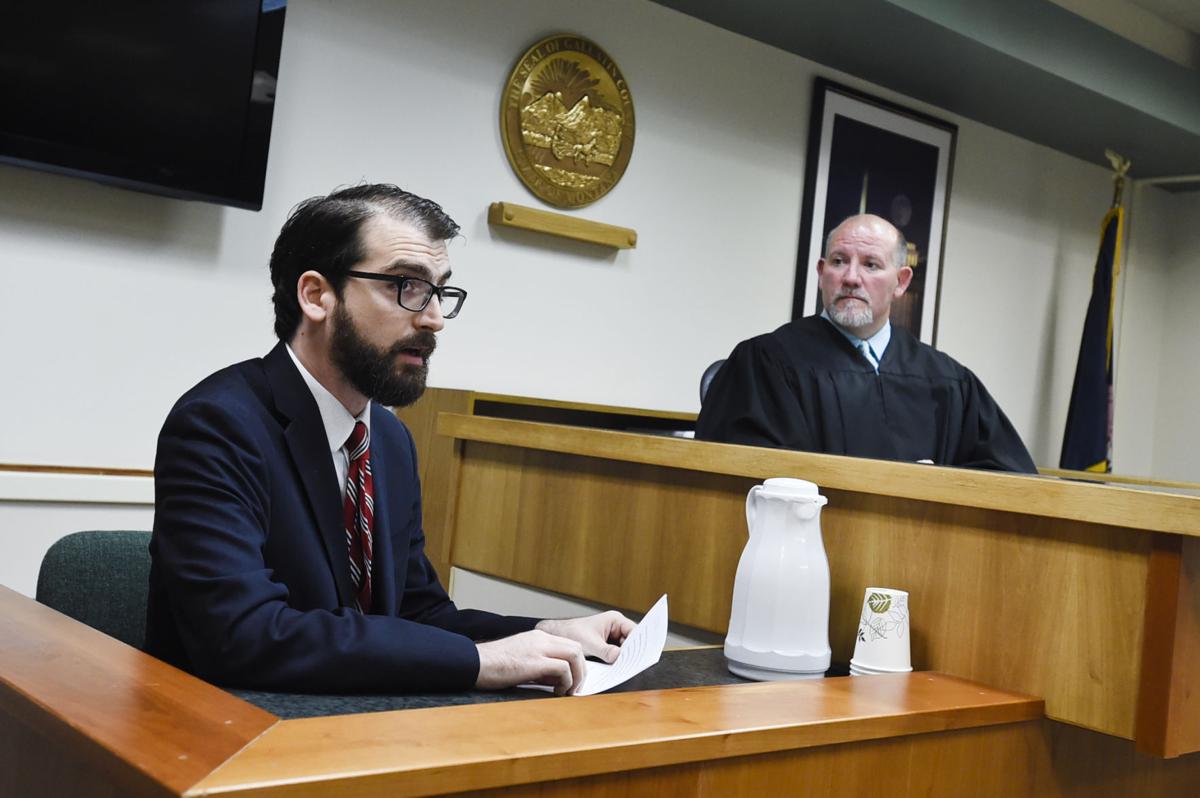 The vice president of programs for Gallatin County Republican Women said in a radio program Thursday she "would have shot" the reporter who was assaulted by then-candidate Greg Gianforte the day before his election to Montana's sole seat in the U.S. House.
The reporter entered a room where Gianforte was about to conduct another interview, and began asking him questions.
"If that kid had done to me what he did to Greg, I would have shot him," said a woman who identified herself as Karen on the Voices of Montana radio program during a segment with John Heenan, a Billings attorney in the Democratic primary who is hoping to advance to run against Gianforte in 2018.
Heenan's campaign posted audio of the interview on its Facebook page Thursday saying the caller was Karen Marshall, and on Friday show host Jon Arneson confirmed it was Karen Marshall in a text message.
Marshall hung up on a reporter Friday morning, saying "I don't really speak to reporters" before the line went dead.
Gianforte, through a spokesman Friday, strongly denounced Marshall's remarks.
"Greg disagrees with those remarks, repudiates them and remains focused on being a strong voice for Montana in Washington," spokesman Travis Hall said.
Last May, on the eve of his election, Gianforte assaulted the reporter, Ben Jacobs of The Guardian. Jacobs recorded audio of the altercation in which Gianforte can be heard yelling "Get the hell out of here."
Gianforte was charged with misdemeanor assault, to which he pleaded guilty. He performed community service as required. He also apologized to Jacobs, saying his "physical response to your legitimate question was unprofessional, unacceptable and unlawful." He also donated $50,000 to the Committee to Protect Journalists.
Marshall told Voices of Montana: "That kid came on private property, came into a private building and went into a very private room that I would not even have gone into. It was a setup. A complete setup. He just pushed a little too hard."
The event was a picnic, to which several members of statewide media were invited. At the time of the assault, Gianforte was preparing to do an interview with Fox television reporters.
In the radio interview from Thursday, Marshall said she is a friend of Gianforte's, and also promoted the event of Trevor Loudon, a conservative speaker, who the Gallatin County Republican Women hosted Thursday night.
After Marshall's call to Talk of Montana ended, the show went to a commercial break and Heenan did not respond.
He said Friday that his campaign thought "long and hard" before issuing a press release about the event.
"The fact members of (Gianforte's) party are sort of doubling down and wishing worse harm on Ben Jacobs really bothers me," Heenan said Friday. "There's just no place in politics for this type of violent rhetoric. It's not a partisan issue."
Caustic rhetoric has become more common in politics on both sides of the aisle. A Facebook post yesterday to Gianforte's official page that included a photo of the congressman and an antelope he shot got one comment that said "A prettier picture if reversed."
Be the first to know
Get local news delivered to your inbox!