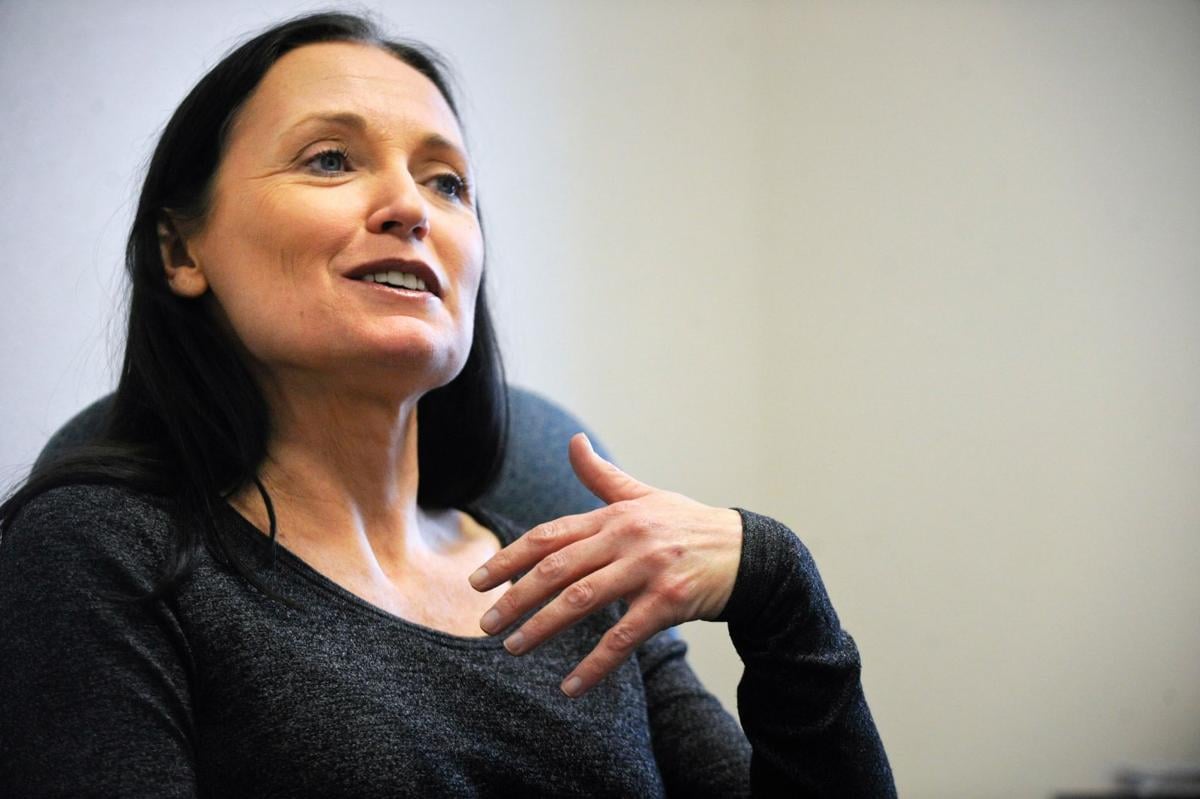 Angela McLean waitressed her way through high school at the Blue Anchor in Twin Bridges. Through those years, she lived with a friend and her older sister, who was a single parent.
Her speech coach made sure she got to where she needed to be, sometimes driving her around in a station wagon to get her to meets. An English teacher made sure she didn't turn in garbage and held her accountable to showing up in class on time. Her parents didn't live in Twin Bridges at the time.
Teachers, McLean said, "made sure I mattered. What may be perceived as hard was made a lot easier because I lived in a community that cared."
McLean, 45, said she always knew she would graduate high school and go to college. And she did, and is the first — and still only — member of her family to earn a post-secondary degree.
"We will thrive in a community who supports and understands where we want to go, and that's where I was in Twin Bridges," she said. "Sure there were barriers, but there were folks there that showed me how to get around them. And I think that's why this work I get to do is so magnificent."
Building a caring community is what McLean sees as a priority in her new job as director of American Indian and minority achievement for the Office of the Commissioner of Higher Education.
In a wide-ranging interview with the Independent Record State Bureau last week, McLean outlined her goals for her new job and talked about why she feels a connection with at-risk students.
McLean's path to the job wasn't typical or quiet. In a much-publicized move, she resigned from her job as lieutenant governor on Nov. 30 to accept the new role. She'd taken that job in February 2014.
The job was revamped when it was posted last year, said Kevin McRae, deputy commissioner for communications and human resources for the Office of the Commissioner of Higher Education.
When the previous AIMA director left, the position was modified, "before we had any idea who would apply," McRae said.
The director's job is to increase the number of American Indian and minority students enrolled in and graduating from Montana colleges and universities. The job previously focused on college-level initiatives, like TRiO, a federally funded program that helps at-risk students stay in school through work like mentoring and tutoring.
Reaching students early
But the best way to help students succeed at college — or get there in the first place — is by reaching them well before they step on campus, McRae said. After past director Brandi Foster left for an administrative position with the Spokane Community College System when her family relocated, the job description was rewritten with a focus on getting more K-12 American Indian students connected to statewide academic achievement and college readiness efforts.
"From Ekalaka to Eureka and from Pablo to Poplar, I think this system has programs in place to impact student learning," McLean said.
That includes programs like dual-enrollment classes, where a high school student can take college-level classes for credit at a fraction of the normal cost. It's a program McLean is very familiar with — she helped develop the curriculum at Anaconda High and taught 15 of the 24 credits offered.
Also added to the job is a supervisory role over the University System's Educational Talent Search and Gear Up program. ETS provides career and college mentors to sixth- through 12th-graders, and Gear Up helps seventh- through 12th-graders, including 5,800 American Indian students, graduate high school and enroll in college.
The balance of focus on higher education compared with K-12 is still to be determined, McLean said. But the need to get American Indian students into these programs is clear. Only 4.9 percent of Montana's college students are American Indian, though they make up 6 percent of the state's population.
"So we've got some work to do, first of all on getting them in the door," McLean said.
Reaching out
Programs exist to help all students prepare for college, but American Indian students aren't taking advantage of them. Only 2.2 percent of the 2,083 students who took dual-enrollment classes were Native, and those students on average took a half-credit less than non-minority students.
"We are dealing with folks who are first-generation college students, and there is not an understanding for a lot of our families for the pathway to postsecondary college education," McLean said. "We can't just assume all students know how to get there and their family does."
She said she believes minority students across Montana don't take advantage of these programs because of obstacles both real and perceived. That's something she understands intimately from her own experience.
"Education and opportunities did not come easy for me," she said. "I think we have populations of folks for whom educational opportunities and economic opportunities do not come easy."
As a classroom teacher in Anaconda, McLean often used her high school experience to reach struggling kids.
"I get to share this with the students and say 'Hey, I know where you've been. I know you have to go to work after school, I know you have to work on the weekends. But we need to make sure we find a pathway to success for you.'"
McLean established ties to American Indian communities during her time as lieutenant governor. She visited every reservation multiple times and met with tribal officials and college leaders. She's proud of a legislative package she pushed that increased health care access on reservations, boosted tribal economies and education opportunities and promoted American Indian culture.
During the interview, McLean had to pause while talking about the last projects she worked on as lieutenant governor, but said the time was right for a change.
Emails between McLean and Gov. Steve Bullock show McLean was left of Bullock's inner circle and was stripped of her initiatives. Bullock has said McLean's perceived frustrations with the role of lieutenant governor were disruptive, while McLean has said "I loved every day of my service to hardworking Montanans as lieutenant governor. Now, I am looking forward and am excited about the opportunities ahead where I will continue to serve the good people of Montana."
But McLean said she went after the AIMA job because it tied together her past work in education and with American Indians in Montana.
"The fact that I have the skill set is one of those things that gives me goose bumps. It makes me excited because I think I'm equipped to meet the needs of our students across the system because of the skill set I developed as lieutenant governor."
Collaborative approach
In Lame Deer, Chief Dull Knife College President Richard Littlebear said this week that while a person born on a Montana reservation would be ideal for the job because they could relate to student experiences and build on existing connections, McLean is known for taking the time to learn from the state's tribal leaders and to seek out their advice.
"I worked collaboratively with her," he said. "She visited the (Northern Cheyenne) reservation four times, at least that I know of, as lieutenant governor."
The job previously focused too narrowly on the academic success of Native American students on Montana college campuses, he said, and not enough on their support systems or environmental factors related to poverty — even before college — that shape how they prioritize studies. He suggested that success at college can be shaped before a student ever gets to a college campus.
While McLean has said she will expand K-12 partnerships, Littlebear suggested she go further.
"Parents play an important role," he said.
Most American Indian teens live in households without college-educated relatives, he said, and the students are not encouraged to pursue post secondary studies. Even if family members do emphasize the importance of higher education, they might not be able to help with high school homework or to share advice about navigating university bureaucracies, from the applications and essays to securing financial aid and networking with professors.
Add in the isolation of being away from home after growing up in a tight-knit community and the challenges of poverty and it becomes easier to see how the success of American Indian students could have little to do with academic matters.
McLean said education opportunities didn't come easy to her either and her past has given her an understanding of some of the challenges facing American Indian students.
"Education is the engine that will drive a better life for these folks and I believe that with every fiber of my being, because I've seen with myself and with kids in my classroom," she said. "If we graduate our students and get them good jobs with the skills to take the jobs out there, they're going to be less at risk and contributors to society."
Hitting the ground running is McLean's trademark. She was among the first teachers in Montana to earn national board certification. Appointed to the Board of Regents in 2010, she was elected chairwoman less than two years later and did that while being a full-time classroom teacher and curriculum coordinator for Anaconda Public Schools.
Only 1 chance
Her drive to act fast is fueled by a philosophy is that her students only got one shot at each educational opportunity, whether it be their freshman year of high school or their first experience on campus.
"Even though I would have different groups of students every year, my students would only get to come through each of their years in high school once," she said. "I had 20 years in the classroom, but my students get one shot at this education."
She plans to visit tribal schools this February and wants to make improvements to the TRiO program by the time students return to Montana colleges later this month.
"We need a structure in place to impact them this semester, because it's not good enough for them if we don't reach out and we're not successful with them this semester to the extent that they come back."
Helping every one of the 2,200 Native students enrolled in Montana colleges and universities graduate is critical to McLean because she views education as path to a better life for everyone in the state.
"When they leave between their first and second year, their second and third year, and they've spent the money, that's no good for them and it's not for us as a system and at the end of the day it's not good for the economy of our reservations and the state of Montana," she said. "These folks with their education, with their degrees, will contribute in a magnificent way to a better life and to more opportunities for the folks in Indian Country and the state of Montana.
"I'm a firm believer that educational attainment should not be limited by geography, and it sure as heck shouldn't be limited by lineage."
Gazette State Bureau reporter Jayme Fraser contributed to this story.