As Montana coal power fades from the grid, renewable energy should be able to pick up the slack under a regional development plan released Monday.
The Montana Renewables Development Action Plan calls for making Montana renewable energy more affordable for buyers in Washington and Oregon who have traditionally depended on Colstrip power plant electricity. Two of Colstrip's four units are slated for shutdown within the next five years. If Montana is to continue selling electricity into the Pacific Northwest, renewable energy, particularly wind power, will be a major player.
However, several steps are needed to make Montana renewables competitively priced. Mike Cashell, NorthWestern Energy vice president of transmission, said during several months of meetings the region's major energy stakeholders were able to find ways to make delivering Montana renewable energy to the Pacific Northwest easier. In some cases, it was just a matter of clearing up misconceptions, like whether there was room for renewable energy on transmission lines now.
"We were able to clarify a lot of information for a lot of people involved in this," Cashell said. "There was a widely held belief that there wasn't any available transmission capacity now, and that's not accurate."
Scrutiny of transmission lines revealed 360 megawatts of space for renewable energy, with more to come as Colstrip Units 1 and 2 close. Analysts then discovered a way to qualify Montana green power for renewable energy tax credits in Washington state, a big step for making the state's wind energy attractive to Washington buyers like Puget Sound Energy and Avista Corp.
Governor Bullock, BPA Release Report on Montana's Positive Outlook for Renewable Energy - Montana has an opportunity to play a significant role in energy markets by growing its renewable resource base. #RenewableEnergy https://t.co/ivb7E1peN2

— Renewable Northwest (@RenewableNW) July 2, 2018
The action plan was spearheaded by the Bonneville Power Administration, with the Montana governor's office playing host as the region's utilities, renewable energy developers and the federal government worked out ways to assure Montana that renewable energy was competitive.
BPA and NorthWestern Energy settled a years-long dispute over transmitting non-Colstrip power to buyers in Washington and Oregon. Their agreement lowered BPA transmission costs that wind energy advocates had long claimed priced Montana wind power out of the Pacific Northwest.
"The first thing to say is that plan has already done significant things to facilitate the development of wind energy," said Jeff Fox of Renewable Northwest, the non-profit group that has spent years advocating for the regional development of renewable energy.
BPA agreeing to lower transmission costs, essentially by allowing NorthWestern to move power across a 90-mile segment of BPA line, is significant, Fox said. But so is the discovery of enough room on transmission lines to allow raw Montana wind power to move into Washington, where it will still qualify for renewable energy tax credits.
Montana wind energy companies will still have to compete for sales to Washington and Oregon buyers. They will have to underbid renewable energy companies in those states. The lower transmission costs and eligibility for tax credits should make that possible, said Brian Fadie of the Montana Environmental Information Center. The theory will be tested in the next few months as three Pacific Northwest utilities begin taking bids from renewable energy producers.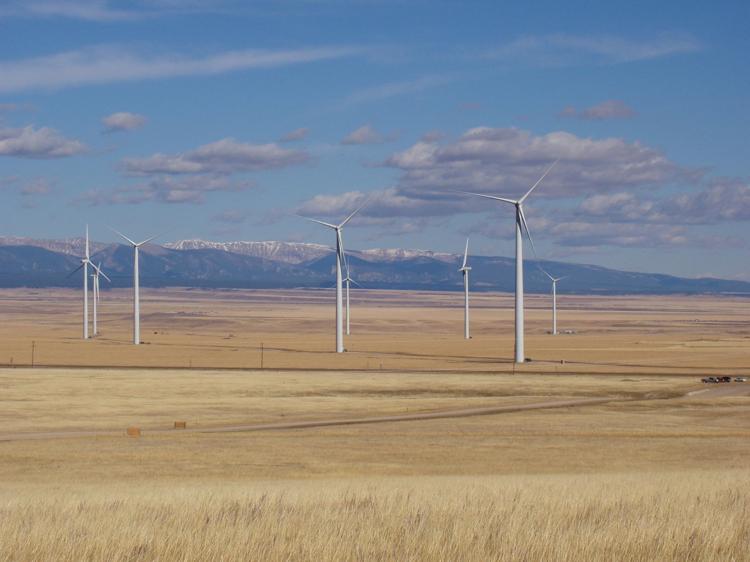 "Right now, you have Portland General Electric with a request for proposal for renewable resources. You have Avista with a request for proposal. You have Puget Sound Energy about to issue one any day now. These are Montana's future customers," Fadie said.
The utilities are also the major stakeholders of Colstrip Generating Station and the transmission lines linking it to the Pacific Northwest. The 40-year-old facility is owned by six different power companies: Puget, Avista, PGE, PacifiCorp, NorthWestern and Talen Energy. The power plant delivers electricity to 1.6 million customers, mostly in Oregon and Washington, with a few hundred thousand Montana customers folded into the mix. The action plan assumes the Colstrip transmission line will also be the backbone for delivering renewable energy to Washington and Oregon.
Even after coal goes away, Colstrip will have high-capacity transmission lines direct to the Puget Sound area. @PSETalk could do right by the town of Colstrip by replacing their coal with new wind, solar and energy storage projects. @hbernton https://t.co/6imwOMZWty

— Caleb Heeringa (@CalebHeeringa) March 1, 2018
In Washington and Oregon, consumers and state legislators concerned about climate change want no more coal power. Colstrip Power Plant is the nation's 15th-largest producer of greenhouse gases, emitting 13.5 million metric tons annually, according to the U.S. Environmental Protection Agency.
None of the stakeholders in Colstrip say they're positioned to cut the cord on coal power anytime soon, but utilities are developing plans to phase out coal power. Puget and Talen, which own Units 1 and 2, have agreed to shutter the units no later than 2022 to settle an air pollution lawsuit.
Puget and Avista have agreed to be financially ready by late 2027 to shutter Units 3 and 4, though neither has committed to an actual closure date. PGE and PacifiCorp are legally obligated to phase out coal power in Oregon beginning in 2030.
Montana's role as an energy exporter has relied almost exclusively on coal power. That's going to have to change. Among the conclusions of the action plan is that Montana has enough renewable energy to replace Colstrip power.
"We brought together stakeholders from diverse interests to seek common understanding on very complex issues — and to find solutions that work," said Montana Gov. Steve Bullock in a press release. "With this effort, we're boosting the opportunities for more energy development in Montana and making Montana wind more attractive for West Coast buyers, all to create good-paying jobs and economic opportunity for Montanans."