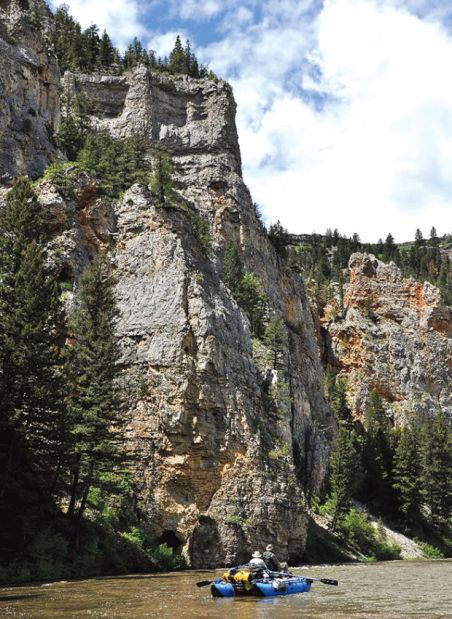 Montana's iconic Smith River landed on a list of most endangered rivers in the United States for the second consecutive year due to a proposed copper mine and potential long-term mining in the watershed.
American Rivers, a Washington, D.C.-based clean water advocacy group with an office in Bozeman, released its 2016 "America's Most Endangered Rivers" report this week. The annual report ranks 10 rivers facing important environmental decisions in the next year in an effort to raise awareness and encourage the public to voice concerns to decision makers.
The Smith ranked fourth on the list because of a proposed copper mine near one of its tributaries north of White Sulphur Springs.
Tintina Resources, proposer of the Black Butte Copper Project, submitted its mining permit application last year to develop an underground mine and onsite processing plant. Mine supporters tout the economic impact to Meagher County and say pollution can be addressed through advanced mining technology.
Opponents say the Smith River watershed is too precious to risk without certainty the mine will not pollute, and cite the history of boom-and-bust mining in the state leaving taxpayers with cleanup costs.
The Montana Department of Environmental Quality identified deficiencies in Tintina's application in a 62-page letter last month, asking for additional details on potential water contamination before it would consider permitting the mine.
"There are still a lot of unanswered questions that must be answered before the state processes this application," said Scott Bosse, American Rivers Northern Rockies director.
The report takes aim at several of those questions pertaining to geochemistry, de-watering and disposal of mine effluent and potential for leaking. It also questions Tintina's messaging about the project, as the company touts Black Butte's small size while also pitching investors on potential expansion and mining the area for 50 years.
"I don't think they're telling Montanans the whole story," Bosse said. "One of our biggest concerns is what is the complete scope of this endeavor, a modest-sized mine or a much larger district that could span 50 years? Tintina is asking Montanans to take a huge leap of faith and we're not willing to take that gamble."
Opponents of the mine, including Montana Trout Unlimited and the Montana Environmental Information Center, convened their own expert review team to study Tintina's application. That review found incomplete data for water rights, groundwater, fisheries and potential degradation from tailings. Bosse criticized Tintina's proposal to mix tailings with concrete as "experimental" with a potential to "degrade over time."
The company has described cemented tailings as cutting edge and one of several ways it is going above standards to address environmental concerns.
Both the report and Bosse initially characterized the review team hired by the opponents as "independent," but Bosse later clarified that "independent" means it is unaffiliated with either the mine or the state. The team successfully identified several deficiencies not addressed by DEQ, he said.
Along with addressing DEQ's letter, Tintina will also answer the opponents' report, said Tintina communications director Nancy Schlepp.
"We are taking the third-party report seriously so we will answer those questions as well," she said. "I think they are genuine and want to make sure we do not have legacy issues and we're fine being held to high standards."
Both Schlepp and Vice President of Exploration Jerry Zieg questioned the report's fairness of comparing modern mining to massive environmental cleanups such as the Clark Fork River.
"I do think it is disingenuous," he said. "Sometimes it is based on a genuine fear, but then some of the same people that come to the site and talk to us ignore the facts and still make crazy comparisons and throw hyperbole."
Despite those frustrations, Tintina believes the conservation community plays a valuable role in maintaining a fair and honest process, they said.
"If there are questions on the table that need to be dealt with or any concerns with real substance like lack of data or a real omission, we really want to know about it and make it right," Zieg said.
The report raises awareness statewide and nationally for the Smith with a goal of mobilizing concerned citizens to ask Gov. Steve Bullock, "to protect the Smith River by directing his state agencies to withhold any permits for the mine unless it can be developed in a manner that eliminates any possibility of degrading the river's water quality and wild trout fishery," according to an American Rivers' action alert.
Last year the report generated about 8,000 comments to Bullock, Bosse said. This year, the goal is 10,000.
DEQ and the governor must operate within the bounds of environmental law, Bosse said, but the law gives the agency latitude to err on the side of caution and demand full detail and accountability.
Tintina is not under a time constraint for addressing DEQ's deficiency report, and Schlepp did not have a timeline for a response. Once an application is deemed satisfactory, the state will perform an environmental impact statement to analyze the project, a process expected to last about two years.