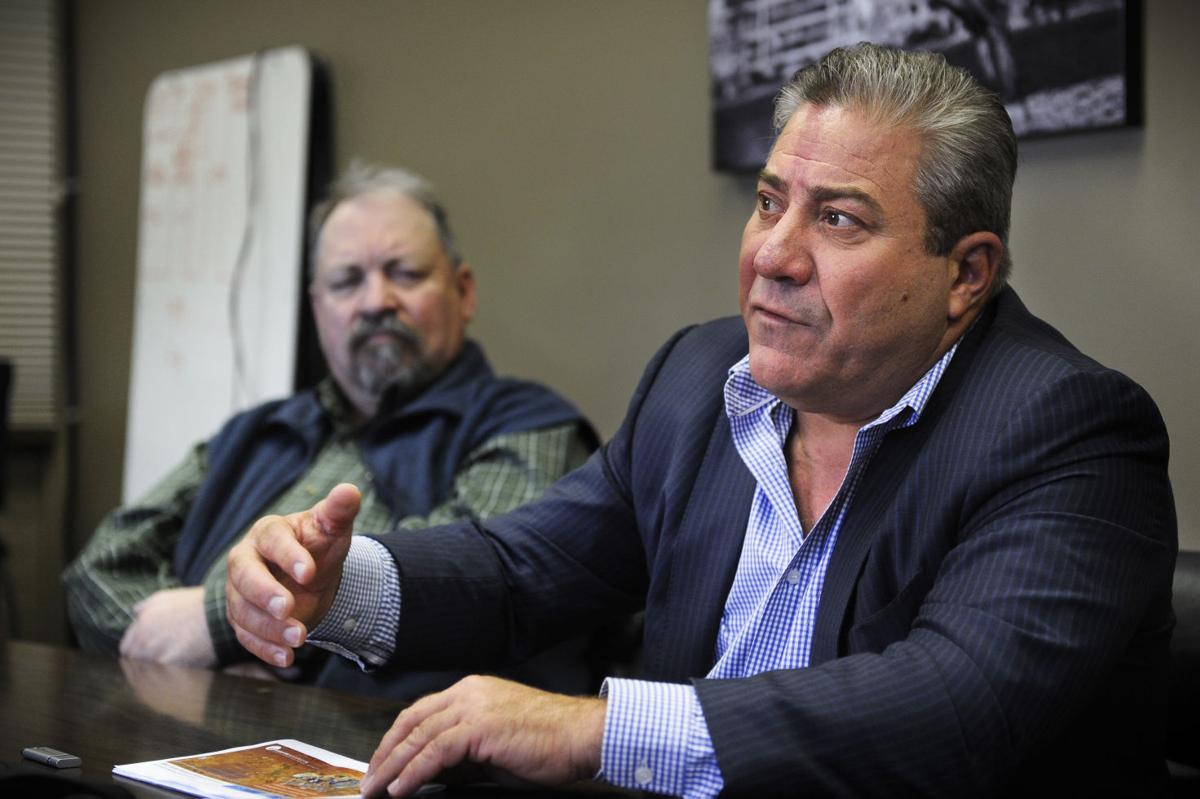 The hardest thing in the mining industry is finding a quality project, and the Black Butte Copper Project near White Sulphur Springs is fantastic, said Sandfire Resources CEO Karl Simich.
Australia-based Sandfire last year became majority owner of Tintina Montana Inc., the company proposing a controversial copper mine in the Smith River watershed. Conservation and fishing groups launched the "Save the Smith" campaign in response, challenging the project's risk to the iconic river. Supporters of the project see it as a catalyst for economic growth in Meagher County while touting modern, environmentally responsible mining.
It is the third trip for Simich to Montana, but with mining projects all over the world, Sandfire is interested in the best opportunities it can find, and Simich says he likes to be directly involved. With a pending mine permit before the Montana Department of Environmental Quality, he is excited about the momentum that comes when a project starts to get traction.
"From our point of view, we're very genuine about being in the middle of this industry and business," Simich said. "We're very serious about it and we're obviously very concerned along with everyone else that it has a positive contribution to the environment, to White Sulphur Springs and Montana. We think it has some great prospects to be an uplifting experience."
Simich and his partners launched Sandfire about 16 years ago, and he has been CEO for about the last eight years. Each project, whether in Montana, Australia, Canada, New Zealand or Africa, comes with a unique set of permitting requirements and challenges.
Critics of Black Butte point to mining's poor environmental record in the state and numerous bankruptcies leaving taxpayers with cleanup costs. Mining companies often promote jobs and responsible practices to the public before a boom and inevitable bust, critics say, while questioning why Tintina's similar sales pitch should be believed.
Simich has heard the message from Tintina's critics, which he called "subjective" compared to the "objective" numbers that come with mining technology and practices.
"It's a bit of a process where things can sometimes deviate and they get off course, get bogged down and be delayed," Simich said. "Possibly they become less scientific and less objective and the processes can get caught up in many, many subjective issues.
"We really want to demonstrate and inform people so that they can be fully informed about what is happening and how it operates, how matters and risks are dealt with. Sometimes a lack of information and lack of understanding leads to the wrong conclusions that people may have."
Critics also question whether a foreign company and out-of-state board of directors will mine responsibly if it cuts into the bottom line.
Simich believes Tintina is evolving as a company, going away from financial investors and bringing in mining people that have a track record of seeing projects to fruition and see the industry as their livelihoods. He highlighted Sandfire's history of safety, and said his company wants to lead by example and be in front of the curve in terms of innovation.
"We're focused on what we do, we're extraordinarily professional and diligent and concerned," he said. "It is our livelihood and our reputation and we have done and will always continue to do the right thing. At the end of the day, we're as good as the reputation we've gotten from the things we've done."
The contracts Tintina signs and permits it obtains make it responsible regardless of the location of corporate hierarchy, Simich said. As a modestly sized company, Sandfire matches well with a modestly sized project like Black Butte, he added.
"We are all normal people living in normal households around the globe and wherever we may come from we want to ensure that the impact is minimized," he said. "It's fine to throw out lots of noise but at the end of the day, judge us by what we do and the examples that we set."
The economic realities of copper prices reaching their lowest point in years makes the quality of a project all the more important, Simich said. The high percentage of copper within Black Butte's ore makes the project economically feasible when other mines could not turn a profit, he said.
As Tintina works toward permitting, it has also pitched investors on long-term potential for expansion. That has critics of the mine concerned about a 50-year mining district compared to the smaller size and 11- to 14-year life of Black Butte.
"Our primary concern here is what they're selling Montanans is a small footprint, underground mine with a relatively minor impact, when in reality what they're telling investors is this is a much larger project that will create an industrialized zone," Derf Johnson, Clean Water Program director and staff attorney for Montana Environmental Information Center, said in a previous interview.
Simich responded that he hopes Black Butte can serve as an example for the public of how Tintina will responsibly mine and would develop any future projects.
"If we can build a solid foundation off the development of the Black Butte Project into a very successful, transparent mining operation and show by way of example what can occur … that will give us social license, I suppose, to then look at other opportunities and look at being more proactive," he said.
The project has generated significant local support from White Sulphur businesses and elected officials eager to stimulate the economy and tax base. Simich hopes that the critics will eventually see the opportunity for the area.
"The local support is really, really positive," he said. "We appreciate there are other stakeholders and other groups -- the outfitters and fishermen -- and understand and acknowledge all that. Obviously we think there's a great opportunity to work with each other and not to have any sort of difficulties."