Community members young and old gathered Friday for two Helena demonstrations held in conjunction with a global call to action on climate change. 
Well over 100 people attended the Climate Strike Helena demonstration on the steps of the City-County Building in Helena.
Dozens more participated in the Helena Kids Climate Strike and "play-in" held later that afternoon at Lockey Park and hosted by Mom's Clean Air Force. This event was largely held for kids and those who couldn't make the earlier strike over the lunch hour.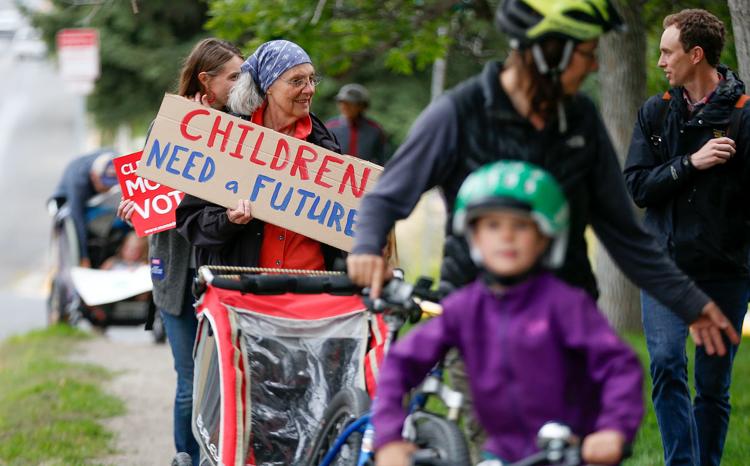 The gatherings were held in solidarity with climate strikes held in 150 countries ahead of the opening of the United Nations General Assembly and the Climate Action Summit on Sept. 23.
On the steps of the City-County Building, children, blue collar and white collar workers demanded that the city of Helena make the switch to 100% renewable energy. Some held signs criticizing U.S. Sen. Steve Daines and President Donald Trump. 
Helena resident Matthew Treaster said the movement was at least partially born via Swedish climate activist Greta Thunberg, a 16-year-old who staged school climate strikes under the name "Fridays for Future." 
You have free articles remaining.
"For the past three decades we have done very little to curb the use of fossil fuels," Treaster said. 
Treaster said clean renewable energy was possible by the year 2030 with full Net Zero carbon emissions by 2050. He said the federal government had failed to act on climate change and that it is time to work on the city and county levels. 
Helena Mayor Wilmot Collins also voiced support for climate change action at the first Helena rally. 
"This is what our kids can do," Collins said, addressing the crowd. "It has never been more clear that the time to act on climate change is now." 
Collins said it is the duty of the "temporary inhabitants of this planet" to ensure that younger generations have the same opportunities they have. Collins pledged not to take any money from fossil fuel donors in his campaign for U.S. Senate. He also said he wants to fight for renewable energy and that it is time to take "brave" and "bold" actions to reduce our carbon footprint. 
Helena city commissioner Ed Noonan also spoke at the rally. Noonan said he was honored to add his voice to the many at the rally and called for more renewable energy and action to combat climate change. Noonan said it's something "we have to do because we love the earth." 
"We are the keepers of the big sky," Noonan said. "And it's our job to protect it."
There were also a few other speakers at the first rally, including Dr. Elaine Samuel. Samuel described climate change as a public health crisis. She said those affected most by it are the most vulnerable population -- children and the elderly -- similar to diseases that attack a population. Samuel said she has worked to spread the word about climate change, but hasn't always been met with open arms.