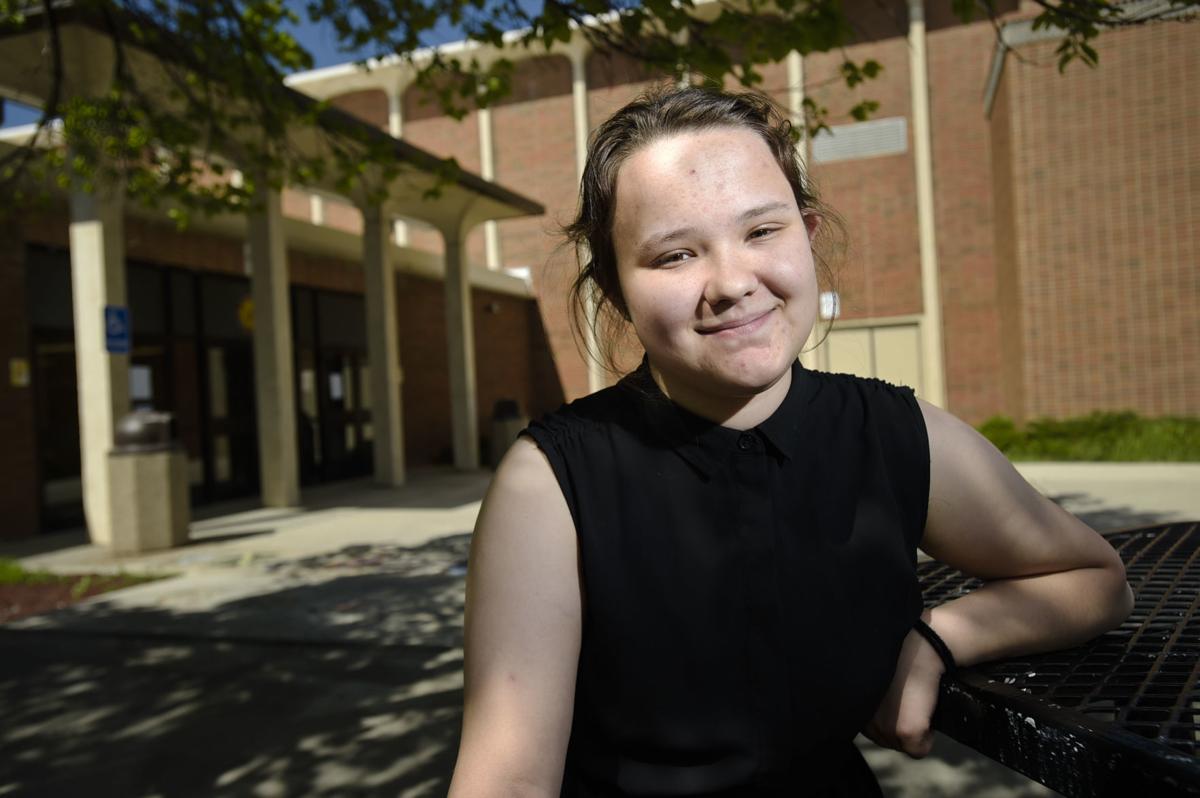 While doing research on her senior project in government at Capital High School, Delaney Knudson found statistics on the prevalence of suicide among Native Americans students that made her wonder if she was more likely to attempt suicide than go to college.
In the U.S., as many as 20 percent of American Indian and Alaska Native youth report attempting suicide each year, according to the Suicide Prevention Resource Center. Statistics from the Native Youth Report in 2014 found 13 percent of American Indians and Alaska Natives have obtained an undergraduate degree.
Knudson, who is Chippewa Cree, said suicide almost felt normal after hearing the statistics and being near people who were struggling. For a while, she thought suicide was inevitable.
"There were times I didn't think I was going to make it to 18," she said.
But Knudson said she recently started giving herself the credit she deserved after years of internalizing racism and classism that kept her from fully valuing herself. When people doubted Knudson's ability to graduate high school or go to college because she was Native American, she believed them for a long time. Knudson was surrounded by people going through the cycles of abuse, addiction and poverty, and when growing up, she didn't see Native Americans positively represented in books, movies and other places she looked for role models.
"I thought, 'I don't deserve to be happy. ... I don't deserve to succeed,'" she said. "But really you just have to work harder than everyone else."
After a lot of hard work, Knudson will be the first traditional high school graduate in her family. This fall, Knudson will start a dual degree program through Brown University and the Rhode Island School of Design. The prestigious program only accepts 15 students, or 2 percent of applicants. In the five-year program, Knudson will get a degree in film at RISD and plans to study ethnic or indigenous studies at Brown.
"Never in a million years did I think I was going to get in," she said.
Knudson was able to apply to 23 schools with assistance from Questbridge, a nonprofit that helps low-income and often first-generation college students apply to prestigious schools. At the end of a lengthy application season, Knudson was accepted to 15 schools and narrowed it down to Brown and Stanford.
Knudson said her grandma and mom were born and raised in Helena and she'd lived next to her grandma and cousins all her life. While she knew she had to leave Montana, she also had to find a community.
"Wherever I go I need to find my people," she said.
After visiting both schools, she decided the small program at Brown and RISD would give her the chance to make close friends.
While Knudson feels like she made the right choice, she said the college application process can be mentally and physically exhausting. She said first-generation, low-income and minority students are often asked to lay out their hardships and traumas in applications and essays. At the end of it, strangers judge those traumas to determine if applicants suffered or overcame enough to get an educational opportunity. Despite revealing part of herself in essays that she wouldn't even let friends read, she said she laid everything out as best as she could.
"I feel like I really put myself out there," she said.
Before Knudson was able to communicate through writing, she let her emotions come through with her art. Instead of talking, she drew. Knudson also loves film and has good memories of going to the movies with her dad. When she realized she could combine her love of drawing and film with animation, she kept drawing all the time to practice. She attended an art and animation camp in Minneapolis for two summers and became interested in experimental and abstract animation.
She is the president of the Afterschool Teen Arts Council at the Holter Museum and spends even more time there volunteering. Without the Holter, Knudson said she wouldn't be pursuing art. By having something like her art to focus on, it was easier for Knudson to stay away from drugs and alcohol.
"It was very important for me to create safe spaces for teenagers," Knudson said.
She completed an independent study with her art teacher, and the Native American tutor at Helena High School supported her art. Knudson also participates in programs at the Lewis and Clark County Library and said the teen librarian, Heather Dickinson, read her essays before they were submitted.
"I had an extreme amount of support," she said.
Knudson said she's pursuing indigenous studies because she thinks it's important for indigenous people to know as much about their history and culture as possible. She said she thinks the program will help dissect different systems and institutions of privilege that some people aren't aware of.
Once she has two degrees, Knudson hopes to use her art as a form of healing and says she sees herself working in a nonprofit fighting for social justice.
While Knudson gives herself credit for working hard and getting admitted to college, she said she isn't the poster child of success for kids with a similar background or experience.
"I'm not better than them, I'm just lucky," she said. "That's just how my cards were."
And while there have been some ups and downs since getting admitted to college, like a friend's parent telling Knudson she was only accepted to Ivy League schools because she was filling the quota system, she's focusing on her future.
Knudson doesn't deny that racist comments sting, but said "I've been dealing with stuff like that since I was little."
With graduation so close, she's able to reflect on high school as being difficult, but giving her the foundation to deal with life's challenges and start working toward her goals.
"I'm going to leave and do something I've wanted to do for so long," she said.