The party began out on the New York State Thruway 50 years ago in August 1969.
Wilbur Rehmann, a jazz artist who now lives in Helena and performs with the Wilbur Rehmann Quintet, was packed into a rented van with his friends headed to Woodstock.
Little did they know, they were among a horde of nearly a half-million music lovers from across the country headed to what would become one of the most historic music moments of modern times.
Rehmann recalled recently over a cup of hot chocolate at the General Mercantile that he was 25 at the time — and says he was probably one of the older Woodstock attendees.
"I lived in the back of the Gramercy Episcopal Church (in Manhattan)," part of a youth community organized by a young minister.
Rehmann first heard about the three-day concert in Bethel, New York, from a full-page ad in The East Village Other.
Apparently, he and his friends were among the few folks who actually bought advance tickets for $6 per day — to see a host of top stars who would become legends.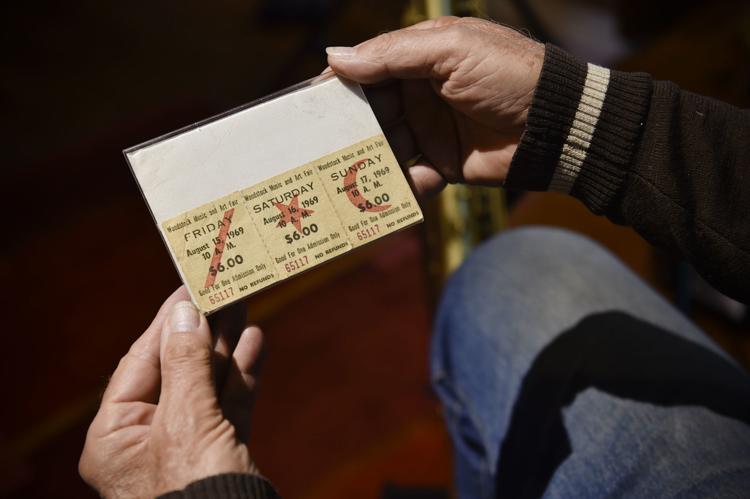 "The hope was that Bob Dylan would show up," he said. "He'd been in a horrendous motorcycle accident" and had disappeared from public view for a year.
"The expectation certainly was that we'd maybe get to see Bob Dylan," says Rehmann, because Woodstock was right in his backyard.
"About eight of us rented an old Ford Econoline van — none of us had a car..."
"We sent two people up a day early. We were going to camp, and they were to call back once they got there and set up. They had a map, and we had a map."
"On the day of the concert, we headed north. We got across the George Washington Bridge onto the New York Thruway and it was bumper to bumper.
"There was no speeding up. There was no slowing down.
"That was our first hint that this was likely to be a lot of people.
"People were waving from the overpasses at this parade of young people, some called them hippies.
"Joints were being passed between cars on the Thruway.
"There was tremendous camaraderie on the way and joy going to this music festival where all the big stars of the day would be. The party had already started. It was just a joyful traffic jam all the way up.
"We didn't get to the site until dark. We had been driving 12 hours to go less than 100 miles."
When they got off the thruway, they were on two-lane back roads in upstate New York going past small farms.
"All the families were sitting out on their porches and watching the spectacle," he said.
"They would help by pointing to a crossroads. There were no road signs."
Miraculously, in this era before cell phones (and selfies!), they found their friends who had set up the tent in a hay field.
A lot of young people showed up expecting to be at Woodstock for the day and thought it would be like other music events — with concessions and facilities.
They didn't bring tents, or jackets, or food, or water or rain gear.
Woodstock organizers had been denied a concert permit for their original site at the last minute, and so they were scrambling to get set up on farmland offered by dairy farmer Max Yasgur.
They were still finishing the stage, sound system, food stands and much of the fence, when the horde descended.
You have free articles remaining.
Totally overwhelmed by the size of the crowd streaming in, the organizers decided they would just make it a free concert.
"It was a phenomenal experience," says Rehmann.
 "The announcer kept announcing the crowd size. 'We are now the fourth largest city in New York State.'
"'We are now the third largest city….'"
Eventually, they would become the second largest city in New York, according to reports. 
"The performers were pretty extraordinary," says Rehmann.
Richie Havens, who bravely took the stage first because the opening act was caught in traffic, played through his entire set without his bass player. He then famously created a song on the spot, "Freedom."
Meanwhile, organizers were frantically trying to get musicians from their motels to the site, despite a 20-mile-long traffic jam blocking the way.
People had just abandoned their cars and walked miles to the concert.
Organizers resorted to calling private and military helicopters to fly in the bands, and created a heliport site surrounded by snow fencing and festooned with Christmas lights.
Despite the concert hiccups, he heard a lot of phenomenal music, says Rehmann.
"What I remember seeing — actually seeing — was two major acts.
"One was The Who. I saw them striking up the opening chords of 'Tommy' when the sun was coming up. They were a power trio with drums, guitar and bass. It was maybe 4 a.m. or somewhere around then.
"We also saw a new act — Santana," which was a local band. "Santana was virtually unknown before Woodstock. Santana was just incredible. That mix of Latin rhythms and rock 'n' roll was new. It was very, very popular and powerful. People just loved them."
Among the 32 acts performing that weekend were Jimi Hendrix, Janis Joplin, Jefferson Airplane, the Grateful Dead, Country Joe and the Fish, Arlo Guthrie, Joan Baez and Sly & the Family Stone.
The whole concert was "self-policing," says Rehmann. There were few to no professional security guards or police.
However, the multi-day event was peaceful, despite a lot of hardships — rain, mud, and a lack of food, water and sanitation.
"The crowd had enough self-acknowledgment that we were all here together and better keep it together," says Rehmann. "We better keep our sense of who we were…. Word got passed around — 'be cool, be calm, don't react negatively.'
"Woodstock was still idealistic. It was a positive ... vibe. People were helping each other out, sharing food, water, whatever.
"The values were communal. Let's be kind. Let's help each other out. We're all in here... We're stuck here. We have to take care of each other. I never felt a bad vibe. There was lots of dope, lots of smoke and there was LSD..."
And then there was Wavy Gravy and his hippie commune The Hog Farm. They'd been hired as Woodstock's security force and quickly dubbed themselves The Please Force. They could also cook.
"Between our tent and camping site in the middle of a hay field we walked to the grassy, meadow bowl where the stage was set up," says Rehmann. "On the way to the bowl area we passed through a small wooded grove of trees and shrubs. This was the place in an open area that the Hog Farm had set up their (free) vegetarian and brown rice food kitchen for concert-goers."
Other food was being helicoptered in — some made by area townspeople and some being delivered by the military, according to a few historic articles.
Most of the people at Woodstock opposed the Vietnam War, Rehmann says.
"There was a tremendous bond between the people there and even after the concert that was absorbed into the anti-war movement."
Woodstock was a concert that changed music, changed music festivals, and personally changed a number of people — and Rehmann is among them.
"It was a wonderful occasion and there was an impact," particularly on the anti-war movement.
"It continued and reinforced the idealism I had about the country and our culture ... and made me a stronger anti-war person."
Although he's somewhat sad not all the idealism carried forward, he said, "I'm still idealistic, and I'm still active in supporting issues I believe in."