On June 11, 1944, five days after the Allies' invasion of Normandy, 17-year-old Navy Seabee Dick Stafford was stationed on Omaha Beach. When Stafford and a buddy spotted a lone German observation plane approaching, they tried to shoot it down with a machine gun.
During the course of action, a hunk of shrapnel came down and struck Seaman Stafford in the face, knocking him to the ground.
"I knew it knocked out my eye, because the fluid was dripping down my cheek," Stafford, 92, related during an interview last week.
The loss of his left eye meant the end of Stafford's physical involvement in World War II. But it was not the end of his patriotism and loyalty to his country. For the rest of his life, Stafford has actively participated in countless local-area military events, parades and memoriams, and has remained a staunch supporter of his fellow veterans.
When I arrived at Stafford's home for our interview in East Helena with my envoy, Maj. Gen. Gene Prendergast, the old sailor was still dressed in his civilian clothes.
"I was going to get in uniform, but you guys are too early," he said.
Gen. Prendergast informed him that we had time to change into uniform for a photo, to which Stafford replied, "Well, yes sir, since as a lowly E3 you outrank me."
When reminded that the general actually used to be one of his students at Helena High School back in the 1950s, he grinned and said, "Oh, yeah, that's right."
"And what a strict taskmaster he was," added Prendergast.
Dick's dad, Opie Stafford, served in both WWI, as 16-year-old in the Army Field Artillery, and WWII, as a 41-year-old Navy Seabee.
"My dad joined in World War I to get away from the sheriff, and for World War II to get away from my mother," Stafford quipped.
Dick attended elementary school in Walla Walla, Washington, graduating eighth grade in 1941. It was his last year of school, until entering college after the war.
He enlisted in the Navy in 1943, at age 16, and lied about his age because you were supposed to be 17 to serve. His father had pulled a similar trick, 26 years earlier.
"I have two birthdays; I was born Oct. 10, 1926," Stafford said. "But the Navy thinks it was Oct. 10, 1925."
Serving in the Seabees (prompting his dad to re-enlist in the same outfit), Stafford crossed the Atlantic Ocean on the RSS Mauretania, zig-zagging across water to avoid the German U-Boats.
While stationed in England, he earned the Navy Commendation medal just two days before D-Day, wielding a Browning Automatic Rifle.
"For action at 0207 HRS on June 4, 1944, in Portland Harbor, England, by Seaman Richard E. Stafford," the commendation reads, "who fired a Browning Automatic Rifle at close range into the pilot and co-pilot compartment of a German reconnaissance aircraft causing the pilot to abort his mission."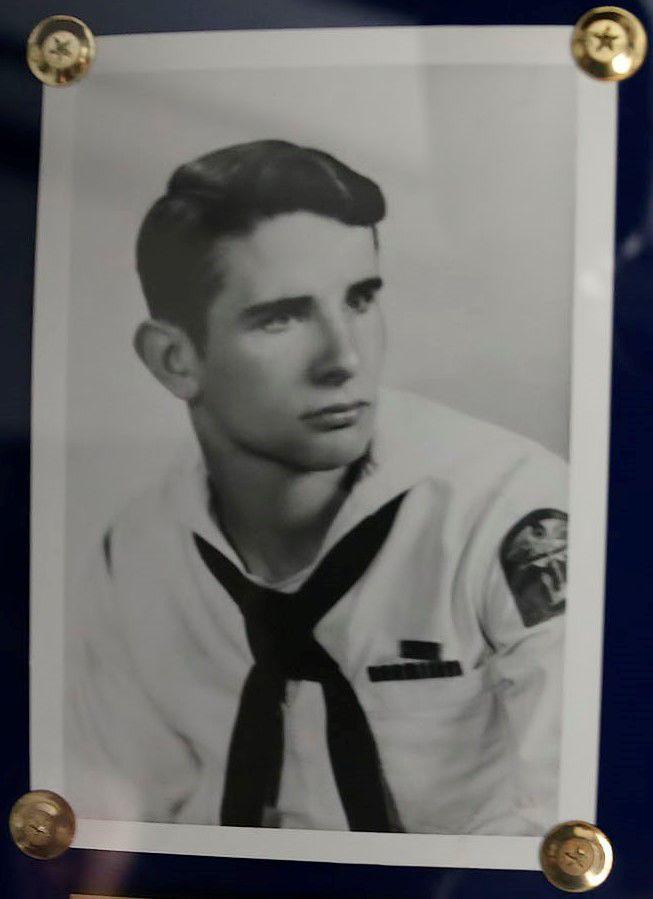 On the morning of June 6, 1944, Stafford was aboard a Rhino barge, loaded with Seabees crossing the English Channel.
"When we were 12 miles off the beach, we tried to wed with the LST in front of us, but the waves were too choppy," he recalled.
As they approached shore, they went by the battleship USS Texas. After they passed, the Texas turned and fired a broadside of 18 tons of shells at the Germans.
Stafford's Rhino hit the beach hard – they were among the first Allied waves to land on Omaha Beach – at about 4 knots, fighting the wind and the sand bars. Their craft was then beached, and used as a pier.
Many of the tank landing ships were stuck on the shoreline. But the American destroyer's 5-inch guns hitting the German pill boxes "saved the day," according to Stafford. And then the Army bulldozers cleared the beach for the rest of the landings.
On that same day, Stafford was hit by shrapnel in his shin and the back of his leg. Those pieces of metal are still in his body, 75 years later.
"The Germans came by us too fast to surrender, so we just ran a barbed wire fence around them," he remembered. "They ranged in ages from 14 to 60 years old. We gave each of them a box of K-Rations, and they were so happy, you'd thought it was takeout from Del Monico's Restaurant."
It was five days after the landing, when Stafford and his stablemate were shooting at the Nazi plane.
"We scavenged an air-cooled 30-caliber machine gun from a disabled tank, and even though we knew we couldn't come close to hitting it, it gave us a morale boost to take the offensive," he explained, noting that their first week was almost entirely defense.
After being hit and losing his eye, Stafford was loaded on the back of a truck and taken to a front-line aid station, where there was a huge tent filled with wounded. Next, he rode on the hood of a Jeep to the beach, where he was put aboard a tank landing ship back across the Channel.
While aboard the Queen Victoria sailing back across the ocean, a Navy nurse kissed Dick on the cheek and told him, "Your war is over, sailor."
He had survived one of the most intense battles in world history, a carnage that cost the Allies 8,000 men in the first half hour of the assault.
Stafford's Purple Heart citation reads: "For wounds received June 6, 1944, and June 11, 1944, on Dog Green Sector, Omaha Beach. Gold Star awarded for second wound."
M&M, saving a life, higher education
Stafford convalesced stateside at Naval Hospitals in Virginia, and then Seattle. After his release, he rode the old Milwaukee Line train to Butte. Wearing his dress whites, a miner took him by the arm and led him into the M&M Café.
"He bought me lunch and everybody in the place came up and shook my hand," he recounted.
Advised to avoid the mines and "stay on top of the ground," a friend's father hooked up Stafford with a job with the Forest Service. Later on, he spent many summers manning the lookouts with his wife Shirley watching for fires.
"Shirley slept on the bed and I slept on the floor," he said.
After obtaining his GED diploma, Stafford attended Seattle University. "It was a Jesuit institution, where they unscrewed the top of your head in order to pound in an education," he quipped.
A memorable episode occurred when he saved a young woman's life who was attempting to commit suicide. And what was his thanks? "When she came to, she called me a dirty SOB," he laughed.
Stafford obtained his master's degree in Monterrey, Mexico, followed by his doctorate in Mexico City.
Dick married his wife Shirley in 1949, and the couple was happily married for 60 years before she died in 2009. The Staffords had one son, Morgan, who resides in Missoula.
Shirley was attending Carroll College and scheduled to graduate in 1956, so Dick took a job teaching in the Capital City. For the next 23 years, he taught English and Spanish – first at Helena High for 10 years, then as a Carroll professor for six years, and then closing out his career back at HHS for seven years.
He was also an assistant coach for Bengals football, and played catcher for the Red Meadow Bar team in the men's City Fastpitch Softball League.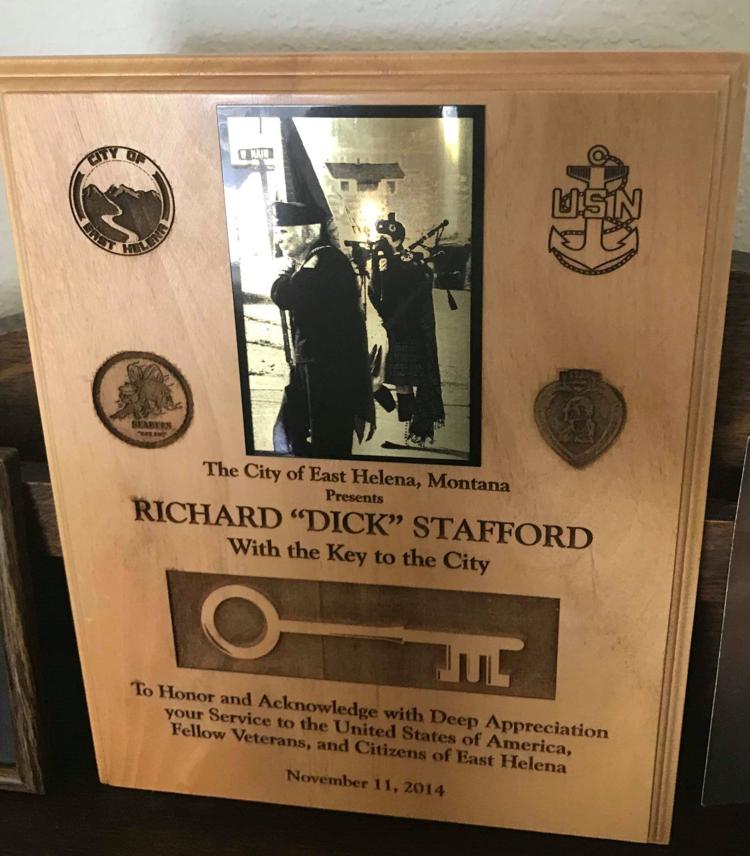 On Veteran's Day in 2014, the City of East Helena presented Stafford with a "Key to the City." The plaque reads, "To honor and acknowledge with deep appreciation your service to the United States of America, fellow veterans, and citizens of East Helena."
And today, on the 75th anniversary of D-Day, Stafford will be recognized by a group of Indian veterans at Fort Harrison, with the presentation of a "Medicine Bundle," among other things.
Curt Synness, a Navy veteran, can be reached at 594-2878 or by email at curt52synness@gmail.com. He's also on Twitter @curtsynness_IR.