East Helena has invented and reinvented itself multiple times over the past 150 years, from a small railroad junction to a bustling smelting town to the small community of today.
But 100 years ago, East Helena nearly ceased to exist. A fire, possibly caused by a carelessly tossed cigarette, burned down 29 businesses, 18 homes and "numerous small storehouses of coal, hay, merchandise, etc." a Billings Gazette story headlined "$200,000 Blaze Nearly Wipes Out Town of 2700" from Aug. 20, 1919, said.

That story relayed that another 50 homes were partially burned and two blocks along the south side of East Helena's Main Street were completely gone, burned to the ground.
A 5-year-old girl named Helen Sasek is credited for stopping the entire town from disappearing. At 1:30 that afternoon, she rushed to her mother and said a shed in a nearby home was on fire and that she had seen a boy throw a cigarette away, the Gazette story said.
On Aug. 21, 1919, in coverage that would not pass modern journalistic standards, the Helena Independent reported Peter Carlo, "an Italian" had been arrested in Helena by Sheriff George W. Huffaker in connection with the fire.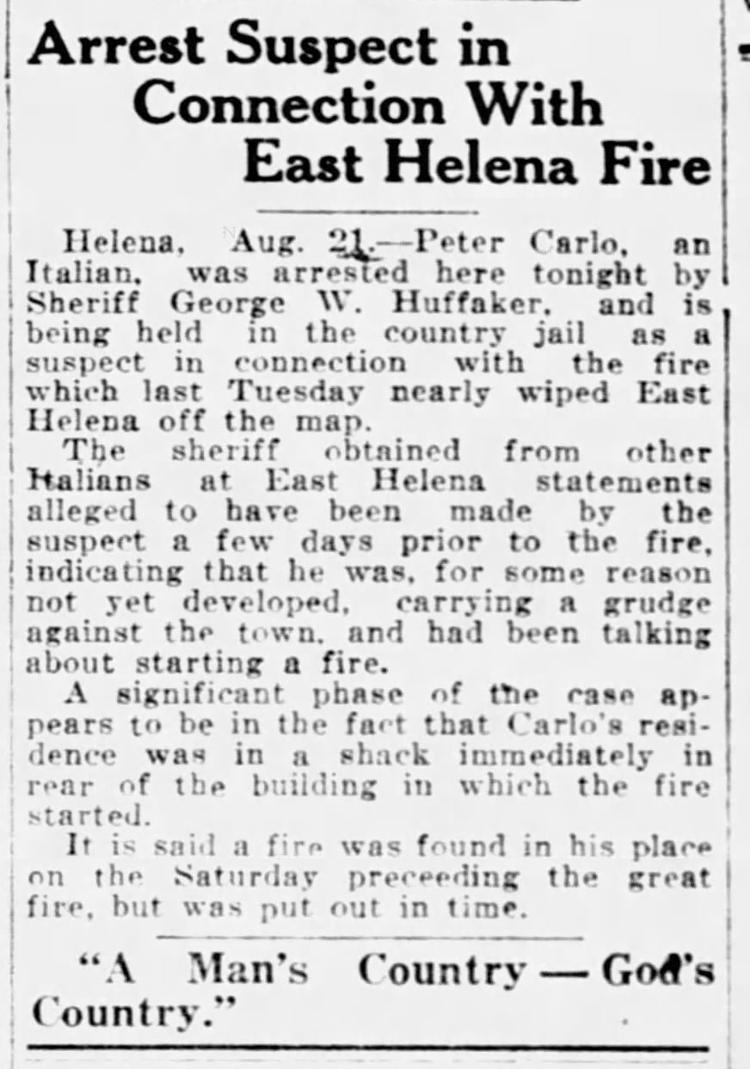 "The sheriff obtained from other Italians at East Helena statements alleged to have been made by the suspect a few days prior to the fire, indicating that he was, for some reason not yet developed, carrying a grudge against the town, and had been talking about starting a fire," the Independent wrote.
It is unclear from newspaper stories at the time if Carlo was ever charged; the Independent story and other coverage offers Carlo's home was near the origin of the fire, but offered no other information on charges. The story notes that a fire was previously set and put out at Carol's "shack" the Saturday before the great fire that burned East Helena. Contemporary accounts such as David Cole's "More From the Quarries of Last Chance Gulch, Volume III," say the fire was thought to have been started by children playing with matches or cigarettes.
The night of the blaze, Helenans rushed to help the East Helena volunteer fire department, which apparently caused a ruckus on the road. A number of volunteers had to proceed on foot after their car stalled out, while other vehicles flipped, ran through fences and otherwise caused mild mayhem on the way to the fire.
Electrical wires, gasoline storage tanks and ammunition caches fell and exploded. The ammunition sounded like "machine guns," the Gazette wrote, but no one appeared to be hurt by flying lead.
You have free articles remaining.
Some strange images appear in the fire's aftermath. In the Gazette article, a man was left guarding a case of whiskey with a shotgun, while in another sheriff's deputies and Helena Police officers patrolled East Helena to halt looting.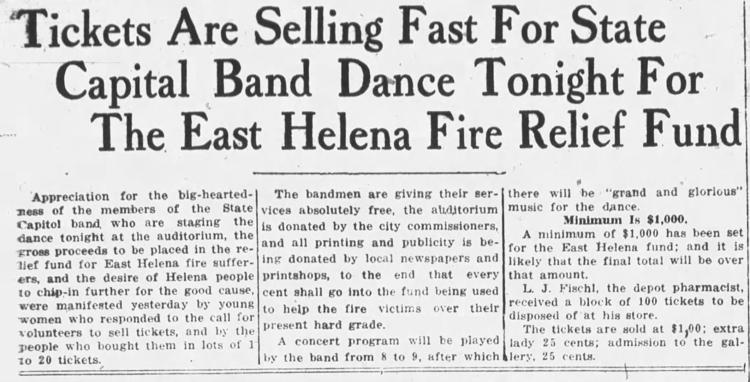 But the East Helena and Helena communities came together quickly. The Salvation Army and "many prominent Helena people" provided sandwiches, fruit and coffee while farmers in the Helena Valley donated vegetables and milk. Some 1,500 people were served dinner, according to the Gazette, and a relief fund of $10,000 was mostly raised within a few hours.
Proceeds from a State Capital Band benefit dance raised $800 on its own, the Independent wrote on Aug. 23, saying that when it came to donations, "No fancy stuff is required, but article durable and in good repair will be welcomed."
The Gazette also notes that the lead smelter, the main economic driver of East Helena, was untouched by the fire.
Built in 1888 by the Helena and Livingston Lead Smelting Company, the smelter operated until 2001, providing jobs and an economy for the town, which took a deep pride in the massive stacks. Souvenir lead ingots are stamped with "East Helena Plant" and enameled spoons show the smelter, tall and clean, standing above a wintry Prickly Pear Creek.
So leaving the town as ash wasn't an option.
East Helenans moved out of town to the surrounding fields, setting up any salvaged furniture and bedding. And the promise to rebuild was already made.
"The city will be rebuilt," the Gazette wrote, "on a larger and more permanent scale."
Special thanks to the East Helena Historical Society and the Helena As She Was, helenahistory.org.