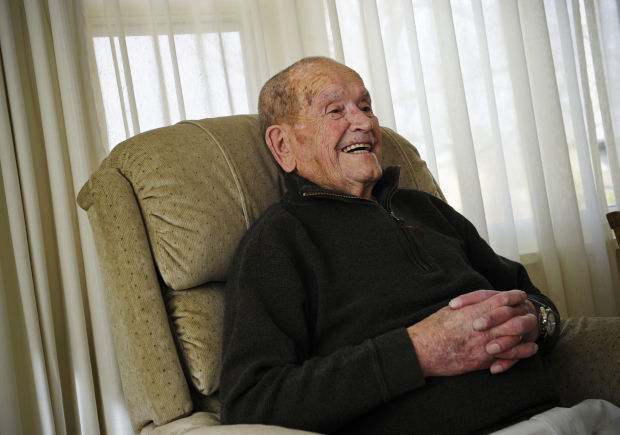 Jim Barfknecht was attending what is now Montana State University in Bozeman when he and six fraternity brothers decided to visit a traveling Navy aviation recruit team and try to pass the physical.
"Just wanted to see if I could pass the physical, first thing I knew I was in the Navy," Barfknecht said. "Probably the best thing I ever did in my life."
Barfknecht is one of an expected 25 to 30 WWII veterans to be honored at the Military Appreciation Day in the Capitol Rotunda Tuesday, March 31, at noon.
The noon ceremony is scheduled to be sandwiched by an open house in the rotunda from 9:30 a.m. to 3 p.m. that will showcase 19 different service organizations and what support they provide for veterans.
The event is organized by the Montana Military Museum, whose director, Raymond Read, said he thought it was important for legislators to see all the services offered to veterans so they can connect constituents with organizations.
The noon ceremony will also feature a talk from Bill Woon, executive director of the First Special Service Force Association, who will speak about the group's exploits during WWII and showcase the Congressional Gold Medal the group was awarded in February.
This celebration aligns with the 70th anniversary of key battles in both theaters of WWII and the eventual Allied victory in Europe and Japan. Read said he sent out more than 120 invitations to WWII veterans, a group which he said it's important to honor now.
"We felt that it was important to do it this year on a 10-year anniversary, actually the 70th, because in 10 years from now I would doubt if we have one," he said of the aging population of WWII veterans.
Barfknecht is turning 95 years old this August and said he doesn't know many WWII veterans anymore.
It was the summer of 1942 when he received a call from the Navy and was told to report to Seattle for duty. He want on to train in California, Texas and Florida before his final test in the Great Lakes.
The Navy had two ships with 400-foot flight decks used in the Great Lakes explicitly for training new aviators. After several successful touchdowns on land, Barfknecht was told he had the go-ahead to try qualifying on the ship.
You have free articles remaining.
"The first landing was probably the top of the career for being surprised," he said.
Each pilot had to make eight successful takeoffs and landings on the ship before passing.
Once deployed, Barfknecht was stationed on the USS Yorktown in 1944.
He flew a torpedo bomber capable of carrying one, 2,000-pound torpedo or several other bombs depending on the target.
His plane was hit with small-arms fire on several occasions, but Barfknecht said he was "real lucky" that he never had any close calls or problems landing on the carrier.
He was stationed in Virginia at the end of the war and left the Navy in 1947.
After returning to college and earning a degree, he served in the Army National Guard in Montana for over two decades and retired in 1977.
Barfknecht said his squadron from WWII used to hold annual reunions up until last year, but of the original 96 people, he only knows of four who are still alive.
"That's my problem now, I've outlived most of my friends. It's a different story," he said.
Now Barfknecht keeps busy playing golf, tending to his yard or visiting friends in a nursing home.
He said he loved to fly and enjoyed his years of service.
The primary thing he learned over the years and wants to pass on?
"I guess just be patient," he said. "Things will go as they are, nature will take its course."