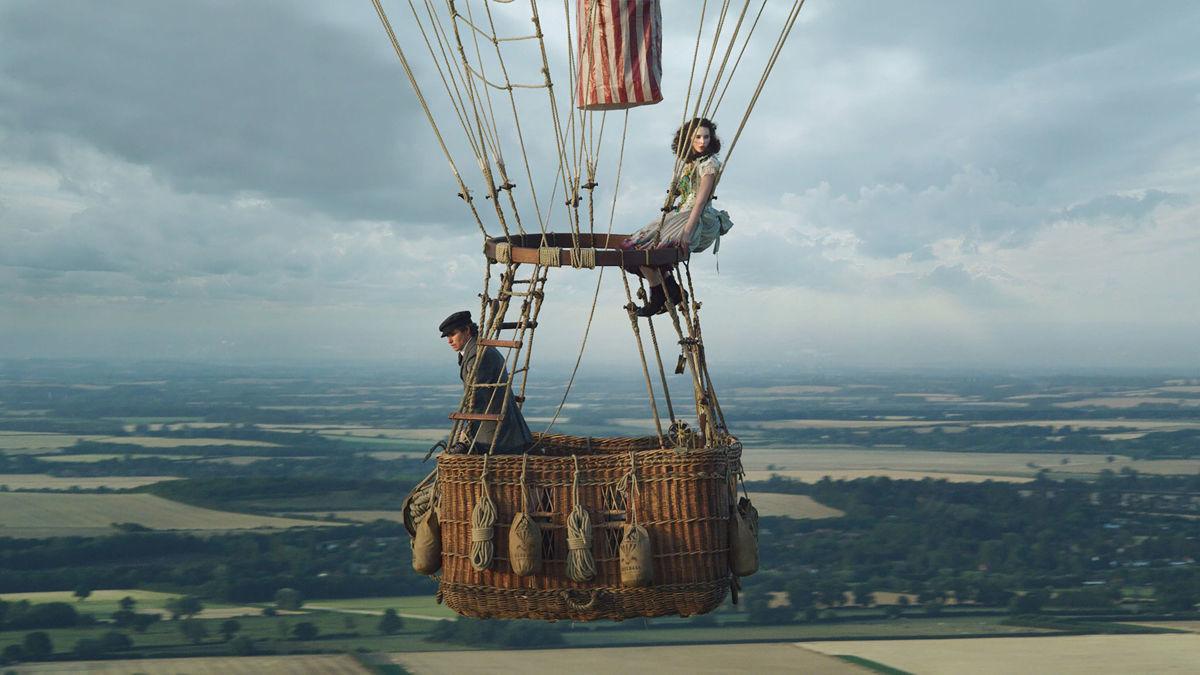 The Aeronauts
(PG-13)
I've always been captivated by hot air balloons, although I've never dared ride in one.
For those in search of a screen saver, may I recommend Googling images of "Grand Est Mondial Air in France" or "Albuquerque International Balloon Fiesta," the two largest hot air balloon festivals in the world?
The sight of those colorful balloons rising silently into the air is breathtaking, chilling.
Hot air balloons blend contemplative silence with an explosion of color.
My hybrid car also moves without much noise, but a functional Toyota can't match rainbow-colored hot air balloons.
We know, of course, that flying hot air balloons comes with some risk. Flying them at extreme altitudes, exponentially raises those risks.
In 1862 in England Dr. James Glaisher set out to fly a balloon higher than anyone had ever flown before, upwards of 36,000 feet.
Lest audiences become bored floating through clouds, the script adds a touch of romance -- changing a famous flight by two frumpy fellows to a Vanity Fair cover featuring a handsome man and a pretty lady.
You have free articles remaining.
The story is historical but not factual, assembling highlights from various flights.
James Glaisher was real, but his companion Amelia is fictional.
The most famous Glaisher flight occurred on Sept. 5, 1862. Glaisher and his pilot Henry Tracey Coxwell flew to more than 35,000 feet. Glaisher lost consciousness, but "managed just in time to pull the valve-cord with his teeth," thus saving the flight from disaster. So says one account.
That's a pretty compelling story, but the script here feels obligated to update gender history.
Glaisher does indeed lose consciousness, but it's his fearless partner Amelia, who unsticks the valve by climbing up the balloon in freezing cold and prying it open with her shoe. Good grief, Charlie Brown.
Such poetic liberties ultimately puncture the balloon.
But "The Aeronauts" is still worth seeing just to experience the wonder of a hot air balloon flight. The portrait of Amelia's courage is also compelling. Her husband died while saving her during a previous flight, but she signs on for another trip.
Amelia is a composite of famous female hot air balloonists. Felicity Jones, who plays Amelia, was asked about her inspiration.
"The woman I play is inspired by Sophie Blanchard, who was a French aeronaut in the 18th century," Jones said to USA today. "She was the first woman to fly solo and fly at night and she used to set off fireworks from her balloon. So, I very much had her in my mind as I was making it."
Blanchard lost her husband when he suffered a heart attack while flying, but she kept flying.
Blanchard ultimately died tragically, as told in an online story by Sabrina Rojas Weiss.
"Blanchard's lack of fear did eventually mean her demise," wrote Weiss. "She set up an elaborate fireworks display for a flight from Tivoli Gardens in Paris in 1819. Shortly after she lit them, something went wrong and her balloon caught fire. Her basket landed on a nearby rooftop and tipped, tossing her to the ground and her death."
Those stories obviously served as a foundation for "Aeronauts." Tell that story, Hollywood!
The cast is exceptional, pairing "Black Cat" Felicity Jones with Oscar-winner Eddie Redmayne. Their chemistry keeps the film in the air even when the script springs a leak.