Update: No significant growth or fire activity over the evening. Crews built fireline and extinguished small flare ups that would start due to the dry conditions. Evacuations of Holmes Gulch and Martinez Gulch are still in place.
******
Several neighborhoods near Helena were evacuated Thursday afternoon after lightning sparked a wildfire about 2-3 miles south of the State Capitol.
The Holmes Gulch fire was reported around 2:15 p.m. near the Eddye McClure Trail between Martinez Gulch Road and Holmes Gulch Road in Jefferson County, about a mile from Helena's city limits. Heavy winds pushed the fire southeast toward homes and other structures, and it eventually crossed Holmes Gulch Road.
The fire was considered about 5 percent contained by Thursday night, said Butch Kroll with the Montana Department of Natural Resources and Conservation. Some early estimates put the fire at nearly 300 acres, but later estimates with better mapping put it closer to 100, but broken up into multiple small fires with spotting.
A community meeting was held at 8 p.m. at the Montana City Volunteer Fire Department Station…
"When I came around the corner I could see the fire running up Mount Ascension on the backside. The fire was spreading quite rapidly, on an uphill slope, nothing but dry fuel," Montana City Fire Chief Rick Abraham said at a community meeting Thursday evening.
Abraham then requested air support, which included a helicopter and two small air tankers, followed later by a large air tanker.
The fire initially burned to the north toward Helena, but then the wind changed directions and drove it back into Holmes Gulch threatening multiple structures.
The Jefferson County Sheriff's Office ordered the evacuation of Holmes Gulch Road, Martinez Gulch Road, Mule Trail Road, Doe Mountain Court, Timber Lane, Ponderosa Road and Saturn Drive within a matter of hours.
As the fire burned downhill, it triggered a "fast and furious" evacuation. The fire cut off some evacuees that had to "go over the top" into Davis Gulch, Jefferson County Sheriff Craig Doolittle told 200-300 people at the Montana City firehouse Thursday evening.
"At this point in time with what this fire could've done and we thought it was going to do, it had to happen right now," he said of the evacuation speed. "In the time that we did the evacuations this whole thing could've swept through the whole entire South Hills, and into Jackson Creek and down into Clark Creek."
Fire officials expressed some cautious optimism about progress on the fire and said crews would remain on the scene overnight Thursday. Officials remained concerned about prevailing weather patterns, which could stoke the fire overnight and into Friday.
Holmes Gulch and Martinez Gulch remained evacuated Thursday night.
"I was texted by a friend that said there was a fire and I ran up to the house and the fire was going wild, and I turned up all the sprinklers and then got the pets and ran out the door, and by that time they were evacuating everyone on Holmes Gulch Road," area resident Anna Nash said Thursday afternoon. "Now I'm down watching it and I can still see my rooftop and hoping that the fire won't reach it."
The City of Helena also issued an evacuation advisory for the South Hills area Thursday, noting that residents were asked to "remain alert to changing conditions and be prepared to evacuate if ordered to do so by law enforcement."
Those in the areas being evacuated were advised to leave their sprinklers on.
The fire burned very close to a couple of structures but none were lost. The state will take full command of the fire on Friday.
Area residents at the community meeting asked questions of fire officials and law enforcement, and then erupted in applause when they called on one person who said he simply wanted to say "thank you."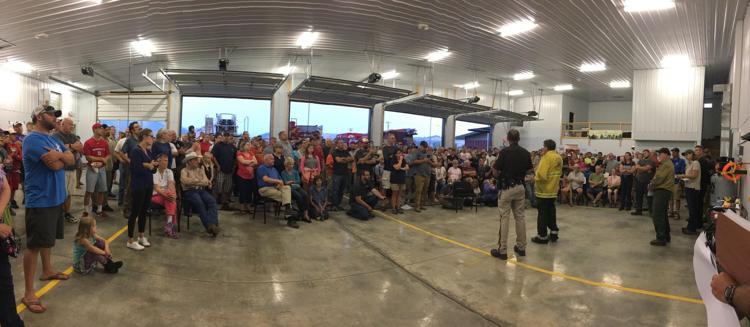 The American Red Cross opened a shelter for evacuees at the Helena Assembly of God Church, 2210 Dodge Ave. in Helena.
Valley Veterinary Hospital at 4880 North Montana Ave. in Helena offered to take dogs, cats, and a limited number of large animals. Anyone wanting to shelter an animal should call first, 442-0188.
The Lewis and Clark County Emergency Operations Center will have a public hotline at 447-1605 staffed at 7 a.m. Friday.
Fire information is also available at 616-2581, https://inciweb.nwcg.gov/, or by emailing holmesgulchfire@gmail.com, and DNRC is launching a Holmes Gulch fire Facebook page.
The resources that responded to the fire included wildland firefighters, four large air tankers, four DNRC helicopters and another with the National Guard. The 171-foot-long DC-10 firefighting supertanker jet stationed in Helena, which is one of only three of its kind in the United States, also responded. About 130 personnel were on the fire.
Another community meeting will be held at 8 p.m. Friday at Montana City Station 1, 1192 Highway 282.