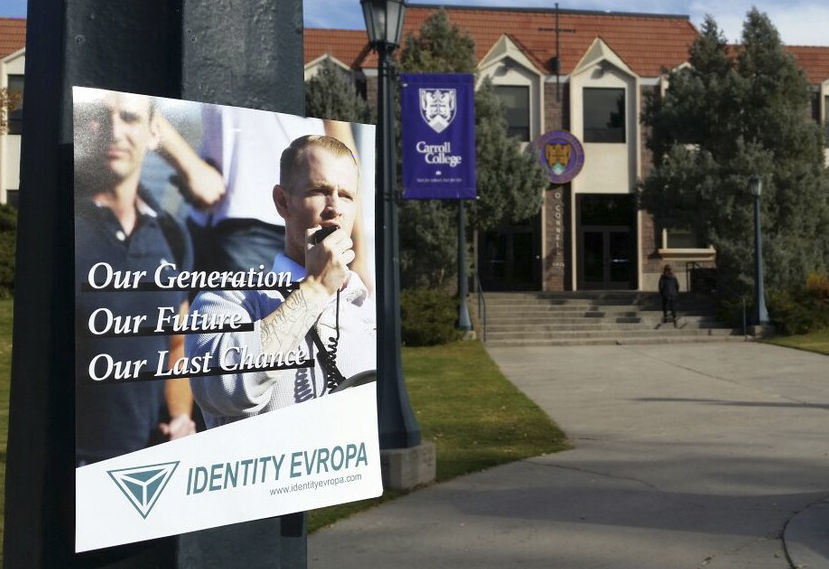 A white nationalist group known as Identity Evropa placed recruiting posters at Carroll College and Helena College late last week, but the materials didn't stay put for long. 
Josh Manning, a Jewish U.S. Army veteran and human rights activist, said he and a friend quickly removed the posters from both campuses and burned them in his barbecue barrel.
"We saw the posters and thought 'Oh hell no'," Manning said.
Hi @IdentityEvropa, Thanks for putting up all those fliers in Helena this weekend. I used them to fuel this fire for my Montana-raised steak dinner. This Jew will eat well tonight and the lampposts around town are bare. Well done! (Pun intended. Though I cook medium rare.) pic.twitter.com/t9YtUjAtJa

— Josh Manning, I Voted 🗳 (@joshuamanning23) October 28, 2018
"It's not free speech, it's hate speech," Manning said. "It supports a war against certain races like mine."
Officials from both colleges said hanging the posters without permission violated school policies. 
The posters were taken down so quickly that it was difficult to find proof they'd been there at all. However, Identity Evropa has taken credit for bringing them to Helena and hanging them up at the schools. 
Carroll College President John Cech released a statement saying "there is no place for hate at Carroll College." He asked the campus community to report the appearance of any white nationalist posters or hate-promoting material to Dr. Jim Hardwick, vice president of student life, at jhardwic@carroll.edu or 406-447-4530.
Sarah Lawler, Carroll College's director of public relations, said the college will be keeping an eye out in case any of these types of materials re-emerge. 
Barb McAlmond, director of marketing and communications for Helena College, said posting flyers on the community boards is prohibited without her permission.
The Southern Poverty Law Center, Anti-Defamation League and Montana Human Rights Network all label Identity Evropa as a "white supremacist," "white nationalist" or "hate group."
"They were very visible in Charlottesville and were close to Richard Spencer," said Keegan Hankes, senior research analyst at the law center. He was referring to the "Unite the Right" rally in Charlottesville, Virginia, which left one person dead and several white supremacists being prosecuted.
Hankes said the group's relationship with Spencer strained after a Michigan State University rally in which Spencer invited more obvious neo-Nazis.
"It complicated; the careful image they cultivate to appear normal," Hankes said.
Posters like the ones in Helena are the standard operating method for Evropa. They target college-age white students and try to recruit them to their cause. They work carefully to cultivate an image of normalcy and distance themselves from the swastika-wearing variety of white supremacists.
"They brand themselves as 'identitarians,' which is from European far-right politics," Hankes said. "They are very careful about curating their message to hide the white nationalist roots."
Hankes said they are indicative of a more broad trend in the country. He said there are no exact numbers on their membership, but his guess would be a few hundred.
Rachel Carroll Rivas, co-director of the Montana Human Rights Network, backed up Hankes on their numbers.
"They are small in number of members and in influence in Montana," Carroll Rivas said. "Clearly they aren't interested in sharing their identities. We as communities rely on trust and these people don't want to stand by what they allegedly believe so strongly in."
Carroll Rivas said the Pacific Northwest has a long history of being a target for white nationalist activity. This is partly because of the rural nature of the communities, and because these groups can attempt to politicize their beliefs by doing things like running for office in sparsely populated areas.
The Montana Human Rights Network was formed in the late 1980s in response to militia and white nationalist groups.
"We work on how to fight it and come up with solutions that are better for our community," Carroll Rivas said. "These beliefs hurt the community."
Carroll Rivas said he doesn't believe there is any significant population of Identity Evropa in Helena but the posting of flyers happens consistently in Billings.
"It can be difficult to unpack their coded language," said Carroll Rivas. "They used anti-Semitic dog-whistles like 'the global elite.' However, when you get deeper into their organization they start talking about how the so-called 'global elite' are Jewish people."
Carroll Rivas said anti-Semitic conspiracy theories are at the base of what groups like Evropa believe. "Last Saturday was the poorest choice of time to post the posters," Carroll Rivas said. "But it's a good thing that we had such a strong response here."
Carroll Rivas said there have been more incidents involving white nationalists in the past two years than in her previous 10 years with Montana Human Rights Network. "We must associate their bigoted language with the actual acts of violence they bring," Carroll Rivas said.
Identity Evropa rejects claims that it advocates for supremacy or violence. However, founder Nathan Damigo spent several years in jail for robbing a cab driver at gunpoint because he "thought he was Iraqi." He was also caught on camera assaulting a woman at a protest in Berkeley last year. Damigo left the group shortly after the Charlottesville incident.
However, the group maintains a message of white nationalism and segregation of races.
When asked for a statement, Identity Evropa spokesperson Sam Harrington said the group believes "European Americans are being replaced as a result of mass immigration." Harrington went on to deny the various labels attributed to the group by SPLC, MHRN and ADL.
Montana Human Rights Network provides help to individuals and communities who experience hate crimes. Their website has a hate incident report form and a hate incident rapid response guide for those interested in the steps on how to address an incident.
Josh Manning and Independent Record reporter Tyler Manning are not related.
Get local news delivered to your inbox!
Subscribe to our Daily Headlines newsletter.