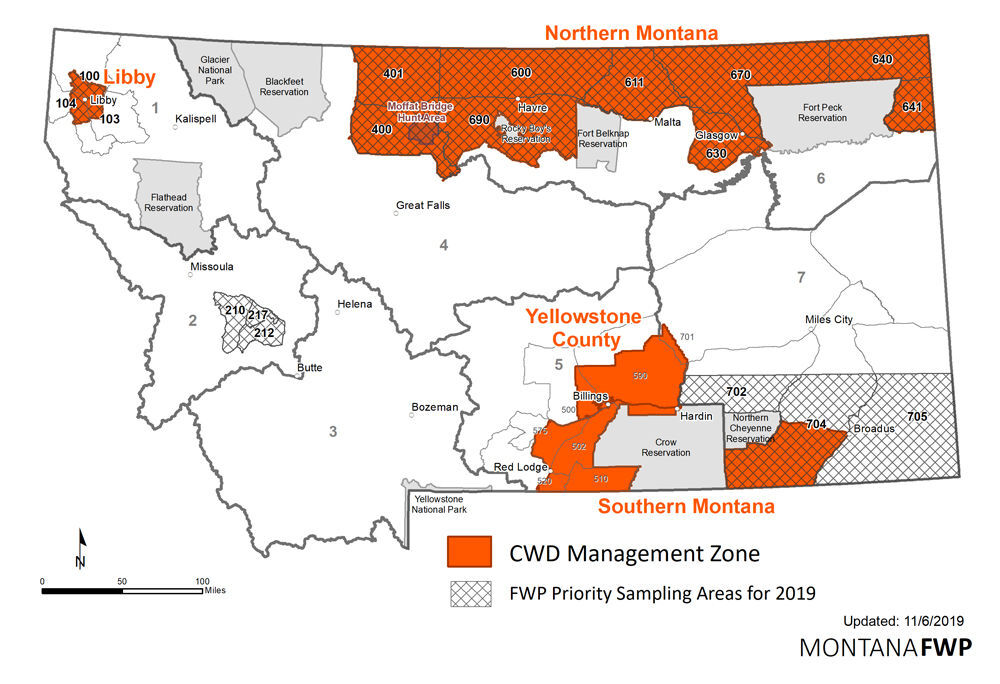 What hunters need to know about CWD in Montana:
Chronic Wasting Disease, or CWD, is a contagious neurological disease that infects deer, elk, and moose. There is no known cure, and it is fatal to infected animals.
Wild animals have tested positive for CWD in North and South Dakota, Wyoming, Saskatchewan, Alberta, and recently in Montana.
Although there is no evidence that CWD can infect humans, animals infected with CWD should not be consumed. Hunters are encouraged to have their animals tested before eating the meat when hunting in areas where CWD is know to be present.
CWD could result in large-scale population declines for infected herds.
Mule deer are believed to be the most susceptible species in Montana, but moose, elk and white-tailed deer can all be infected.
Animals infected with CWD may appear completely healthy. At the terminal stages of the disease, CWD symptoms include poor body condition, excessive salivation and drooling, drooping head and ears, disoriented behavior and decreased sociability.
Concerns over CWD shouldn't stop you from enjoying hunting season.
Carcass transportation restrictions and disposal:
CWD Management Zones are areas where CWD is known to exist and where carcass transportation restrictions are in effect.
To prevent the spread of CWD from infected areas of Montana to other parts of the state, the whole carcass, whole head, brain, or spinal column from any deer, elk, or moose harvested within a CWD Management Zone CANNOT be removed from that Management Zone unless the animal has tested negative for CWD. These parts should be bagged and disposed of in a landfill or may be left at the kill site on public lands and with landowner permission on private lands.
Animal parts that CAN be removed from a CWD Management Zone include:
Meat that is cut and wrapped or separated from the bone
Hides with no heads attached
Quarters or other portions of meat with no part of the spinal column or head attached
Skull plates, antlers, or clean skulls with no meat or tissue attached
Upper canine teeth
Head, partial body, or whole-body mounts prepared by a taxidermist
How you can help:
Look for and report any sick looking deer, elk, or moose to FWP.
Take precautions:

Wear rubber gloves and eye protection when field dressing your deer.
Minimize the handling of brain and spinal tissues.
Wash hands and instruments thoroughly after field dressing is completed.
Avoid consuming brain, spinal cord, eyes, spleen, tonsils and lymph nodes of harvested animals. Normal field dressing, coupled with boning out of a carcass, will essentially remove these parts.

If you have any doubts or questions about the health of an animal you've harvested, please contact FWP.
To submit a sample via mail to the FWP Lab, take the following steps:
** Only the lymph nodes are necessary for testing. Extraction can easily be performed with a field knife.
Put the lymph nodes in sealed plastic bag:
Ziplock bags or a similar brand work best. Double bag the sample and wrap it in a paper towel.
Fill out the Hunter Harvest Submission Form:
Please print the Hunter Harvest Submission Form (http://fwp.mt.gov/fwpDoc.html?id=93012) and place in a separate plastic bag with the samples. The form must be fully filled out with contact info and harvest location. FWP will send you a unique CWD number that will allow you to look up your test results online within three weeks. Be sure to record the location of harvest as accurately as possible. Samples without location information will not be tested.
Shipment:
Place the bagged samples, a cold ice pack, and the bagged submission form(s) in a small box or shipping envelope and send via your choice of postal carrier. We recommend using a carrier that will deliver your samples within 24-48 hours to prevent the samples from rotting. Please try to ship your samples on Monday, Tuesday or Wednesday of each week, and avoid shipping on holidays, to prevent the samples from sitting over the weekend.
Send to:

Montana Fish, Wildlife & Parks
ATTN: Wildlife Health Lab (CWD)
1400 S. 19th Avenue
Bozeman, MT 59718

There is no cost for the test.
To submit a sample at an FWP regional office, bring the following items when you submit your head for testing:
Animal's head: Leave 2 to 4 inches of the neck below the low jawbone and base of the skull to ensure lymph nodes are present and not inadvertently left with the carcass. Samples cannot be collected from frozen heads.
Location of Harvest: GPS coordinates (Lat/Long, Township/Range/Section) of where you harvested your animal.
Hunter Harvest Submission Form: This can be printed here and will accompany any sample submission.