It's high, wide and handsome. Plus, as Montana-based artists, designers and manufacturers are discovering, their home state makes for some wildly popular locally made gear.
"It just looks awesome," said Joyce Gibbs of the straight angles and squiggly lines that define Montana.
The Missoula native runs fildiDesign, and her top-selling design is the outline of Montana with the words "little rough around the edges" printed inside.
"It's something you want to look at because it's a really beautiful state," Gibbs said. "The shape, it just lends itself to so much artistic translation. It's got some square sides, it's got some rough sides."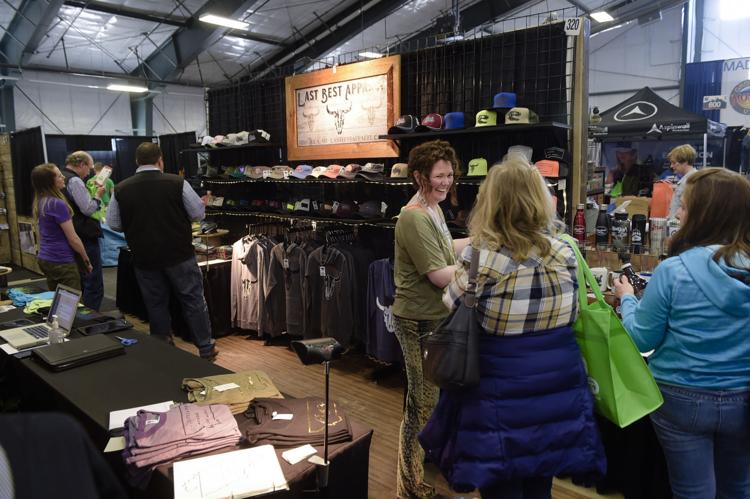 The appeal of the shape is something many of the 155 exhibitors gathered at the recent Made in Montana Trade Show in Helena have also picked up on. The outline of Montana on clothing, pottery, home goods and more proliferated at the show, and is an increasingly common sight on clothing and other articles in all four corners of the state.
Brad Brenteson is a metal artist based in Belgrade. A while back his brother gave him the idea for a new piece — the outline of Montana and its waterways worked from the customer's choice of metal.
"As soon as we started building them we couldn't make them fast enough," Brenteson said.
Brenteson and his wife, Carley, used to operate their business, Split Mountain Metals, as a part-time gig but transitioned to full-time two years ago. Last winter, they made the copper star that sat atop the U.S. Capitol Christmas Tree in Washington, D.C.
The couple are Montana natives, Brad from Conrad and Carley from Geyser. They share the same adoration of their home state as their customers, who can also buy wine and mail holders in the shape of Montana.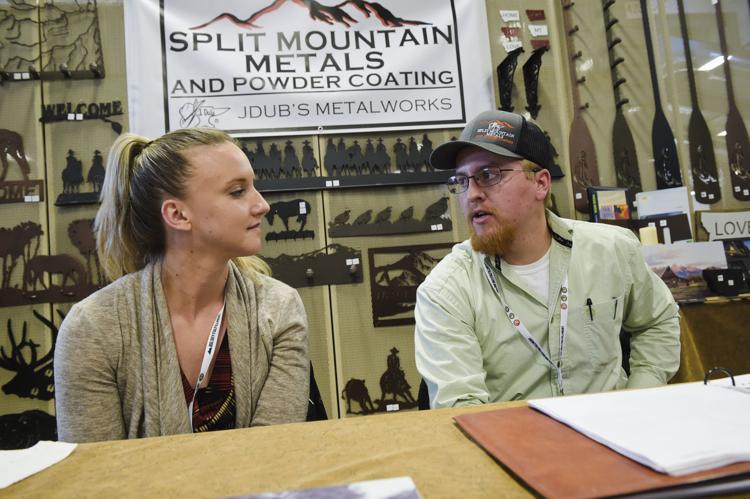 "I think people are really proud of Montana and proud to be a part of it," Carley Brenteson said. "Montana is a beautiful, unique state."
Wendy Jordan, who owns MT Brand Apparel, has studied and seen Montana pride. Her clothing all uses the outline of Montana, with a variety of adaptations and words worked into the flatter parts of the borders or inside the state.
"I've done a lot of Google searching on the proudest states, and Montana and Alaska are No. 1 and No. 2," Jordan said.
This summer, she saw the place Montana holds in its residents' hearts up close as fires ravaged the Bitterroot Valley near her Stevensville home and local store.
Jordan's shirts with "brave," "strong" and "fearless" intertwined with the state were a way for residents to show solidarity with each other and the firefighters.
"It was a strong time," Jordan said.
Beyond a deep affection for the Big Sky state, the appeal of Montana's outline also comes from its geometry.
Montana makes a great canvas to work from, Gibbs said. Its rectangular shape gives designers room to work in, but the wiggly western edge provides character. It fits well on a T-shirt; unlike the too-long California.
Locals know their state is superior to the other 49, and that extends to their opinion of the outline of it.
"Florida looks cool, sure. But when you cut it out it doesn't look good on a wall," said Brandon Keim, who works with Jessica Kindzerski at their company Pallet Art Creations to print Keim's wildlife photographs on reclaimed wood pallets cut into the shape of Montana. Keim is originally from Bozeman, and Kindzerski is from Lewistown.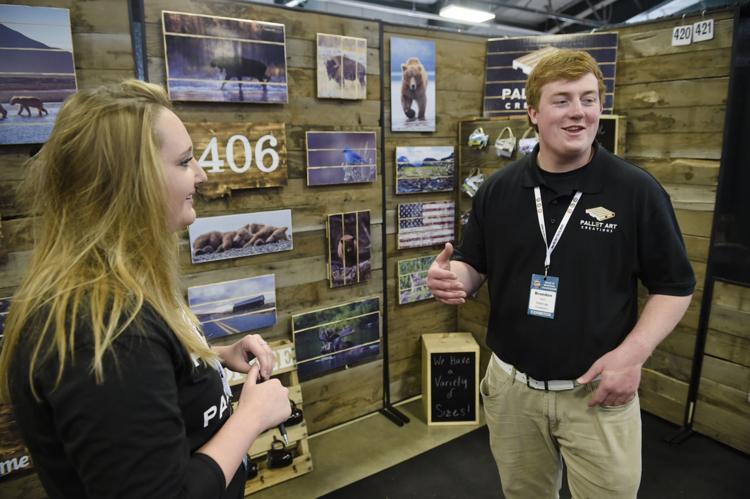 You have free articles remaining.
There's no question that for artistic purposes, Montana is better than Wyoming.
"I've done Wyoming, and it looks like a box," said Laura Viven of Lulu Pottery in Bozeman. "Montana is a beautiful canvas."
For eight years, she has handcrafted pottery that includes several series of mugs, tumblers and more with the outline of Montana stamped onto them. Some of the Montana outlines say things like "Home," and some have hearts; others have the year the state was established, 1889.
Montana is also, thankfully, not Ohio. "Ohio looks like it's a melting … " Gibbs said as she trailed off.
Brooke Blackler and her husband, Alex, own Last Best Apparel, based in Missoula. They screenprint their own Montana designs and others, including Gibbs'.
One of their best-sellers is the Montanalo, a bison with his head made from the western third of the state. The horn sprouts out somewhere around the south end of Flathead Lake, the nose is deep in the Bitterroot National Forest and the beard is the shaggy border with Idaho around Monida.
"You can brand something with a word, but to have a visual that draws people in is more appealing," Blackler said. "It's just cool. It looks like a face to me. It always spoke to me like that."
Blackler also pointed out that the outline of the state is out there in the public domain and not something that's subject to trademark issues like other Montana-specific marketing mechanisms.
Though Montana's elected officials beat back an effort by a Las Vegas businessman several years ago to trademark the saying "The Last Best Place," a Missoula businesswoman succeeded in trademarking the state's area code in a design featuring [406].
"There are issues amongst the 406 community," Blackler said. "We didn't want to have any negativity with anyone. We're cool. There's enough 406 to go around."
With the rise in demand for items featuring the shape of Montana, it's become hard for some businesses to set themselves apart.
Ann McIntosh makes handmade, hand-stamped and hand-cut jewelry in Missoula. Under her business, Always There Designs, she has been creating Montana-shaped necklaces and earrings for about seven years.
Her husband, Jon Putnam, works for her part time. He said when McIntosh started selling at the Missoula People's Market, they were one of the first with a Montana-outline item, and it was an instant hit.
"At least in Missoula, it started out very heavy; the Montana things would sell fast," Putnam said. "It was instant. It wasn't going to be trying to convince people to buy it."
Now, at his day job at a local hardware store, he'll see customers walk in wearing one of his wife's pieces or a similar Montana item from another local artist.
"It's hard to keep yourself individual from them all now," Putnam said. He and his wife use affordable metals like aluminum or copper, as well as brass and fine silver, to keep their prices down. To diversify, they started making a new necklace with the mountains etched across the shape of Montana.
"That one with mountains is new as of last September," Putnam said. "It's revitalizing our line."
About 65 percent of Always There Designs' customers are from Montana, though out-of-state Montanans also make up a big part of their base.
"We sell a surprising number of the Montana online ones out of state because of Montana transplants," Putnam said. "They're looking for a piece of home."
Most of the Brentesons' metal art ends up staying in Montana.
It's really as simple as "Montana people love Montana," Brenteson said.