Despite uncooperative weather in the final days, the 2017 big game season closed with the highest tallies in four years in Fish, Wildlife & Parks Region 2.
Montana's five-week big game hunting season ended Sunday with unseasonably warm winds and patchy snow for tracking. Nevertheless, those who went out in west-central Montana did better than average.
Deer hunters brought 607 whitetails through check stations at Bonner, Darby and Anaconda. That was 3 percent higher than last year and the highest whitetail count since 2008, according to FWP spokeswoman Vivaca Crowser. All but 100 of those came through the Bonner station.
"We've seen a steady climb in whitetail harvest since 2014, which correlates with our sense of a growing population," said Mike Thompson, FWP Region 2 wildlife manager. "This information is a good check on our thoughts of restoring some antlerless harvest opportunities for the 2018 hunting season."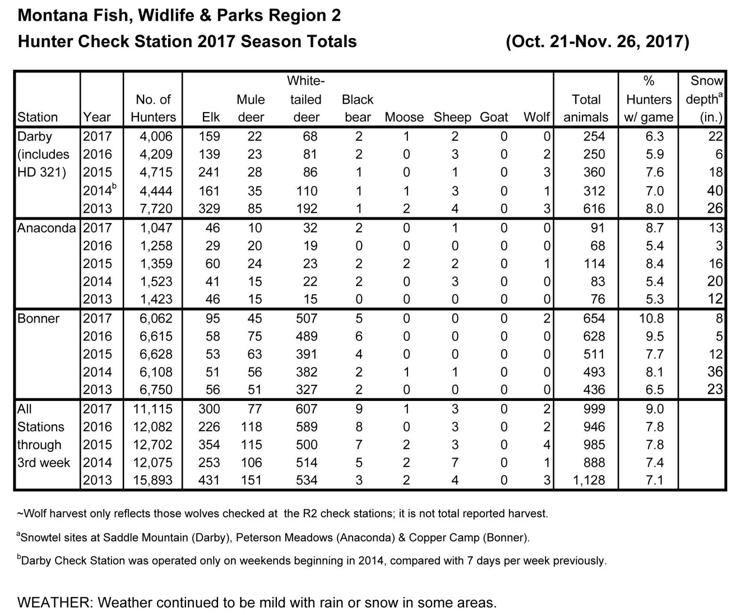 Elk hunters did even better. Most came through the Darby station, where 159 elk amounted to a 14 percent increase over last year. The Bonner station recorded its best success since 2011 with 95 elk. That was also 64 percent better than the 2016 season. Anaconda hunters brought in 46 elk, 59 percent more than last year.
Mule deer harvest in Region 2 came in 35 percent below last year, with just 77 mulies through all three stations. That's also the lowest recorded in the past four years. FWP imposed special permit requirements in order to boost mule deer numbers throughout the region.
Overall hunter numbers were down about 8 percent compared to last year. Nevertheless, the 11,115 hunters interviewed over the five weekends of check-station operation tagged 999 animals, which was up 6 percent over 2017 and the best Region 2 success rate in the past four years. FWP game wardens also recorded nine black bears, one moose, three bighorn sheep and two wolves through the Region 2 stations.
Fewer hunters ventured into the field in southwest Montana's Region 3 amid a stint of warmer weather and melting snow. Still, many hunters saw success, especially in the easternmost part of the region.
The Alder check station saw a success rate over 23 percent with 33 deer and 25 elk coming through as staff and volunteers visited with 237 hunters. Cameron checked 460 hunters over the two days with a total of 20 deer and 37 elk. Success in the Madison was slightly below the recent average.
The Silver City check station near Helena saw 236 hunters with 10 elk and eight deer for a 7.6 percent success rate.
At Divide, hunter success jumped 93 percent over the same time last year and 34 percent over the long-term average while seeing fewer hunters. Hunter numbers were also down at the Mill Creek check station, yet hunter success climbed 80 percent from last year, and was up 49 percent from the long-term average. For the season, overall hunter success at Divide and Mill Creek was 11.7 percent and 5.6 percent, respectively.
Once again, the highest hunter harvest success was seen in the Paradise Valley with the Livingston check station seeing nearly half the hunters coming through with game. Workers at Livingston were also busy collecting samples for chronic wasting disease testing, as the area is included within the primary surveillance area.
The Gallatin check station saw the fewest hunters and lowest success rate for the final weekend, checking just five animals.
Over the course of the season in Region 3, staff met with a total of 10,740 hunters checking 155 white-tailed deer, 309 mule deer and 720 elk. 
Across the Rocky Mountains, FWP Region 4's solo check station at Augusta saw normal elk numbers and variable deer success.
"The total elk harvest was 5 percent below the 10-year average," said Brent Lonner, FWP wildlife biologist. "Similar to other years, the elk harvest this year peaked during the second and third week of the season when snow and cold arrived."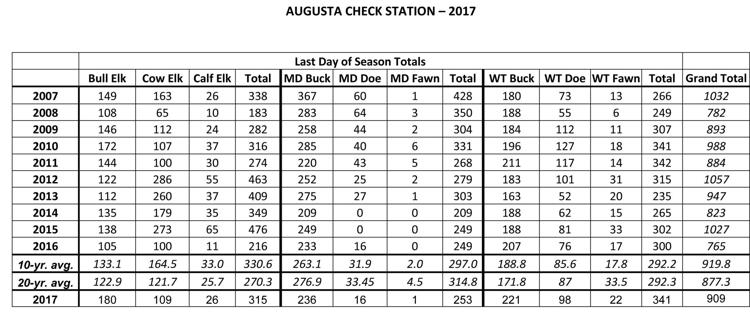 But mule deer numbers were about 15 percent below the 10-year average. Whitetails were 14 percent above average. All told, the Augusta station recorded 315 elk, 253 mule deer and 341 whitetails.
In northwest Montana's FWP Region 1, hunter success overall was up 8.6 percent for 2017, compared to 10.1 percent last year. The six game check stations in the region logged 16,269 hunters.
"The percentage of hunters with white-tailed deer varied greatly depending on where you were hunting," said Neil Anderson, FWP Region 1 Wildlife Manager. "Overall, hunters seemed to be enjoying themselves despite some challenging conditions. Most of the hunters I spoke to, including those who did not harvest an animal, stated they were having a good and enjoyable season."
Overall, Region 1 hunters took 1,275 whitetails, 78 elk and 51 mule deer.
That's the lowest number of mule deer since records were first kept in 1985, Anderson said.
"We don't know why the numbers were so low," Anderson said. "Fortunately, we are initiating a mule deer study in the Fisher River and Whitefish Range in Region 1 this winter. We hope to get valuable information on habitat use, nutrition, and some data on mortality rates."