Helena school district's budget shortfall and teacher salaries topped the list of concerns for seven school board candidates at a public forum Thursday in the Department of Public Health and Human Resources auditorium. 
The candidates were asked about the school district's budget, aging infrastructure and school safety and given two minutes to reply. Each candidate also had three minutes for introductory and closing statements. 
Elizabeth "Libby" Goldes, John H. McEwen, Ella Currier, Siobhan Hathhorn, Ralph A. Moody, Michael Spreadbury and Phoebe Williams all participated in the forum.
Angela Ewing-Hyyppa, Doug Hansen and Justin Stolp were absent from the forum but have filed as write-in candidates.
Voters also will be asked to vote on an elementary budget levy. Trustee Luke Muszkiewicz said that if passed, the nearly $103,000 wouldn't be earmarked for any specific item. Rather, the money would supplement the elementary district's general fund and allow the district to offer competitive benefits and salary to teachers and employees. The levy would cost taxpayers about $1.70 per year on a $100,000 home and $2.70 per year on a $200,000 home.
Muszkiewicz said Superintendent Tyler Ream welcomes the public to call or email questions to his office. 
Ballots were mailed to voters April 22 and should be mailed in or dropped off prior to May 7. 
Candidates were first asked: What ideas do you have to help balance the school district's long-term budget?
They all were in agreement that school staff and administrators should be consulted when looking to address the district's budget shortfall.
"I think that staff input is important to balance this budget," said Currier, a former Helena student. She mentioned that this was the primary reason for her visits to school administrators at each school in the district over the past week.
Goldes, a trustee for the past 12 years, said it was good to hear that her fellow candidates all are in agreement about having the best teachers possible. She said this has long been a goal of the board of trustees and the district is regularly at the top for teacher pay in the state, alongside Bozeman.
Spreadbury said he was the only candidate who had an answer to the budget issue in his Independent Record candidate survey. He disagreed with his fellow candidates that the budget was complicated and said you "follow the goals and the mission statement."
Moody, a registered nurse, said the board shouldn't believe they have all of the answers and that community input is important.
Three-time candidate John H. McEwen said an approach could be to talk with administrators and ask what could be tightened in their schools.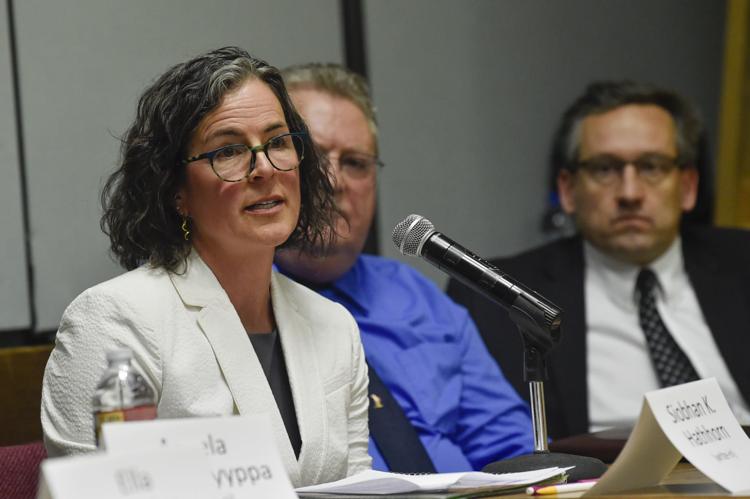 Hathhorn, a former teacher, said she believes creative solutions can come out of a "reprioritization rubric." In that rubric, the board could re-establish the core values of the district while maximizing student achievement and giving taxpayers meaningful returns.
You have free articles remaining.
The candidates also were all in agreement about the steps the school district should take to address its aging infrastructure. They also agreed that improvement needs are far-reaching.
Hatthorn said many of the district's schools are not built for education today. Moody said he believes when discussing the budget, upgrades are pushed to the side and patchwork solutions are accepted.
Currier said she thinks the budget and facility maintenance go hand-in-hand and that the district already took steps in the right direction when it passed the 2017 elementary school bond.
Goldes also brought up this improvement as a significant step in the right direction and called for a plan asking the teachers about their needs. 
McEwen said the district needs to build a list of priorities. He said there are two types of needs: existing maintenance and future growth. 
Spreadbury called for a plan to avoid having a public levy to improve schools, and Williams compared school improvements to a home. She said when you don't address small issues they become bigger issues. 
Many of the candidates also mentioned the aging high schools and their needs for improvement. However, a budget shortfall means funding for improvements is scarce at this time.
When asked what steps the school district should take to ensure a safe learning environment for students, the candidates agreed the schools have made great strides when it comes to school safety.
Spreadbury said he believes the issue is already solved and mentioned the strides Ream has made in the past year improving the safety of the schools.
Goldes also mentioned the improvements at CR Anderson and Helena Middle School this past year, and said suicide prevention is a good direction to move toward for the safety of students.
Moody brought up bullying and online communication as an issue facing the district. 
Currier mentioned a two-fold approach. She praised the improvements middle and high schools have made since her time there, where she graduated in 2017. However, she called for improvements in the emotional safety of students.
Moody brought up bullying as a priority that the district should tackle.
Several candidates, including Hathhorn and Williams, mentioned the importance of school resource officers.
Three seats are open for three-year terms on the Helena district's board of trustees. Goldes and McEwen will both appear on the ballot. Currier, Hathhorn, Moody, Spreadbury, Williams, Ewing-Hyyppa, Hansen and Stolp are all write-in candidates.