Uncanny spaces: Archie Bray artist En Iwamura changes the world one big head at a time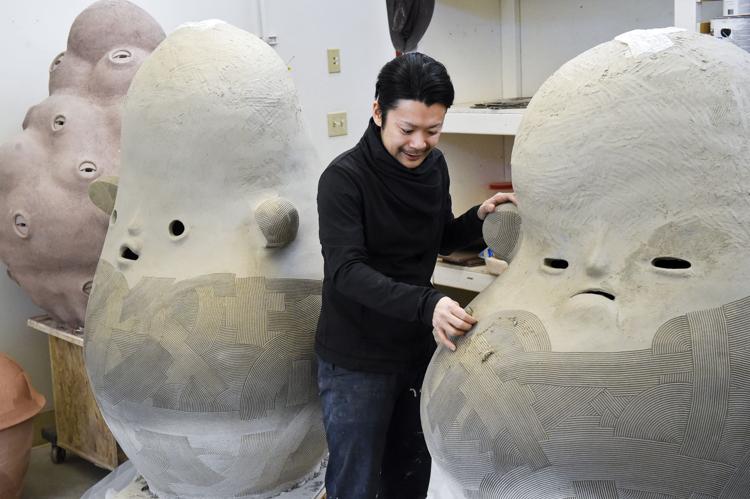 Born in Japan, En Iwamura is realizing his artistic fullness in the United States, working with clay in a way that can make those who encounter it uncomfortable.
The 2017-2018 Etchart-Satre Fellow at the Archie Bray Center calls his work "three-dimensional clay doodling," and the large pieces he has worked on at the Archie Bray showcase his drawing, painting and cartoon-esque aesthetic. And the visionary artist-in-residence has been chosen to showcase his work this year a the 52nd Annual Conference of the National Council on Education for the Ceramic Arts, which takes place in Pittsburgh from March 14-17. As one of the most important conferences for clay sculptors and educators in the nation, the conference's themes demand different artists to rise to the occasion. This year's theme is "CrossCurrents: Clay and Culture" a reflection of the city's history of bridges, rivers, immigrant history and reinvention.
"Ever since I came to the United States I used my own background, pop history of Japan and the United States," Iwamura said. Dressed in jeans, sneakers and a black sweatshirt with a big collar, Iwamura is shorter than his work, but exudes a sense of control over his studio, filled with pictures and his clay doodles.
Artist studios tell a lot about the artist. Because he works 12 or 13 hours a day sculpting, firing, painting and performing other tasks, Iwamura lives as much in the studio as in his home. The space is packed with his huge clay works and some of the pieces he's planning to bring to Pittsburgh, along with brightly colored smaller pieces, complex cartoon coated ceramic spheres, a couple of baseball gloves (they help his thinking process, Iwamura said), a MacBook, a Canon DSLR camera, a few paintings and even more ceramics scattered around the shelves. It's homey, like walking into a mudroom of a warm house out of the cold.
Everything in the space is intensely physical. Even the drawings seem to leap off the page in their cartoon shapes. Working with clay is intensely physical as well.
"I went to an athletic high school," Iwamura said, where he ran track and field, playing rugby as well. Sculpting is like "long-distance running" he said, where he can get into a meditative state even as he considers each move.
"I never know where it's going to go," Iwamura said about his technique. "I'm bad at throwing," he said, laughing. So he coil builds, taking clay and wrapping it up and up and up to make the pieces that seem to take over a space, or draw the viewer to them and block out everything else.
Iwamura sees this interplay between sculpture and structure as part of his art, a way to use ma, a Japanese word that means "negative space" or pause between discrete objects. For Iwamura, that space is changeable, which is what he seeks to do in his work, changing the viewer's perspective of the world around them.
Iwamura said that in Japan the goal was to fade back from the ceramic, making it an "object" rather than a piece of art. "We were supposed to craft more pragmatic objects," Iwamura said. "It was skill oriented, but I've learned content, concept here. It's a shift to create that's hard to describe."
"There's a long history of ceramics in Japan," Iwamura said. "It's not the attitude to talk about myself, but the material form of the clay. The goal was to make a quiet piece, ambiguous, and I started this style at the Bray because my artistic practice is to keep changing."
That practice means that he can work in a completely different manner, changing from the everyday objects focused on craft in Japan to the huge works that he is racing to complete.
"Scale is very important," Iwamura said. "It's an artistic investigation of how artwork changes the impression of space, not only the object, but how it works in space."
"The scale of artwork is the project," he said.
And the reason Iwamura can make his huge works is because the Archie Bray Center has enormous kilns to bake the oversized clay pieces in. One piece had been firing for the past two days and was still cooling in the kiln, which was why Iwamura had slept on the couch that sits in the corner of his studio the night before, sleeping bag still rumpled on the cushions.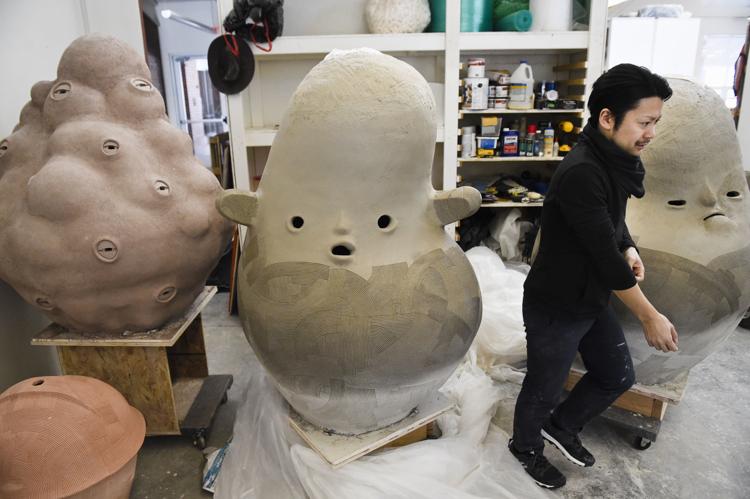 Iwamura's work does change perspective. The large, misshapen heads give off an uncomfortable feeling of being watched from inside their hollowness, even as their complicated and intricate texturing, which Iwamura said is inspired by Japanese stone gardens, reels the viewer in with a desire to touch and feel the ridges and grooves.
"It's uncanny," Iwamura said. "That's the right word? Uncanny?"
Iwamura takes his inspiration from African masks -- whose unmoving faces and patterns are easily seen in his work -- as well as Haniwa, "circle of clay" or "cylinder," terracotta clay figures that were buried with the Japanese dead in the Kofun period which lasted from the 3rd to the 6th century AD.
He doesn't name his works, but they fit into a theme of uncovering an identity both historically real and imagined. "I work with fake archaeologist stuff," he said. "With fake history of the future." It's a "romantic archaeology," Iwamura said.
He takes from his Japanese heritage, but also his time in the United States where he said he really felt like he was coming into his own based on the difference between cultures, part of the ma that is so important to his work. Iwamura completed an MFA at the Kanazawa College of Art and Craft and a second MFA at Clemson University before making his way to Helena's Archie Bray Center. 
"Things can bring a concept of death, arriving in the afterworld," Iwamura said.
Death and life are close in Iwamura's work. In one piece that was drawn but not quite completed, a death's head bursts from the back of an expressionless man, bent over and looking at the ground with his back rent. In Iwamura's work, there's a closeness between the mundane and the supernatural, an explicit statement that while the world might seem usual, something else lurks underneath. In a finished piece, Iwamura built and fired a sphere split by a gray, writhing mass. The sphere was covered in comic book style Japanese businessmen, all with the same expression and mirrored in color on one black side and one white side. They seemed unknowledgeable of the terrifying thing that was bursting from between them, another part of that uncanny strangeness that Iwamura seeks to capture.
People flock to that strangeness. Iwamura's Instagram page is popular, with 18,000 followers. It's filled with his clay works and time lapse videos of moving the massive pieces into the Bray kilns. Iwamura is questing to become a full-time professional artist, and Instagram is where he said he gets a good amount of work, as people from places like China and Europe invite him to be artists in residence or offer to buy his artwork.
The NCECA Conference is going to be a major showcase for Iwamura, helping him along the path to being a fully-fledged professional artist. The show is in a converted factory, so Iwamura used that as his muse. He's bringing a version of those giant heads, except they're fitted with hard hats and what he hopes to be pieces of wood that represent steam coming out of their helmets. The work is still finishing up, and then comes the long trek to Pittsburgh.
For a few days, it'll be just him and a U-Haul truck on Midwestern highways, a man driving a bunch of giant ceramic heads into the distance, no one knowing that they'll be following and filling in the ma Iwamura leaves in his wake.
Archie Bray resident uses 15-foot machine to make clay sculptures like no one else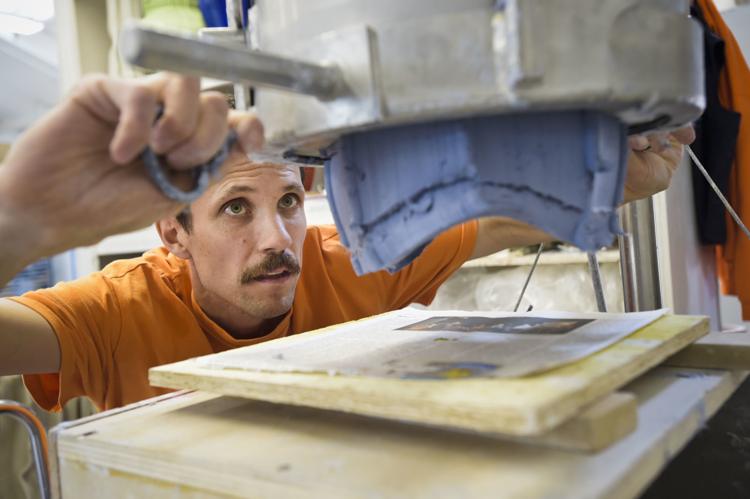 For a clay sculptor, Anton Alvarez seems to have a lot of industrial-looking metal in his studio at the Archie Bray Foundation in Helena. 
In fact, the assortment of metal is the first thing you notice when you enter the room. And it is dominated by a 15-foot-tall machine that looks like it belongs on a factory floor rather than an artist's chamber.
That machine is why Alvarez, a half-Swedish, half-Chilean artist raised in both countries, is here in Helena, making sculptures that are very different from what most people would think of when they hear "pottery."
"I built and brought it from Sweden," Alvarez said of the monstrous machine, called an extruder, during an interview in his studio in mid-May. Wearing Mizuno running shoes and rolled-up black jeans with a bright orange shirt tucked into them, he could be the cabinet-maker he originally trained to be, except for the clay dust flecking his clothes.
Alvarez, who went to school at Sweden's Konstfack and got his master's degree from the London Royal College of Art, moved to Helena with his family to begin his residency in November.
His wife, a doctor, is taking the rest of her maternal leave while he works at the Bray. Their oldest daughter is now going to preschool (and learning English while she's at it), while the youngest is at home with Mom.
"The winter was beautiful here," Alvarez said. Being from one of the few places with winters harsher than Montana, he enjoyed Montana's challenging ice and snow season and was excited to visit Yellowstone National Park and the Gates of the Mountains.
The extruder is essentially a scaled-up version of the same thing children use when playing with Play-Doh. You put some clay into a chamber and then squeeze, so a new shape comes out in a line -- a star, a square, a rhombus. Alvarez took that idea and super-sized it.
He had made a version of this machine after studying at the Royal College of Art in London, intrigued by the idea of constructing a device this large in metal. When it was first sent to a museum for the exhibition he designed and built it for, "the museum people were making (art) and it looked really fun," Alvarez said.
"Dies" as they're called, lie around the studio and are hung on the walls, cut with a variety of shapes both smooth and jagged. They're cut in Townsend and welded in Helena, and Alvarez said the Helena owner of the welding company actually came over to personally deliver them because he was wondering what exactly Alvarez was doing with the devices.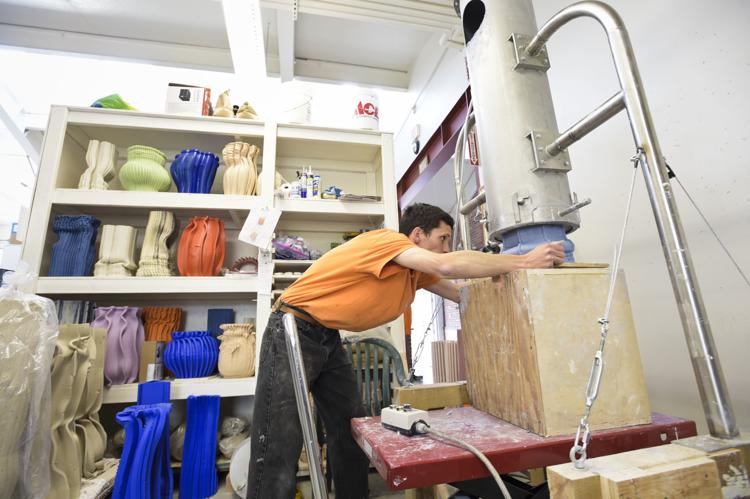 And what he does is fascinating. Alvarez loads clay into the tube of the extruder, locks in the die to the bottom of the device, ratchets up a table underneath and slides a piece of newspaper below the die, then hits a button. "The screw motor for the extruder exerts 3,000 kilos of force," Alvarez said.
It whines and hums as the clay comes through the die in shapes that seem to form and mold before and after the clay hits the wooden platform underneath. Settling and turning, Alvarez stops the extruder for a moment. "All the moisture seems to get stuck at the bottom," he said, taking a cheese wire and slicing off a few inches of clay from the blue column that was slipping out of the die.
Alvarez's columns look like Salvador Dali took a paintbrush to the Pantheon, throwing in wild twists, shapes and forms. Gravity seems to act more strongly on some pieces than others, throwing the viewer's sense of balance out of wack and challenging what exactly clay is supposed to do.
"I wanted to have the machine do the work for me, to generate work without me making it," Alvarez said. "The machine was to separate myself from the making."
That's part of Alvarez's talent. From cabinet-maker to clay sculptor, he does not fit easily into what one expects from an artist.
"When you traditionally master a skill, like to throw a vase, the next will look exactly like it without variation," Alvarez said. "With a plastic material like clay, it's unlike wood, which is square. Clay is how the hands or the machines are working."
Now, Alvarez has a few pieces he's preparing to send to Milan and wants to make use of the Bray's huge kilns before he leaves in July.
"I want to surprise myself," Alvarez said about his art and how the extruder fits into it. "When you see something coming out that's unexpected, that's a good result."