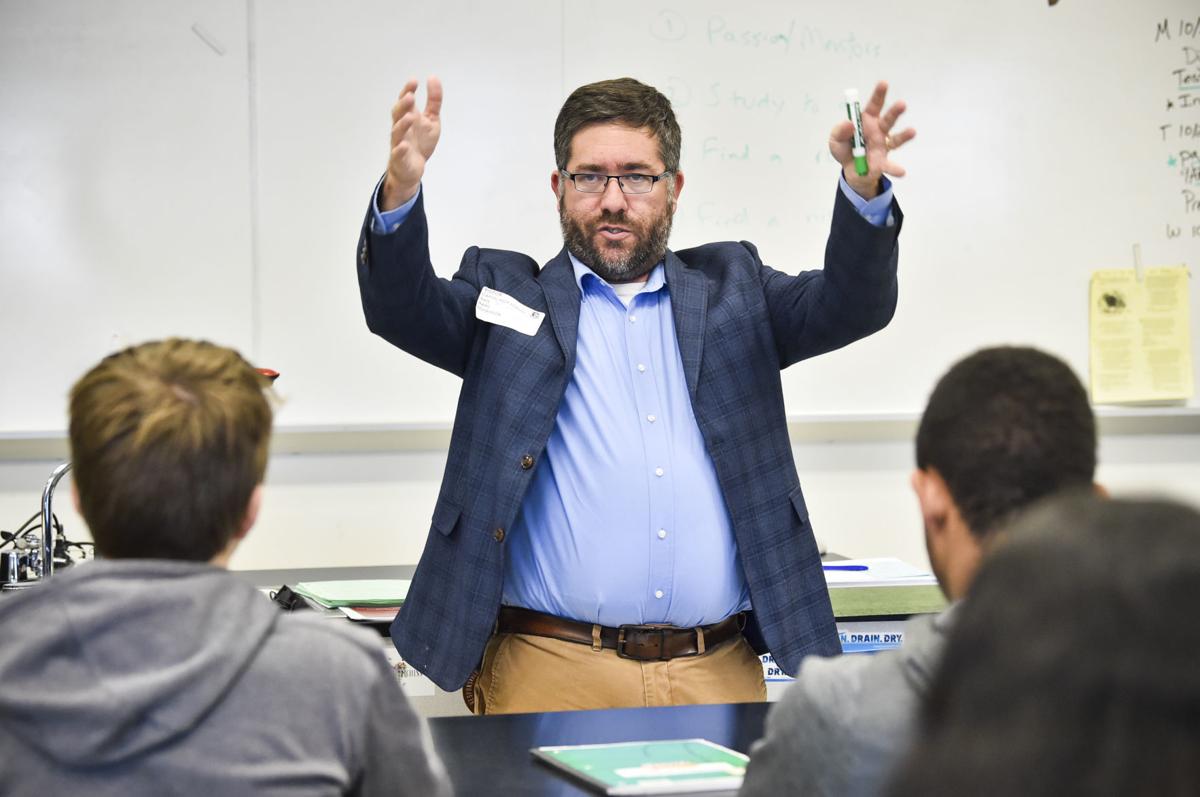 Some students of Helena High School and Capital High School had their regular teacher replaced by a University of Montana professor on Friday.
This was the university's first visit to Helena under a new pilot program called "We are Montana in the Classroom." According to Kaetlyn Cordingley, director of career development and community partnerships at UM, this new project aims to have professors from the university regularly visit high school classrooms to give students a new perspective. 
"One of the most meaningful things for university students are the relationships with faculty and staff," Cordingley said. "This is a way to jump-start that."
The goal is to connect students with researchers and add context to what is being taught in the classroom. It allows high school students to reach professionals in a given field. During this pilot year, professors have visited Billings, Bozeman, Belgrade, Kalispell and Missoula. Shortly after the Helena visit, they will visit classrooms in Great Falls.
The idea for this program started with a visit to Capital High School and Great Falls High School last May. UM President Seth Bodnar was visiting teachers in these schools discussing ways for UM to get involved. The project initially launched in Missoula because of its proximity to UM. 
During the visit to Helena, UM professors took over classes ranging from AP biology to theater. 
Sarah Urban, honors and AP biology teacher at CHS, had her classroom taken over by Jeb Puryear, a chemist and assistant professor of gifted education at UM. Puryear spent his time with students breaking down how to choose a career path, starting with high school. He largely used his own story for demonstration.
Puryear illustrated the importance of finding something to be passionate about and then finding mentors for that passion. Then find a role that fulfills that passion and ultimately a niche within the passion, he advised. Puryear started out with a passion for chemistry and eventually found a niche in teaching. It took several years for him to find his niche. 
Urban said she likes to take advantage of these kinds of offers because it helps illustrate to her students what it is like to be taught by a university professor. Urban said she always "jumps" at these opportunities because they "can be really valuable" to students. She believes many of her students are still figuring out what they are interested in and said Puryear is well-equipped to help students in that mindset, because his experience isn't specific to one type of science. 
"It's valuable in that all these students get an opportunity to see what is out there," Urban said. "The more times they are exposed to that, the better it is for them."
Emily Wheeler, an American history, psychology and student council teacher at HHS, had Irish studies professors Traolach O'Riordain join her classroom for a lesson. Wheeler said she believes there are numerous benefits to having a professor teach her class for a day.
"It's nice to have a different voice in the classroom that reiterates some of the points I make in the classroom," Wheeler said. "His weight of voice really sells the point. Plus, students get information from a different person who teaches in a different way."
Wheeler, who took one of O'Riordain's classes, said he teaches very differently than she does. 
"When you teach high school or middle school, you get very cautious of using academic terms," Wheeler said. "He keeps it at a college level. He brings an intensity and exposes the students to a more rigorous type of learning." 
Brian Kessler, assistant principal at HHS, said he sees the program as a positive experience for both the students and teachers.
"While we have incredible educators working in our building already," Kessler said. "The opportunity for them to pair with college professors and expose our students to college level lessons and experience will hopefully help our students recognize the opportunities that are available to them once they graduate."
Cordingley said that this year is very much a "pilot year" for the program. The intention is to continue growing and expanding the program in order to reach more students as time goes on. This year a lot of effort went into the logistics of making visits happen. Cordingley said organizers would like to provide this program to schools large and small, rural and urban. Reaching rural and reservation schools will be a big goal moving beyond the pilot year.