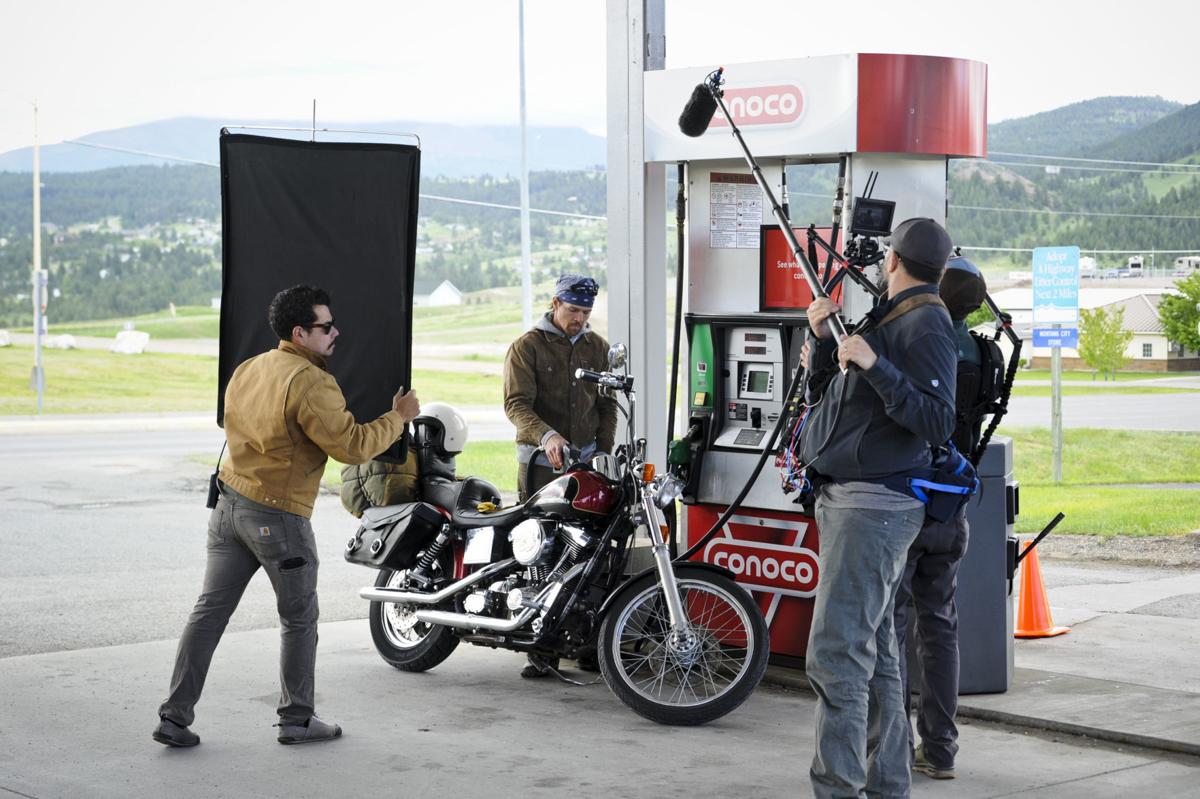 The activity at the Conoco gas station in Montana City caused more than one double take Thursday. 
One man was wearing an exoskeleton and another held a 12-foot boom. A group of men crowded around them and then dispersed as the directer yelled "cut!" 
The independent film "Two Yellow Lines" is being shot around the Helena area during much of June and July. It tells the story of a father reconnecting with an estranged daughter on a motorcycle road trip, healing from a brutal past traumatic experience along the way.
Producer Billy Zeb Smith, wearing a jumpsuit because it doesn't put any pressure on his stitches from a recent appendectomy, said the movie would be filmed in "Helena, Missoula, Montana City, Thompson Falls and a ghost town," which is Garnett.
Zach Titus, a Helena resident and Carroll College graduate who played football for the Saints and coached wrestling at Helena High School, is the leading man. Titus now splits his time between Helena and Los Angeles, but wanted to make the film's backdrop Montana, a place where he and his co-lead (who is also his daughter) could experience why it has become so dear to him.
"The lead is a former smokejumper," Titus said. "It's based on the Mann Gulch fire and asks what it looks like for someone who survived something like that, the PTSD that comes with it."
The 1949 Mann Gulch fire claimed the lives of 13 smokejumpers in the Gates of the Mountains Wilderness northeast of Helena. "Two Yellow Lines" examines both loss and also the resilience of survivors, their guilt and their daily battle to move on.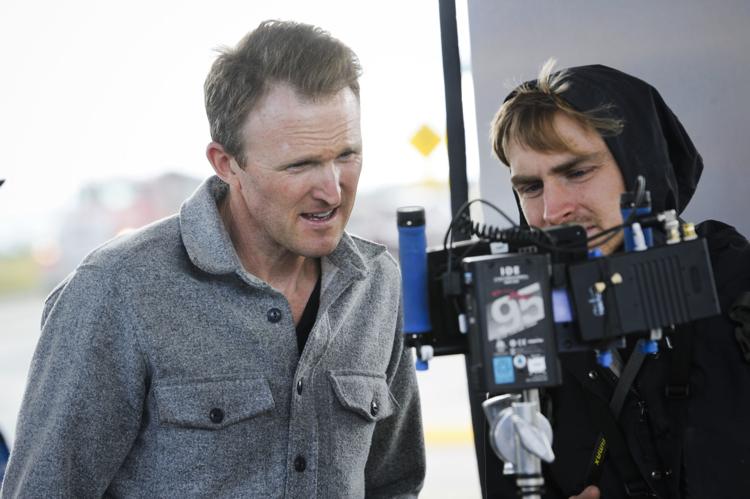 While Titus might be carrying the emotional weight of the movie, he knows that the landscape and the bike are characters in the film too.
Director Derek Bauer agrees.
"Earlier this week, the weather was constantly changing, sun in one minute, rain in the next," he said. "You're working with so many micro-climates and you have to adjust," especially for the tight, 21-day shooting schedule.
Smith, who goes by Zeb, said the weather can force script changes as well.
"You have moments where you have a lunch scene set outside and then it starts snowing, so you have to set it inside the truck," Smith said. "But if you get it right, the production value is incredible."
"Two Yellow Lines" marries two disparate narratives — the road trip and the PTSD story — into one piece. Titus said he came up with the idea for the road trip when his daughter asked to go on a motorcycle ride with her grandfather from Iowa to Ohio.
"They were 50 miles into the motorcycle trip and she asked, 'Are we close?' She had that naivete about the trip that she doesn't now," Titus said with a laugh.
"It can connect people in an intimate way," he said about riding together on a bike going highway speeds. Titus had a one-page pitch that he brought to Smith, and then the story grew from there.
The 11-member crew has been in Montana since June 2 and will be traveling to Cody, Wyoming, through West Yellowstone and back into Montana to finish up their shooting by July 8. 
"Allison Whitmer with the Montana Film Commission has been great," Smith said. "Two Yellow Lines" has received some grants from the state-run agency, which is dedicated to promoting Montana to filmmakers. 
Smith and Titus expect that the movie will be on the festival circuit in 2019, but that depends on the editing and post-production work that still needs to be done.
"We're embracing everything that's happening," Bauer said. "And everything the weather gods throw at us."
Get local news delivered to your inbox!
Subscribe to our Daily Headlines newsletter.