Volunteers were hard at work over the weekend constructing a new trail connecting the Helena-Lewis and Clark National Forest south of Elliston to the Beaverhead-Deer Lodge National Forest. 
First discussed in the late 2000s, the project is headed by Montana High Divide Trails, a coalition of trail users working to build a wide-ranging trail system. The idea is to have a multiuse trail from Kading Cabin connecting to other trails in the Beaverhead-Deer Lodge National Forest. This is part of a larger project to create and maintain a corridor of connecting trails all along the Continental Divide. 
"This is a collaborative partnership envisioning this connecting trail," said John Gatchell, senior conservation adviser with the association. "We were looking for a way to preserve lands, but also provide space for different kinds of recreation." 
The Montana Wilderness Association, Prickly Pear Land Trust, Montana Bicycle Guild and Back Country Horsemen of Montana are playing a role to help make the trail a reality. However, they aren't the only people on the project. Gatchell was insistent on crediting Helena District Ranger Heather DeGeest with prioritizing this particular trail build and Helena Hotshots for helping remove trees along the trail path.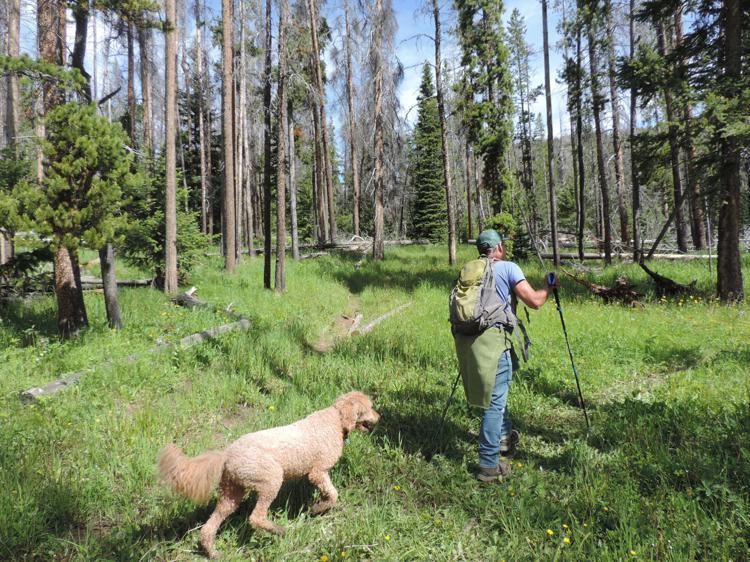 Volunteers gathered in the mountain forest with pickaxes and shovels. They spent three days clearing brush and digging out a new trail on the side of a mountain near the cabin. Once complete, the Cliff Mountain Crest Trail will offer views of the Flint Creek Range. The trail will connect to Cliff Mountain and beyond to Thunderbolt Mountain outside the Electric Peak Recommended Wilderness. 
Most of the area is in the watershed of the Little Blackfoot River. It's approximately 40 miles southwest of Helena in the middle of Helena-Lewis and Clark National Forest. Wild animals frequent the area, with volunteers reporting they had seen three black bears near Kading Campground Saturday evening. 
This is a reroute project because the old Kading Grade trail has many steep and unsustainable sections, Gatchell said. The trail was also dropping sediment into the Little Blackfoot River that was smothering bull trout.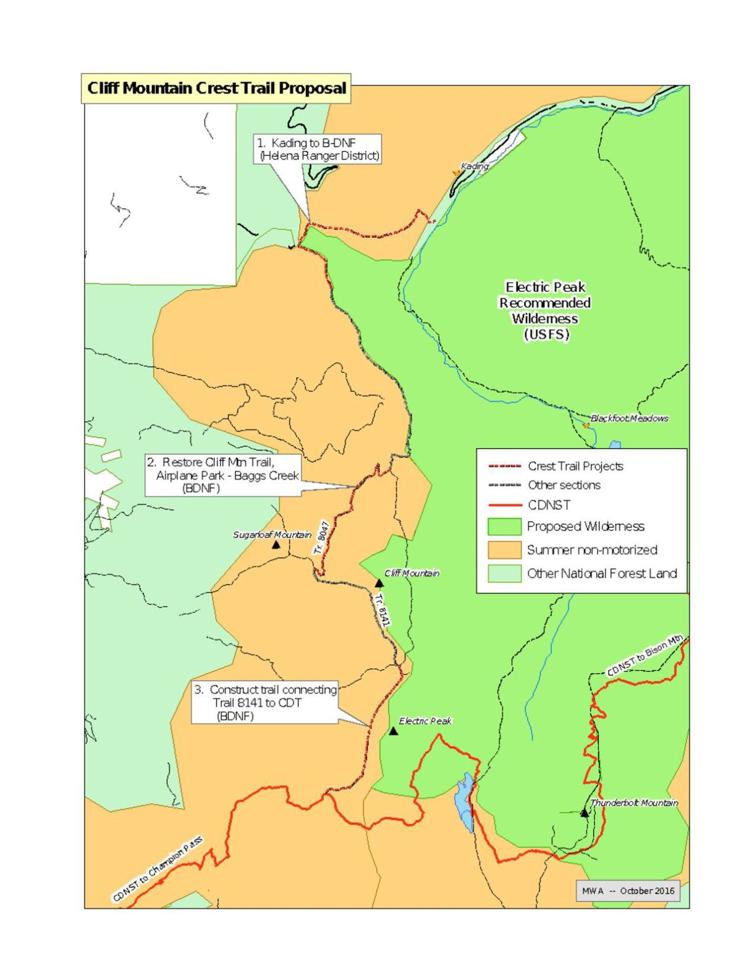 The first 4.5 to 5 miles of trail will be new, according to stewardship Director Matt Bowser. It will then connect to the old trail, which will be rehabilitated. The completed project will be approximately 16 miles of trails. 
"This is a key element of a whole landscape vision," Gatchell said. "We discovered if we put aside our differences we could accomplish this. This is a good example of persistence."
Gatchell said there are no other collaborative groups in the state like this one and he believes it could be a model for other areas. It is especially uncommon to get all of these different recreation groups together, he said. 
The project will see a lot of work invested by volunteers. However, the Montana Bicycle Guild applied for and won a $45,000 Recreation Trails Program grant on behalf of the project. This is a grant paid for by federal highway trust fund monies and awarded by Montana Fish, Wildlife & Parks. Jeff Bradley, a MBG member who worked on the grant, said the project will be put out to bid in the coming weeks. He said the contractor will create trails on some of the more difficult and steep areas of the route.
You have free articles remaining.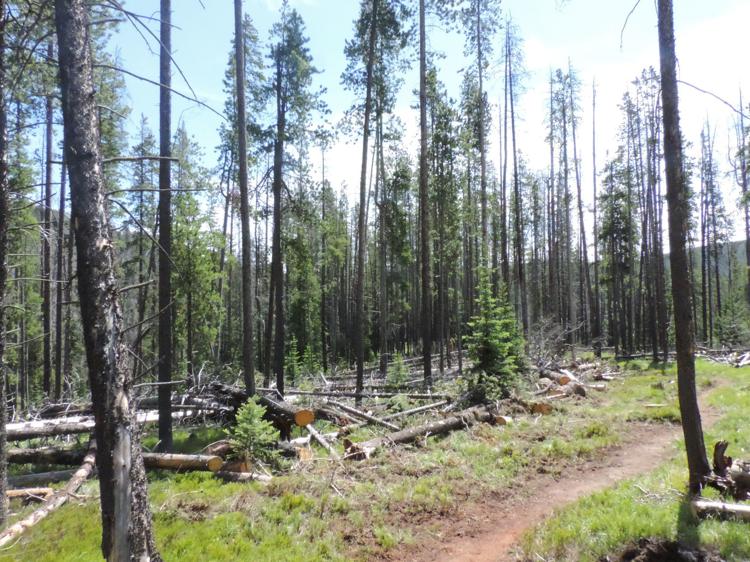 Walking the unfinished trail reveals breaks in the path. These are areas that will be finished by the contractor. 
Eric Sivers, president of the guild, said old Forest Service trails like Kading Grade were intended to move men and equipment for administrative needs. They were not designed for recreation but for efficient movement, he explained. 
"This trail is different," Sivers said. "It was designed to accommodate bikers, hikers and horses together, and to provide an enhanced experience for all users."
Though the guild was created to represent mountain bikers, its members recreate on the trails in a variety of ways, according to Sivers. The concept of sharing trails is deeply ingrained in the guild and he believes the spirit of collaboration embodied by Montana High Divide Trails is the best way forward for public lands interests. 
The trail project is intended to leave a small footprint, according to Gatchell. Emmett Purcell, of Prickly Pear Land Trust, said he thinks the area will remain fairly quiet for elk and other wildlife. 
Purcell believes the key element to the project is how everyone came together to make it happen.
"We've got people together that don't always work together and they're all out here moving dirt," Purcell said. "You spend a day out here and you really get to know your neighbor."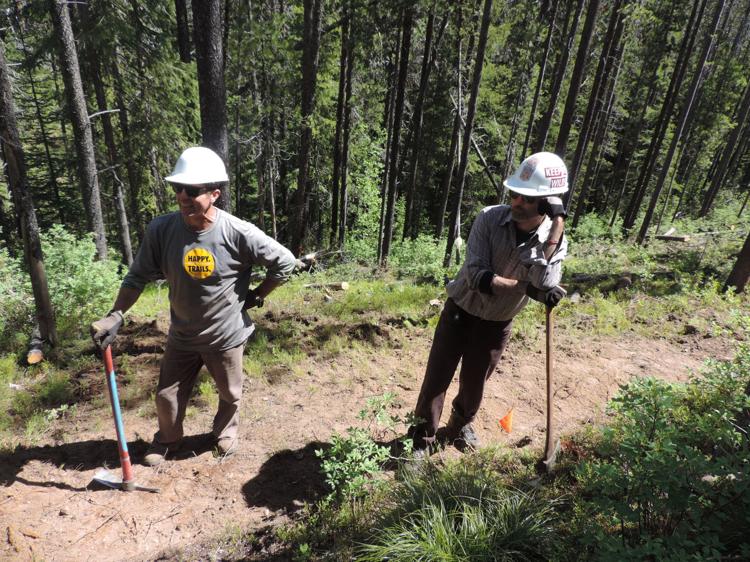 Purcell's neighbor was Mike Cannon, of Last Chance Back Country Horsemen. So far, Cannon has spent about six days along the trail cutting out dead trees. One of his group's goals is to maintain trails; each year they take on a number of projects. The backcountry horsemen are particularly useful because they have a number of sawyers who can clear trees. 
Though the groups have made a lot of progress, there is still much to be done. Bowser said building up this new trail is the first of three phases. This phase is expected to finish around the end of 2020. 
During phase two and three, volunteers will work on the connections to the greater trail system and rehabilitate more trails completing the link between the two national forests. This trail will connect to forest trails in Baggs Creek, Cottonwood Creek and to the Continental Divide Scenic Trail.
Until then the trail will remain closed.