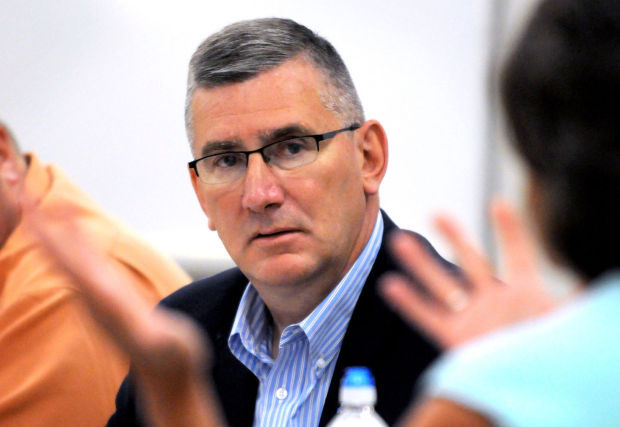 Former Sen. John Walsh's troubles stemming from a paper written while attending the War College are the IR's second biggest story of 2014.
In July, Walsh initially denied that he had plagiarized most of the material in a 2007 paper he submitted to earn his master's degree at the Army War College. Shortly after, a Walsh campaign aide told a New York Times reporter that Walsh had been going through a difficult period following his Iraq War deployment when he wrote the paper, suggesting that he was suffering from post traumatic stress disorder at the time. Walsh, however, denied that and said his military service was not what led to the plagiarism.
Walsh's degree was revoked in October. "Though I disagree with the findings made by the War College," Walsh was reported as saying, "I accept its decision with great humility and respect for the U.S. military. I apologize to all Montanans for the plagiarism in my 2007 paper, and I am prepared to live with its consequences."
Walsh withdrew from the Senate race two weeks after the allegations came to light in a New York Times article. He had served just six months in the Senate, having been appointed in February to fill the seat left vacant by Sen. Max Baucus' appointment to serve as ambassador to China.
In the Times' review of Walsh's 19-page paper, it shows that the majority of it was either improperly attributed or written without crediting the authors. The paper was comprised of four pages of end notes (formal attributions, footnotes, etc.) and four pages that appear to be his legitimate work.
The paper's introduction and his conclusions were improperly taken from others' work. The story by New York Times reporter Jonathan Martin states "The first sentence of Mr. Walsh's thesis is almost identical to that of a 2003 Foreign Affairs article by Thomas Carothers, 'Promoting Democracy And Fighting Terror.' Throughout the paper Mr. Walsh cites the work of other authors in footnotes, but uses their exact -- or almost exact -- language without quotation marks."
With regard to the paper's conclusion, Martin reported "Each of the six recommendations laid out at the end of the paper appears nearly word-for-word in a Carnegie Endowment for International Peace document on the same topic. Though Mr. Walsh cites that work extensively throughout his thesis, he provides no attribution here."
This was not first time Walsh's ethics came into question. Walsh was allegedly passed over for promotion to general in 2010, while serving as top officer of the Montana National Guard, on allegations that he "improperly used his government position for private gain," that "he improperly used government resources" and that he improperly endorsed" a non-federal organization" that he was seeking to become an elected officer of. The allegations were leveled against Walsh in an Aug. 25, 2010 report from the Office of the Inspector General of the Army. Walsh was officially reprimanded by the vice chief of staff of the Army, Peter Chiarelli.
Walsh denied that the allegations of misconduct led to him not being promoted. It was reported at the time, by the Montana Television Network, that Chiarelli, who issued the reprimand, wrote in a memorandum to Walsh that Walsh's action "causes me to question your ability to lead."
Although Walsh said the report and subsequent reprimand were not factors in his failure to be promoted, in an article by Mike Dennison with the Independent Record State Bureau, it was reported that prior to Walsh, for 25 years all other heads of the Montana National Guard had been promoted to the rank of general.
Walsh claimed the report and reprimand came from officials "who weren't even in my chain of command" and who did not oversee his work.
In October, Walsh told the Independent Record, "I have no regrets at all. My entire adult life has been focused on public service. … Being able to serve in the U.S. Senate -- not many people have that opportunity. Being able to continue to serve and fight for our citizens has truly been an honor."